New Moon May 2022 in Gemini means change is in the air: here's what that means for your star sign
The New Moon May 2022 brings with it an opportunity for a cosmic refresh. Here's how your sign can best utilize this transformative energy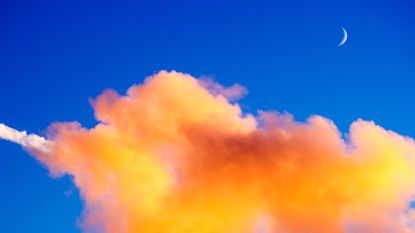 (Image credit: Ashley Cooper/Getty Images)
The New Moon May 2022 comes in Gemini season and brings with it the type of energy that's all about change. Transformation is never easy and after a series of intense, dramatic, and trajectory-changing eclipses, the stars are gifting us with a much-needed and auspiciously timed gentle New Moon in Gemini.
As the saying goes, 'a change is as good as a holiday,' after all, and this date in the Moon calendar 2022 is all about it. It's literally like the planets aligned for this, as we've certainly been going through it, as a collective, over these last few weeks. From a dose of Mercury in retrograde 2022 to the Full Moon May 2022 falling on a Lunar Eclipse and all the energy brought by Eclipses in astrology - the New Moon May 2022 can't come fast enough.
Taking place on May 30, 2022, at 7:29 AM EST, this lunation culminates at 9 degrees of Air sign Gemini, the fast-talking, fast-thinking, clever, and curious sign of the zodiac. It's a much softer, fun, and free-spirited vibe with the stars inspiring us to let out our inner social butterflies.
Light-hearted conversation will rule the day, but just because the vibes are less intense doesn't mean that we can't harness the energy of this New Moon to get clear on our long-term hopes, dreams, and aspirations. In fact, we're all getting to hit a cosmic refresh button on any projects or plans we've put aside and get one step closer to manifesting our celestial vision boards.
Mercury, the ruler of this New Moon, is retrograde and reconnecting in a tense square with stern Saturn in Aquarius. Mercury is a playful trickster, while Saturn is considered the austere taskmaster - the square between them says these two forces have come to a critical negotiation juncture.
To break it down; during this New Moon, as we set our intentions, there will be a reality check quality to it. It's like Mercury is asking us to think it, Saturn will be requiring us to plan for it, and the square is forcing us to act on it. It's giving off, "don't just say it, but actually do it," vibes. Put pen to paper. Stay focused. Commit to your dreams.
Get to work. Experiment and then edit based on what you've experienced. But above all: meet the Universe halfway. Put in the effort. Keep your spirit light and hopeful without losing your Mercurial, child-like enthusiasm and fervor - but don't let your attention wander.
Remember that Saturn is the Lord of Karma - meaning that Saturn takes notes and will dole out rewards after witnessing a sustained effort from us on working towards our goals and dreams. So go after it!
Here's how the New Moon in Gemini of May 2022 will affect you depending on your star sign. For the most accurate reading, look at your sun or rising sign according to your astrology birth chart.
How the New Moon May 2022 will affect your star sign
Aries
We all have a story inside of us, and Aries, now you're being called to share yours. With this New Moon taking place in your third house of communication, the stars are aligning to initiate a new chapter in your mode of expression. In your case, this is may in fact be a literal chapter. Even if you don't have a book you want to begin writing, you undoubtedly have something important to share that's currently buried inside of you - and is now asking to be unearthed. Think about what you want to say, how you want to say it, and who you want to say it to. This is an opportunity to not only open new lines of communication - but also a chance to open your heart as well. It's time to birth your story and your truth.
Taurus
The birds are chirping, the bees are buzzing, people are socializing, and the stars are asking you to…plan for your financial future. It may initially seem like a less than action-packed lunation for you. But with this New Moon taking place in your second house of personal income, the stars are inviting security and stability back into your life after a series of intense eclipses have likely shaken your foundations. As a Taurus, you're sturdy and dependable - and recent events in your life have been anything but that. Now the stars are asking you to invite a sense of purpose back into your life. You may not be able to control the Fates, but you can steer where you focus. How you'll shape your legacy. And the first place to start is with a plan. You got this, Taurus.
Gemini
It's your time to shine, Gemini, as this lunation takes places in your first house of self-expression, identity, and personality. You have nothing but opportunity before you - and chances to change, ways to evolve, and means to explore different aspects of yourself and the world at large. Your beliefs matter - and self-limiting ones about who you are, what you're capable of, and what the world has to offer you will only hold you back from realizing the full potential of your dreams. If other people's opinions are holding you back, find the community that supports your vision. Right now, in this moment, you have the stars cheering you on to believe in the power of possibilities. Your possibilities. Your potential. Think about where you want to be - and seize the moment to start now.
Cancer
Spiritual breakthroughs are the name of the game for you, Cancer, during this gentle New Moon in your twelfth house of the subconscious. Sometimes lunations have a way of stirring up deep emotions in us. We can find ourselves, like the moon, cycling through different phases of our feelings. New Moons invites us to trust our path, and more importantly, trust ourselves, even when we're not entirely sure of the outcome or which is the way forward. Be kind to yourself about any feelings that arise for you right now, whether it's doubt, anxiety, or uncertainty—because the possibility of hope, optimism, and confidence is just as equally available to you. Don't be afraid of what comes up and don't fear being vulnerable. Your shadow is still yours. And you can integrate it, Cancer.
Leo
A New Moon in your eleventh house of friendship is inviting you to fully embody the social butterfly vibes that Gemini season promises, Leo. As the weather warms up and your calendar fills up, now is the time to pay close attention to who appears, or reappears, in your life. If there are friendships you would like to rekindle, people you want to contact, and even if there are amends you want to make, now is the time to be purposeful about who you reach out to and why. The stars are reminding you that it is often impossible for one person to be all things to you. Yes, romantic pursuits and relationships can be soul-fulfilling and affirming - but equally so can friendships. If those friendships need a fresh start, use the power of this celestial energy to re-commit to the people you want by your side.
Virgo
It's never too late to start again. That's the message the stars are asking you to carry with you during this New Moon in your tenth house of career. As you assess where you are and your current career situation, you may be in a position where you are technically 'good' at your job, or you've been in this field for many years, but if you're honest with yourself, you've lost your passion for it. You may bring your continued sense of hard work and dedication every day, but you're not bringing your full self. This lunation is igniting your curiosity. What if you tried something new? What if you weren't too scared to make a side hustle your main one? You don't have to continue doing something just because you've always done it. Be willing to try, Virgo.
Libra
What is igniting your curiosity right now, Libra? Is there a field of study you've wanted to pursue? Or is there a place you've been longing to travel to? This lunation taking place in your ninth house of travel and spirituality is inviting you to begin a new venture - or adventure if you are so inclined. As this dynamic month wraps up, you may find that you have an exciting new possibility to take a trip, research a new topic, or engage in exciting conversations you want to have - but what might be holding you back is a fear of pursuing something that seems frivolous. Don't be afraid of having fun. Don't worry if your passion or opportunity seems 'out there.' Just stay open-minded to where your curiosity takes you right now.
Scorpio
Sometimes we want to operate a certain way but find that we are being forced to deal with other people's 'stuff' - whether that's their personal possessions or personal troubles. With this New Moon in your eighth house of karmic debts, it's time to decide what's theirs and what's yours. What you want to help them carry and where you may have to set firmer boundaries. It's less about binary thinking and more about remaining flexible and adaptable to what arises. Keep an open mind about what you see, hear, or experience. You don't have to rush to conclusions or even take sides right now, but you do have to observe with a keen eye. And that's one thing you're good at. Be a detective without being the judge. Remain curious.
Sagittarius
What does your heart most desire in your most intimate relationships? It doesn't matter if you're single, in a committed partnership, or anywhere in between. Now is the time to create a vision board or a list to help yourself get super clear on what it is your want - and by doing so, you'll help the Universe understand exactly what is that it can help you manifest. With this New Moon in your seventh house of partnerships, being able to articulate your wish list is paramount to seeing your dreams come true. The sign Gemini invites double-bodied thinking and that means you have two questions before you. The first is: can you describe what you want? The second is: do you believe you deserve it? The stars want to remind you that anything is possible, Sagittarius. Use your trademark optimism to make real the love you seek.
Capricorn
Capricorn, you're being called to consider your self-worth, self-value, and self-confidence - and if your daily habits and routines are aligned with bringing forward the best version of yourself. This New Moon is taking place in your sixth house of health and habits and asking you to be open to being less rigid and more open to new ways of doing the same things you've always done. One of the most prized possessions you can have is your health - but is your daily grind allowing you to serve your mental, emotional, physical, and spiritual sense of wellbeing? Are you in a constant work hustle and neglecting other parts of yourself? Think about what you value. Is it your time? Is it your talent? Is it your space? Is it your peace? Then you can make sure you're prioritizing appropriately.
Aquarius
With this New Moon taking place in your fifth house of fun, love, romance, and creativity, nothing will get in the way of your ability to have fun - except your own fears and doubts about whether you can or even should. This lunation wants to give you a gentle reminder that you do not have to be so hard on yourself. That it's more than OK to enjoy some fun and frivolity even if you haven't solved all the world's problems or even taken care of everything on your to-do list. It's about living less in binary this-or-that thinking and instead, welcoming in a 'both-and' perspective. You can do both. You can be a passionate advocate. You can have a quirky persona. And you can also enjoy the same silly TV shows as the mainstream. Don't judge how you enjoy yourself. Just go out and actually enjoy yourself.
Pisces
Pisces, you have a New Moon taking place in your fourth house of home and family, and you're being invited to remain curious about the people you already think you know. Allow for the possibility that people can surprise you - even the ones you are closest to. This lunation is reminding you that you don't have to rush to judgment about the behavior or actions of others - or those of yourself. Allow for the multiplicity of different interpretations. Hold space for the possibility that someone could be moving on a path that seems out of character - and that it's not a reflection on the other person's or your own worth or value. Take some time to yourself. Prioritize self-care and your own mental health. Remind yourself that it's ok for people to change - yourself included.
Astrologer and tarot reader
Maria Sofia is a Greek-American writer, astrologer, Tarot reader, and intuitive. She is a lifelong lover and student of the stars, who has been practicing divination and magic for 20+ years.
Maria is Leo Sun, Cancer Moon, and Virgo Rising. Her favorite natal placement in her chart is her Virgo Mercury conjunct the ascendant that makes her a fast writer and talker and she smiles anytime she pulls the Queen of Wands or the Nine of Pentacles.