Nadia Sawalha reveals her simple trick for calming her anxiety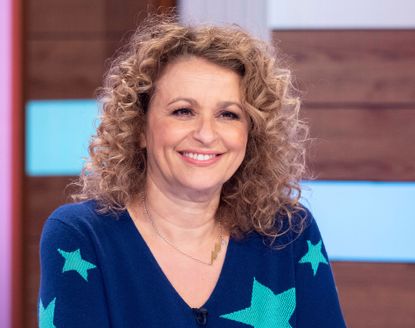 (Image credit: Shutterstock/Rex)
She's certainly not one shy away from opening up, and now Nadia Sawalha has revealed the simple trick she uses to calm herself when she struggles with anxiety.
The Loose Women star imparted her advice during a time-out on her Instagram Stories, after she admitted she was feeling anxious from the day's events.
Speaking to her 118,000 followers, Nadia confessed that she had to take herself out to her garden for some solo reflection, after deciding to take her own advice.
"Just taking a bit of my own medicine, I was in the house really overwhelmed," Nadia said as she sat in a hanging egg chair.
Explaining the reason behind her anxious state, she continued, "It's my recipe testing day today, and I've got two interviews to do. I've got the kids at home and the kids have got their friends here. One's got singing, one's got this and I was like, 'Oh my god, oh my god what is going on?' I couldn't cope."
Nadia then revealed the simple technique she uses to help calm her down when she's feeling particularly overwhelmed.
She added, "I thought, do you know what, take a dose of your own medicine. If this was any of my kids or if this was (husband) Mark I'd be saying, 'Just go out in the garden for a couple of minutes or just go to the window and just bloody breathe – just breathe, listen to the birds'."
Taking a few minutes to inhale deeply, Nadia already appeared to be more relaxed than when she started the video, even telling her followers that she could already 'feel my heart rate coming down.'
MORE: 'Speechless': Nadia Sawalha reveals unexpected 'but exciting' family news (opens in new tab)
Meanwhile, Nadia is no stranger to revealing struggles she faces with her health, and has spoken about incontinence, hair loss and battles with insomnia as a result of the menopause before.
And it seems she's set to open up to her fans even more, as she prepares to take part in the Loose Women Late live stage show in just a few weeks time.
Recently, she revealed that while she didn't start out nervous about the new format, she was feeling nervous about it now.
She also revealed that her dream Loose Women guest would be Michelle Obama - we would love to see that!
Loose Women Late: Girls' Night Out is live on stage on Friday May 17 at 6.30pm at Birmingham NEC.
Jenni McKnight is a beauty, lifestyle and entertainment journalist and a regular contributor to woman&home, having previously worked as Acting Senior Content Editor of our former sister site, CelebsNow. She has also written for HELLO! Magazine, GoodToKnow, the Daily Mirror and Yahoo!