Mindy Kaling stuns in cute black-and-white crop-top showing off her incredible weight loss journey
In a new Instagram upload, Mindy Kaling exposes her midriff, marking yet another accomplishment in her fitness journey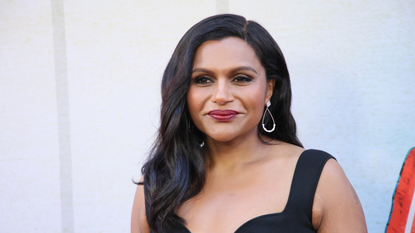 (Image credit: Robin L Marshall / Stringer)
Mindy Kaling is leading by example. In a new photo she just shared on Instagram from a shoot with Marie Claire magazine, the 43-year-old comedy star proves that working hard is the only sure way to success.
Mindy, who has opened up about weight loss in the past, looks radiant in the new black-and-white upload, in which she's waring a black bra-and-short outfit by Christian Dior showing off her incredible abs. The director and actor finished off her look with a black blazer worn off the shoulders, hoops and her hair down.
As usual, Mindy drew laughs with her epically funny caption. "What if this was my Raya profile pic?," the mother-of-two suggested in the caption, referring to the invite-only dating app that celebrities like Simone Biles and Kiernan Shipka have used to find romantic partners.
Fans and celebrities alike quickly took to the social media platform to praise Mindy's fitness journey and her overall character.
"You must love motherhood, love your life," wrote actor Beth Grant under the photo. "It shows, you are simply beautiful."
"I'd direct request you," joked Canadian author Kelly Oxford.
"Whoa 🔥," commented actor Isla Fisher matter-of-factly.
The new upload comes at the heels of a slew of other top-notch outfits that Mindy has been showing off on social media and beyond. She proved she mastered the art of color-blocking with this fabulous outfit and showed she's 'gettin cuter' with age while rocking a pretty crop top and matching skirt.
Mindy has also not been shy about her journey to a healthier self. "I eat what I like to eat," she said to Entertainment Tonight a while back while discussing her obvious weight loss journey. "If I do any kind of restrictive diet, it never really works for me. I just eat less of it. I wish there was something more juicy or dynamic about the way that I've lost a little bit of weight, but that's the way I've done it."
Her lifestyle change was sparked by the birth of her son Spencer, her second child, in September 2020. "I had my son in the first year of the pandemic," she said to the outlet back then about her now 2-year-old son. "It was this almost extended maternity leave. I wasn't going to be on camera, the studios were shut down." She is also a single mom to 4-year-old Katherine.
Speaking of singledom, back in January, Mindy got candid about her romantic prospects with Yahoo! Life (opens in new tab), opening up about how important her kids are to her.
"I think of myself as my kids' parent, and if I have someone that comes into my life down the line, that would be great, but I don't think it's their responsibility. It's mine," she said back then. "They're just my blood. They're my responsibility. I'm not in a place now where I would necessarily want or need that from somebody else, to have someone else step in as a co-parent."
You go, girl.
Anna Rahmanan is a New York-based writer and editor who covers culture, entertainment, food, fashion and travel news. Anna's words have appeared on Time Out New York, the Huffington Post, Fortune, Forbes, Us Weekly, Bon Appetit and Brooklyn Magazine, among other outlets.