Marisa Tomei shares a sleepy selfie - but it's her rattan headboard that really caught our eye
Rattan continues to be a huge home trend for 2023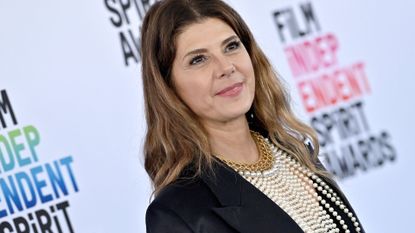 (Image credit: Getty Images)
Marisa Tomei recently shared a sleepy selfie on Instagram - but it's the rattan headboard in the background that really caught our eye!
We all know that home trends come and go like the seasons but it looks like rattan - if Marisa's bed is anything to go by - is here to stay a little bit longer. If it's good enough for Marisa Tomei, it's good enough for us.
The My Cousin Vinny star posted a pretty adorable pic to her Instagram. In the picture, she's laying in bed with her hands covering her eyes as she lays in her bed, looking snug as a bug in a rug. "What a week," she captioned the photo.
While the contents of this photo and caption are, of course, relatable (is it Friday yet?), we couldn't help but notice the details of her headboard in the back - and after taking a closer look, you can color us obsessed.
Rattan furniture is one of the biggest interior design trends for 2023 but it's not a new trend. Rattan has been gaining interest for a couple of years now with a plethora of options including dressers, drink trolleys, headboards, chairs, and more available to buy online or in trend-led stores. Needless to say, rattan furniture is all the rage, especially if you're looking to add some elements to your home that can help give it a bit of a summer vibe or coastal feel.
---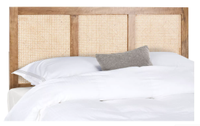 Vienna Cane Mounted Headboard, $314.95 | Raymour & Flanigan
This modern Vienna Cane Queen Mounted Headboard brings a breezy, tropical feel to contemporary bedroom décor with its stylish mango wood rattan good looks. Vienna's natural finish is an apt complement to its cane construction, transforming bedroom decor into a calming, relaxed oasis.
Whether you're using your rattan furniture indoors like Marisa Tomei, or you're placing it outside, there are some things you should know about how to take care of this natural wicker material.
Just like any other material, there is a specific way to clean rattan - and all you need to do so is some mild soapy water and a cleaning rag. Because natural rattan can grow mold, it's important to follow steps on how to properly clean it. Writer for Homes & Gardens Jennifer Ebert gives a few tips on how to do this.
"To prevent water damage on a natural set, wash the set with the suds and gently wipe it off with a cloth. Stains should be cleaned off straight away. To get into the grooves and crevices, you can use an old toothbrush," she writes.
Although natural rattan works best indoors, those who want to use it as outdoor furniture should be aware of how to ensure it doesn't lose its integrity over time. Jennifer says that owners of outdoor rattan furniture should be prepared to put it away should it start to rain. "If you are using it outside, be prepared to store it in the shed when not in use. Natural rattan is prone to mold should it get wet," she says.
Madeline Merinuk is woman&home's US lifestyle news writer. She covers celebrity, entertainment, fashion, and beauty news but is also obsessed with internet trends - you can find her reciting trending TikTok sounds out loud at any given time.
After winning multiple student journalism awards for her investigative work, she graduated from Hofstra University in 2021 with a B.A. in Journalism. After graduating, she worked at today.com, the digital site for the Today Show, where she wrote pop culture news and interviewed big-name personalities like Emily Ratajkowski, Haley Lu Richardson, Emma Corrin, and more.
Her personal interests, in no particular order, are: cheese, Joni Mitchell, reading, hot yoga, traveling, having multiple chapsticks in every handbag at all times, and dancing to ABBA songs as if she were in the Mamma Mia movies.