Joan Collins Calvin Klein perfume ad: Fans praise Hollywood star's timeless beauty
The one and only Joan Collins stars in a perfume ad for Calvin Klein and Palace Skateboards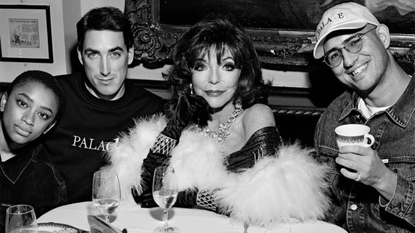 (Image credit: Calvin Klein)
Leave it up to the iconic Joan Collins to constantly surprise us.
The 89-year-old British actor, who recently shocked us by revealing pal Madonna's rule for dating, stars in a new perfume ad, a collaboration between Calvin Klein and London-based Palace Skateboards, that has got all of her fans talking (in a good way!).
The partnership is behind the new CK1 Palace collection, which includes a variety of products in addition to the perfume. Think underwear, T-shirts, sweatshirts and denim.
But back to the fragrance: the item is actually an updated version of the beloved CK One perfume, this one boasting notes of oakmoss, violet leaf and frosted mandarin. Currently on sale, the new product costs about $75. Needless to say, the price is totally worth getting any bit closer to Joan's timeless beauty.
In the ad, fans get to see a blinged out, fur-wearing Joan sitting at a fancy table with Lev Tanju, the founder of Palace, and a slew of other skateboard pros.
In addition to the black-and-white photo, Calvin Klein posted a wonderful video version of the ad on Instagram. "A toast to Calvin Klein and Palace," Joan says in the clip. "Calvin Klein and Palace, who saw that coming?"
"As soon as I could smell the fragrance again, it brought me back to a moment in time where, oh my god," Lev said to Harper's Bazaar (opens in new tab) while discussing the concept behind the updated perfume. "Scent is a memory. [This one] is much lighter and more refined I think [than the original iteration of it]."
Joan's fans took to the comments section to make public their love for the star.
"Joan with the realness 🔥🔥," one user wrote.
"ICONIC," commented another matter-of-factly.
A third follower wrote, "Wow what is happening."
Joan isn't the only celebrity tapped to showcase the new collection. Willem Dafoe, Adwoa Aboah, Precious Lee and the Pet Shop Boys all star in their own ads flanked by the Palace team. Each photo looks remarkably cool.
As for why the companies selected this specific roster of stars to showcase their products, Harper's Bazaar explains that "both brands have a knack for putting the unexpected in their imagery, giving depth to the adage that sex sells."
And if staring at the ad has got you obsessed with the celebrity all over again, you might want to try emulating her look by following the best beauty tips from the glamorous Joan Collins. Let's be honest: her look is simply not replicable… but it's certainly worth a try.
Anna Rahmanan is a New York-based writer and editor who covers culture, entertainment, food, fashion and travel news. Anna's words have appeared on Time Out New York, the Huffington Post, Fortune, Forbes, Us Weekly, Bon Appetit and Brooklyn Magazine, among other outlets.