Is Anatomy of a Scandal based on a true story and will there be a season 2 after *that* finale twist?
If you're wondering is Anatomy of a Scandal based on a true story then you're probably not the only one after *that* spellbinding first season...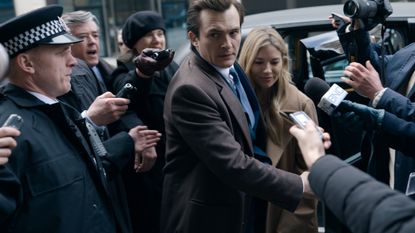 (Image credit: Netflix)
Is Anatomy of a Scandal based on a true story is the question on our minds as fans race through each of the intense episodes of the new Netflix drama.
With a star-studded cast that's led by Downton Abbey star Michelle Dockery, Sienna Miller, and Rupert Friend, Anatomy of a Scandal has made quite the impression since it first landed on Netflix. From the Anatomy of a Scandal filming locations to *that* twist in the Anatomy of a Scandal ending, the important subject matter that resonates with so many, along with brilliant acting has made this a highly memorable watch. Sienna Miller herself has said playing a cheated wife in Anatomy of a Scandal has "parallels" to her life and many might be wondering if any of the disturbing events were inspired by real-life.
But is Anatomy of a Scandal based on a true story and is the unmissable finale the last fans will see of Kate and Sophie or will there be a season 2?
*Warning: spoilers ahead!*
Is Anatomy of a Scandal based on a true story?
Given the number of dramas that are based on truly shocking real-life events, many fans might well be wondering, is Anatomy of a Scandal based on a true story? But unlike so many recent shows, Anatomy of a Scandal wasn't based directly on one real-life event but was adapted from the bestselling book by Sarah Vaughan and published in 2017.
However, it's perhaps no surprise that some viewers could have been intrigued about whether the events in Anatomy of a Scandal really happened. Although the plot about politician James Whitehouse facing trial for assaulting political aide Olivia is entirely fictional, Sarah is understood to have written the novel utilizing her experience as a political correspondent and court reporter, as well as a student at Oxford.
Opening up to Town&Country, Anatomy of a Scandal's writer and creator Melissa James Gibson explained that they embraced the idea that Sarah based her book on general real-life themes and character types.
"The book on which the series is based is by Sarah Vaughan," she said. "She went to Oxford and while she's said the story isn't based on anyone in particular, it's certainly based on a milieu—and we tried to take that and run with it."
"These are fictional characters," series director S.J. Clarkson added, "but that's not to say there aren't areas that cross over to the real world at times."
Melissa went on to describe the show as a "study" of human behavior, if not a direct adaptation of one real-life case.
"It's a study of behavior and psychology," she said. "The common denominator of the people who try to get away with things like this is that they think the rules—personally or professionally—don't apply to them."
Melissa explained that alongside the Anatomy of a Scandal book, she also did her own research when it came to British society and the theme of privilege within this.
"I read a lot of newspapers and tried to immerse myself in that world view," Melissa declared. "I read both the Daily Mail and the Mirror and tried to absorb their breadth. What was interesting to me as an outsider was to see how class figures into culture and always has [in Britain] in a way that isn't quite the same here. It seems like much more of a fixed entity; if you're born into a certain part of society, opportunities are closed off to you.
"That's why it felt important not to adapt the story and move it to the US, it would lose so much of its richness," she added.
Now you know the answer to the all-important question—is Anatomy of a Scandal based on a true story—fans might well be looking for their next gripping adaptation. From comparing the Pieces of Her ending to the book to seeing the Life After Life book brought to life on screen, there are more than a few sure to keep you hooked after you've made your way through Anatomy of a Scandal.
Will there be an Anatomy of a Scandal season 2?
In recent months fans hoping for The Tourist season 2 and to see The Responder cast back in action for a follow-up installment have had their wishes come true, but sadly when it comes to Anatomy of a Scandal season 2 things aren't quite so clear yet. From the moment the show landed on Netflix, it has had fans hooked but there's currently been no confirmation regarding a second season.
Sarah Vaughan's Anatomy of a Scandal novel was a standalone release with no sequels that the adaptation could draw upon for future episodes. However, things could always change if the demand is there from Netflix fans to see Sienna Miller and Michelle Dockery back as Sophie and Kate to take this story further.
Meanwhile, Deadline has alleged that Anatomy of a Scandal was envisioned by Netflix as an anthology series. If this is indeed the case, then it would mean there could potentially be an Anatomy of a Scandal season 2 but it would likely focus on a different plotline altogether and spell the end of Kate and Sophie's journey on the show.
What could fans expect from Anatomy of a Scandal season 2?
Given that the Anatomy of a Scandal series is based upon Sarah Vaughan's book and her original characters, there could of course be scope to take Sophie and Kate's storyline further in any potential Anatomy of a Scandal season 2. If the show does get renewed and the showrunners decide against making it an anthology series, then fans could potentially expect to see Kate finally witnessing justice achieved for all those hurt by James.
Although the finale of Anatomy of a Scandal season 1 did suggest that he wouldn't be escaping punishment this time, viewers didn't actually get to enjoy the moment Kate, Olivia, and all the other women saw him sent to prison. Given all that happened in the show so far, many fans would no doubt be eager to actually see the moment his crimes caught up with him after so many years and the emotional catharsis that would provide.
Though if any future Anatomy of a Scandal season 2 did explore this plot thread further, it would also put Sophie in an interesting position as a central character. As revealed in the shocking finale, she finally saw her husband for who he is and tipped off the media about his involvement in the death of one of The Libertines at Oxford.
This not only led to James being hauled in for questioning by police, but the scandal spreading to surround the fictional PM, his friend Tom Southern. Knowing that Sophie was the keeper of this huge secret James could possibly work out just who landed him in this dangerous position and expose her as someone who helped him cover it up.
Meanwhile, Sophie and James too, if episode 5 is anything to go on, know Kate's true identity as Holly, the woman he assaulted during their Oxford days. Finding himself in a corner, James might well decide to throw Kate under the bus in revenge for her part in his original trial, where she didn't declare her conflict of interest.
But the show could of course choose to bring back only one of these characters in any Anatomy of a Scandal season 2: Kate. As counsel for the prosecution Kate's life revolves around the many complex and emotional cases she manages on a daily basis, creating many possible avenues for the show to go down, anchored by one familiar figure.
Opening up to Today, actors Sienna Miller and Michelle Dockery have now expressed their belief that the Anatomy of a Scandal finale left a door slightly open for Kate's return.
"The series ends with the door slightly ajar, certainly for Michelle Dockery's part. What's that next case that she'll be prosecuting?" Sienna explained in an interview with TODAY.
While Michelle added, "The show is left on a note of what's to come. It's the beginning of another story at the end. You see James being marched into a police car. Kate's about to start a new case—probably not that one because she can't prosecute the same person again. But it definitely feels like there's a momentum at the end that could potentially lead into something else."
All episodes of Anatomy of a Scandal are available to watch now on Netflix.
Sign up to our free daily email for the latest royal and entertainment news, interesting opinion, expert advice on styling and beauty trends, and no-nonsense guides to the health and wellness questions you want answered.
Emma is a Royal Editor with seven years of experience working in digital publishing. Her specialist areas including literature, the British Royal Family and knowing all there is to know about the latest TV shows on the BBC, ITV, Channel 4 and every streaming service out there. When she's not writing about the next unmissable show to add to your to-watch list or delving into royal protocol, you can find Emma cooking and watching yet more crime dramas.