The Anatomy of a Scandal ending features a major plot twist but how does it differ from the book?
Anyone who's reached the Anatomy of a Scandal ending will likely be wondering just how similar it is to the novel's original plotline...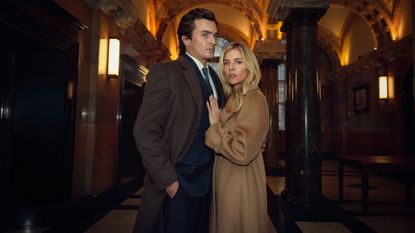 (Image credit: Netflix)
The Anatomy of a Scandal ending featured a shocking twist that cast all the already sinister events in a whole new light.
Based on the Anatomy of a Scandal book by Sarah Vaughan, who's since gone on to write one of the best books of 2022, the new Netflix hit explores the important themes of privilege, consent and justice during a dark court case. The adaptation sees Rupert Friend take on the role of MP James Whitehouse who finds himself on trial for the assault of his political aide Olivia, played by Naomi Scott.
His wife Sophie (Sienna Miller) might well believe his innocence, but prosecution counsel, Kate Woodcroft, QC, isn't convinced in the slightest. As the case continues and the day of the verdict looms, some viewers might be reminded of the complexities of the legal system showcased in Showtrial on BBC earlier this year.
But what happens in the Anatomy of a Scandal ending and how different is it to Sarah Vaughan's best selling book?
*Warning: spoilers ahead!*
The Anatomy of a Scandal ending explained
If you loved the emotional twists and turns of the Pieces of Her ending and were blown away by the drama of the Killing Eve book ending and how it differs from the show, then you might just be wondering about the details in the Anatomy of a Scandal ending too. The Netflix Anatomy of a Scandal ending finally gave fans the verdict they've been anticipating all season long as the trial of James Whitehouse is brought to an end.
Although the MP was found Not Guilty in his trial for the sexual assault of political aide Olivia, he didn't get to walk away from the scandal with his seemingly perfect life intact. His wife Sophie (Sienna Miller) has begun to question her husband's innocence and, more importantly, put together the pieces of a truly shocking puzzle.
In the Anatomy of a Scandal ending it's revealed that prosecution counsel Kate (played by Downton Abbey star Michelle Dockery) who'd been fighting hard to see James convicted has another identity. Kate is actually Holly, a student who had suffered at James' hands during their time at Oxford University.
She was Sophie's study partner and was assaulted by James just as Olivia had been. Following this, she ended up dropping out of university and later went by her middle name and married surname. As the court case against James intensified, Sophie began to notice small details that clued her in on Kate/Holly's identity, after hearing from a source that James had attacked Holly back then.
Horrified, Sophie might not have said anything during the trial but she isn't about to let her husband get away with his crimes. Confronting him about what happened, he continues to claim what he did wasn't assault, but Sophie's questioning doesn't see him deny that what Olivia said was true.
Unable to live a lie with James any longer, Sophie leaves him with their children and meets up with Kate to get the truth about what happened to her at Oxford out in the open. Sophie then admits that she's the one responsible for leaking damaging information to the media about James.
If his list of crimes wasn't already long and abhorrent enough, James was involved in the death of fellow Oxford student Alec Fisher back then. Not only that, but he was helped to cover things up by none other than the (fictional) Prime Minister.
Kate and Olivia might not have seen James punished for what he did to them, but now they get to see him held accountable for another of his crimes. As the show draws to a close we see Kate getting ready for court and arriving there, giving a small smile as she sees who's standing before her.
Though we'll never know, many viewers will likely be hoping it's James and that this time, he'll be found guilty.
How does it differ from the Anatomy of a Scandal book ending?
In even the best book-to-TV and best book-to-movie adaptations avid readers can often quickly identify changes made to bring the original novels to life on screen. Anatomy of a Scandal is generally faithful to the original novel, though when it comes to the Anatomy of a Scandal ending, there are a few twists and turns that fans of Sarah Vaughan's book might not have been anticipating.
In the Anatomy of a Scandal show, the astonishing revelation that Holly and Kate are the same person also happens, but here both Sophie and James make the connection. Sophie herself admits in the closing stages that Kate is now unrecognizable in many ways, but it was her "left-handed scribbling and color-coded notes" that gave her away.
Meanwhile, in Anatomy of a Scandal episode 5 when being questioned in court by Kate, James is asked about a particular derogatory phrase that Olivia revealed he said to her and which Kate remembers him telling her all those years before. Interspersing the present day with flashbacks of that terrible night at Oxford, the look on James' face and his careful considering of Kate seems to indicate the memories that haunt her are now playing on his mind.
Following this, James responds to her putting deliberate emphasis on her surname. Whilst not confirming he knows who she is, it seems a careful choice on his part that could come across as him subtly letting her know he's guessed she's Holly. This same veiled hinting comes again later when he declares that when the court is discussing consent, they are "talking about ethics".
Stating he finds unethical behavior "repugnant", he questions whether Kate does too. As council for the prosecution Kate's past with James could be seen as a conflict of interest, again suggesting he knows in a departure from the book.
Another small change to the Anatomy of a Scandal ending is that in the final stages of the book, Kate is left considering all that's happened following her loss of the James Whitehouse case. Here she learns independently that the Prime Minister and James were being questioned about the drug-related death of another Oxford student, Alec Fisher.
The show does include this additional twist and viewers finally get to see some semblance of justice start to take hold as James is taken away by police at the end. But here this comes after Sophie meets Kate and tells her outright she gave a damaging story to the media.
In the Anatomy of a Scandal book, there isn't a big confrontation between Kate and Sophie and readers are left to imagine what consequences could lie in store for James and the PM, whilst knowing Sophie is involved in bringing the story to light.
In both the Anatomy of a Scandal show and book Kate's university friend Alison 'Ali' is introduced, but in the Netflix adaptation she isn't aware of who assaulted the barrister in the past. In the book, Ali reportedly knows exactly who hurt her friend and tells Sophie as much but the Netflix show has an unconfirmed source make the claim about James being responsible instead.
Though it's not known exactly why each of these changes were made individually, it could simply be to give Sophie more of an expanded role in the Anatomy of a Scandal adaptation, torn between believing and suspecting James.
Opening up to Hello! at the show's world premiere, Sophie's actor Sienna Miller revealed that whilst the show did make changes from Sarah Vaughan's book, they aimed to keep the "nuance" and "tone" of the novel.
"I hope that fans are going to love the characters of Kate and Sophie as they have in the novel. Sophie has actually got a bigger part in [the series], she's more proactive," Sienna explained, before going on to add, "I think they are going to get a slightly different experience because obviously, it's really immersive. It's going to feel a bit pacier, more compelling and obviously, we have these amazing leads in the roles."
The star went on to reflect on the distinct tone, sharing, "It's slightly different to the book but I feel it's been really faithful to the nuance and the tone of it. What was really important to me was that we talked about consent and entitlement and the legal scenes were really accurate and realistic because I took a lot of care in following a criminal barrister to make sure they were all accurate and actually, they involved a legal consultant to make sure that that was really accurate as well."
Ultimately, she expressed her belief that by the Anatomy of a Scandal ending, viewers will have thought a great deal about its powerful themes.
"Hopefully they'll still want to binge it and race through it but hopefully they will still think about it in the way they might have from the book," she said. "They might still think about consent and entitlement and if there are the tiniest conversations about it then I can feel like we've kind of done our job."
Could there be an Anatomy of a Scandal season 2?
Sadly for Anatomy of a Scandal fans, Sarah Vaughan's novel was a standalone and no season 2 has yet been confirmed. However, some reports have alleged that Anatomy of a Scandal is an anthology series, meaning that there could potentially be subsequent seasons, albeit each based on a different plotline.
So it seems that whether or not another season could happen remains to be seen, but fans of the Netflix hit are sure to be intrigued by the possibility of seeing the show return in some form.
How many Anatomy of a Scandal episodes are there?
Anyone who's yet to dive into the dark depths of emotion that lie in Anatomy of a Scandal can enjoy the full series on Netflix which consists of six episodes. All six were released on the streaming platform on April 15th, with this kind of simultaneous release also seen with Bridgerton season 2.
Now you know the Anatomy of a Scandal ending and the book differences, there's never been a better time to binge-watch your way through your favorite moments all over again.
Sign up to our free daily email for the latest royal and entertainment news, interesting opinion, expert advice on styling and beauty trends, and no-nonsense guides to the health and wellness questions you want answered.
Emma is a Royal Editor with seven years of experience working in digital publishing. Her specialist areas including literature, the British Royal Family and knowing all there is to know about the latest TV shows on the BBC, ITV, Channel 4 and every streaming service out there. When she's not writing about the next unmissable show to add to your to-watch list or delving into royal protocol, you can find Emma cooking and watching yet more crime dramas.