Help! French and Italian wine could become more expensive
Climate change is hurting vineyards in France, causing historic low production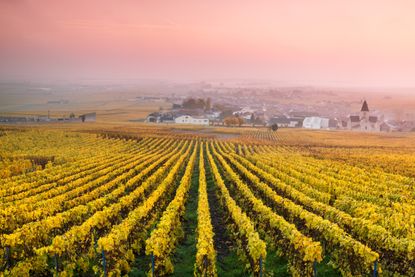 (Image credit: Getty)
As if the last year and a half weren't hard enough, winemakers in France have shared some bleak news. Not only can we not easily travel around Europe due to the ongoing coronavirus pandemic, but French and Italian wine could also become more expensive over the next year.
The French Agriculture Ministry warned that wine production could hit a historic low this year, thanks to climate-related issues. "Wine production in 2021 is forecast to be historically weak, below levels in 1991 and 2017 that were also affected by severe frost in spring," the ministry said in a report.
---
Frosts in April and summer downpours are to blame for the low production. Things are so bad that Agriculture Minister Julien Denormandie called it "probably the greatest agricultural catastrophe of the beginning of the 21st century."
Currently, grapes are about 10 days behind last year's growth pace, so some producers have hope they can salvage the season. But overall production is still down 30%. It's not only France, either. Italy, the world's largest producer of wine, is projecting a 5-10% drop in output.
Climate change has wreaked havoc on the wine world, and experts say the trouble will continue affecting wine regions for years to come. A study (opens in new tab) from the World Weather Attribution, which looks at extreme weather events, found that a warming climate raises the probability of an extreme frost during grape growing season by 60%.
So what does that mean for prices? You could see an increase, thanks to the lost production and coronavirus restrictions that prevent wineries from making money through tourism. "Wine producers are facing major difficulties this year," Jerome Despey, a producer and head of the wine committee at farming agency FranceAgriMer told DW (opens in new tab).
There is a silver lining: Champagne prices are expected to remain stable because producers balance their supply with wine from previous seasons. Guess we'll all just have to drink more bubbles!
Rebecca Holland is a travel and food writer based in Chicago. She has written for the Guardian, New York Times, Architectural Digest, Food & Wine, Wine Enthusiast and more. She is currently a graduate student at Northwestern's Medill School of Journalism. When not working, you can find her eating her way through Chicago's neighborhoods, or in non-pandemic times, traveling around the world.