White wine could delay menopause, a new study finds
A new study looks at the impact of white wine on menopause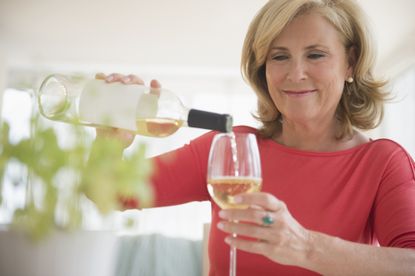 (Image credit: Getty)
A glass of white wine a day could keep menopause at bay. At least, that's what a new study from the University of Massachusetts Amherst and published in the American Journal of Epidemiology found. Women who drank about 1.5 glasses of white wine per day were 20% less likely to go through menopause early than those who did not drink.
The study tracked nearly 108,000 women across the U.S. Interestingly, red wine was less effective, delaying menopause by only 10%. Beer showed no effect. Researchers warned that one glass of white wine was all it took–downing a bottle would not prolong the delay.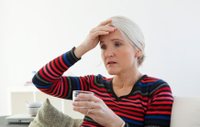 (opens in new tab)
Menopause marks the end of a woman's menstrual cycle. It happens when ovaries stop producing estrogen and progesterone hormones due to aging. Women can endure various symptoms, including headaches, weight gain, hot flashes, depression, mood swings, fatigue and more. The average age for menopause to set in is 51, though it often starts in the 40s or later in the 50s. A small percentage of women experience menopause before they turn 40, and women who have had their ovaries removed will experience menopause immediately. Typically, menopause is not diagnosed until you have gone 12 months without a period.
Researchers said alcohol can increase levels of estrogen in the blood, which could postpone the onset of menopause. Wine also has high levels of resveratrol, an antioxidant thought to prevent age-related conditions.
The study authors also warned that while they did find that 20% of women who white wine daily experienced delayed menopause, the number was low enough to categorize as a "weak association."
Other studies have shown that moderate alcohol intake delays early menopause, but this was the first study to look into which kind of alcohol was most beneficial.
Another study this month looked at how declining hormones during menopause affect the brain. Using neuroimaging techniques researchers scanned the brains of more than 160 women and men between the ages of 40 and 65 who were in different stages of menopause to examine the brain's structure, blood flow, metabolism and function. They also imaged the brains of men in the same age range.
"What we found in women and not in men is that the brain changes quite a lot," one researcher told the New York Times. "The transition of menopause really leads to a whole remodeling."
Rebecca Holland is a travel and food writer based in Chicago. She has written for the Guardian, New York Times, Architectural Digest, Food & Wine, Wine Enthusiast and more. She is currently a graduate student at Northwestern's Medill School of Journalism. When not working, you can find her eating her way through Chicago's neighborhoods, or in non-pandemic times, traveling around the world.