Halloween queen Heidi Klum teased this year's costume and we're already excited to see it
Heidi Klum compared her upcoming Halloween costume to the now iconic Jessica Rabbit one she wore back in 2015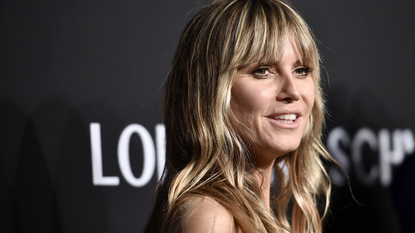 (Image credit: STEVEN FERDMAN / Contributor)
Heidi Klum is known for a lot of things, like her modeling career and her hosting prowess on Project Runway. However, the 49-year-old star is mostly praised for her devotion to Halloween costumes.
Since the year 2000, Heidi, who married ex Seal 'eight times,' has made headlines every fall for her outrageously remarkable disguises, which she's been able to fully inhabit thanks to the help of Academy Award-winning special-effects makeup artists.
This year will be no different. Although not revealing too many details about her costume, Heidi did speak about the subject on the red carpet recently.
"I don't think I've ever felt as claustrophobic as I felt that night," said the model about her Jessica Rabbit costume. "I have a thing about feeling claustrophobic. Especially if I have too much stuck on me and can't take it off. So I'll have to really breeze through it."
To bring her point home, Heidi, who usually likes to pamper her skin with goodies from Drunk Elephant and Glossier, compared this year's getup to the memorable costume choice from 2015, the year she quite literally transformed into Jessica Rabbit, the cartoon character from the 1988 film Who Framed Roger Rabbit.
"For Jessica Rabbit, I had so many [prosthetics] on," said Heidi, clearly downplaying the extent of her commitment to the role (she looked unrecognizable!). "I've never had as many prosthetics on like I will have this time. When you have it on, you can't be like, 'Oh, it's a wig and take it off.' Can't take anything off. It's glued on."
She revealed a bit more about her 2022 choice while chatting with Vanity Fair (opens in new tab). "It's a bit more involved," Heidi said to the outlet. "I've gone already into the studio and rehearsed, and I'm going to have to do that two more times because what I have to do doesn't come super natural to me." What could she possibly have up her sleeve?
If her past choices are of any indication, it's going to be something very involved, perhaps like her 2001 look, when she arrived at her own party on horseback dressed up as Lady Godiva. Two years later, in 2004, she really looked the part as a red witch with a skeleton on her back. And who can forget the time, in 2006, when she dressed up as a large apple (a forbidden fruit!) while pregnant?
In 2011, Heidi actually threw two Halloween parties and before attending the second one, she spent six hours in a makeup chair to quite literally turn into an ape. Our personal favorite, though, is her 2013 choice, when she transformed into a 95-year-old Heidi Klum, complete with fake cataracts and varicose veins.
There's still some time until the October 31 holiday, but we're already excited to finally learn what Heidi will dress up as this year, especially since she's scheduled to host her 18th annual Halloween party in New York.
Anna Rahmanan is a New York-based writer and editor who covers culture, entertainment, food, fashion and travel news. Anna's words have appeared on Time Out New York, the Huffington Post, Fortune, Forbes, Us Weekly, Bon Appetit and Brooklyn Magazine, among other outlets.