Five Things We Could All Learn From Iris Apfel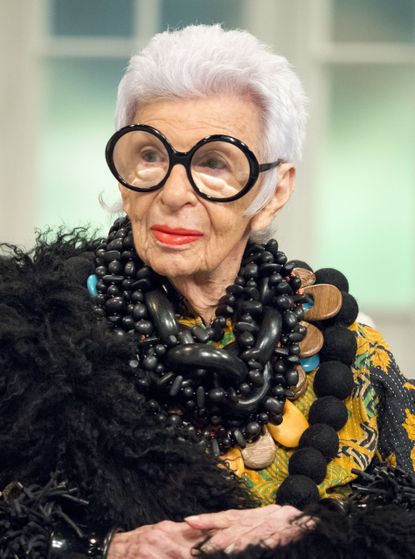 (Image credit: Ken McKay/ITV/REX Shutterstock)
'Iris', the new documentary out in cinemas from today, is one of the most entertaining - and inspiring - we've seen in a very long time.
The focus is Iris Apfel - interior designer, businesswoman, college lecturer, MAC cosmetics spokeswoman and, at 93, all-round sartorial star. Known for her bonkers-but-somehow-still-tasteful dress sense and her signature oversized spectacles, Apfel became an unexpected fashion icon after the Metropolitan Museum of Art in New York ran a last-minute exhibition in 2005 devoted to her eclectic wardrobe and vast collection of statement jewellery that became a word-of-mouth hit. As we see in the film, several rooms in Iris' vast Park Avenue apartment are devoted to her clothes, while many of her other items have been donated to museums and fashion schools; Iris is not one for throwing things away.
'Iris' is the final film of the late documentary director Albert Maysles (who, along with his brother, David, made the legendary 1975 movie 'Grey Gardens', featuring Jackie O's eccentric relatives which, if you haven't already seen, you absolutely must).
We were lucky enough to be at the UK premiere of 'Iris' earlier this week where the well-dressed audience included designers Roksanda Illincic and Charlotte Dellal. The documentary is inspirational - funny and charming in equal measures with some genuinely touching moments of Iris and her centenarian husband Carl - and the icing on the cake? A Q&A with Iris herself afterwards.
So here, distilled from the interview and the film, are five lessons we can all learn from this 93-year-old tastemaker...
1. Express yourself - and ignore the fashion rules
"I don't have any rules as I'd only be breaking them so it would be a waste of time," she says. Instead, Iris likes to "improvise - like playing jazz" when it comes to putting together an outfit. People are getting less stylish, she believes. "There's so much sameness these days." But, as she points out: "Getting dressed is the least of my worries. It's just crazy when people think I spend my life thinking about what to wear. I'm not a silly fashionista." Silly fashionistas out there: take note.
2. Accessories really do make an outfit
"My mother worshipped at the altar of the accessory," she says. Iris grew up during the Great Depression, and followed her mother's advice that all you needed was a black dress that you could then either dress up or dress down with clever accessories. She still follows this belief today, usually wearing a "good architectural outfit" - say, black trousers and a black cashmere sweater - which can then be transformed with accessories, and jewellery in particular. "Diana Vreeland and Coco Chanel both said, 'Take off one accessory before leaving the house.' But I say, 'Put another one on.'"
3. Pretty doesn't age well
"I'm not a pretty person. But I don't like pretty so I don't mind." Iris recalls that she was told by an influential New York department store owner in her teens: "You're not pretty but you have something that is better. You have style." And, as we all know, looks fade but style lives on. Iris' advice? Stay curious, keep busy and keep active. "Life should be a challenge." 4. It's not about the money
"Sometimes, when you have less to spend, you are more careful about what you wear," says Iris. "People today know the price of everything and the value of nothing. I don't care about the price as long as I like it." Iris started her jewellery collection aged 11 with something that cost 65 cents. "I still have that piece." As for clothes, she references very few designers that she admires (Ralph & Russo and Duro Olowu are but two). Instead, she aims for the unusual - she's a huge fan of flea markets and foreign souks - and the old. "I love vintage - the fabrics are better, the clothes are made better. Clothes today are scandalously priced. As Woody Allen says, 'I can't shop retail - it's against my religion.'"
5. And finally, at all costs, avoid plastic surgery
This 93-year-old is testament to the transformative effect of bold colours, fabulous jewellery and a vibrant lipstick. "Have I had any plastic surgery? God, no. Some people I know have, and they come out looking like a Picasso." May that be a warning to us all.
Sign up to our free daily email for the latest royal and entertainment news, interesting opinion, expert advice on styling and beauty trends, and no-nonsense guides to the health and wellness questions you want answered.