'Fantastic': Ruth and Eammon share hilarious video from new Las Vegas special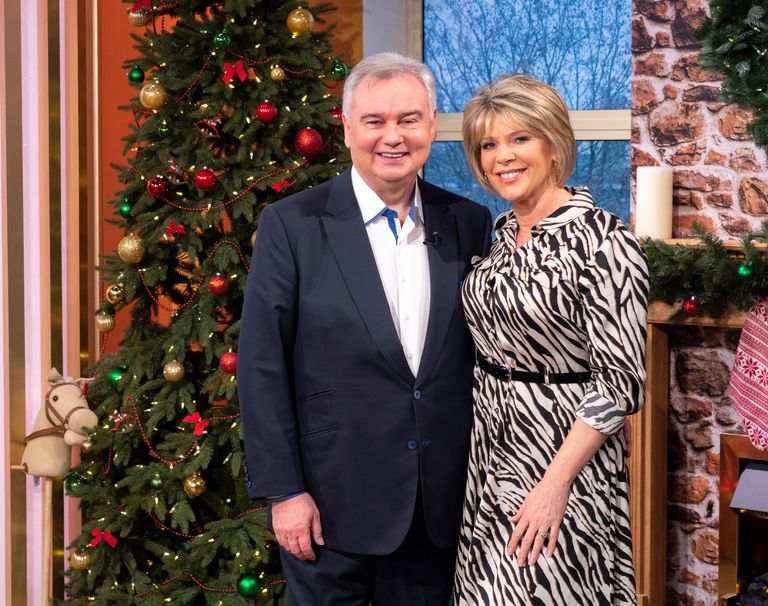 Eamonn, 59, gave fans an insight into what holidays are like with his wife Ruth, 58, when he recently shared a video for his latest show.
The funny video shows the presenting duo explore Las Vegas in a two-hour special airing on Channel 5 on Friday.
Sharing the clip via Twitter, Eamonn told his 982k followers, 'Bright light city gonna set my soul, Gonna set my soul on fire…Viva Las Vegas! Join us for a 2 hour Vegas special, Friday 9pm Channel 5.'
The 30-second trailer begins with Ruth and Eamonn waking up in a hotel bed surrounded by half-eaten pizza, Hawaiian leis and empty champagne bottles.
After Ruth mistakenly picks up her shoe thinking it was her phone ringing, she asks Eamonn, "What have we done?".
"We've been to Vegas…" he moans in reply.
The rest of the video shows the couples experience of the decadent city, as they visit, fast-food outlets and what looks like a strip show!
At the end of the trailer, Ruth and Eammon stand in a white lattice Vegas chapel, one of many venues in the city famous for quickie weddings.
"Could there be a chapel for divorce?" Eammon jokingly asks his wife, to which she replies, "I'll just go and ask them."
Fans were quick to express their excitement for the show, with many commenting how they 'can't wait' to see the TV couple visit Las Vegas.
One Twitter user wrote, 'Looking forward – 2 of my favourite TV people in one of the craziest paces I've ever been to. What could be better.'
Another commented, 'Fantastic!! Love watching you and Ruth, you're both so hilarious.'
One follower asked Eamonn if the new show was the reason behind absence in the second series of CBBC's Biggleton.
'Is this why you couldn't go Biggleton Series 2? Is it!?' they asked.
'Yep, one of the reasons,' Eammon replied.
Although the couple look happy as ever in the trailer, it hasn't been easy for Eamonn and Ruth to make time for each other with their busy schedules. Earlier in the week, Eamonn revealed that he and his wife hadn't spent much time together in recent months, saying on Instagram, "First weekend together in ages. Enjoying every minute of our catch up time.'
Aww! We can't wait to see what the couple get up to in Sin City…
Eamonn & Ruth Do Vegas airs on Friday 15 December at 9pm on Channel 5.