Daisy Jones and the Six: Differences between the book and series, explained
Daisy Jones & The Six has a fair few differences between the book and series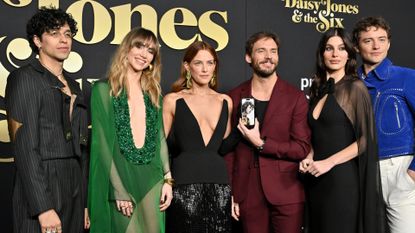 (Image credit: Getty Images)
The Daisy Jones & The Six series has taken the world by storm since it aired at the beginning of March 2023 - but fans of the original book had been waiting a handful of years to see how the series would match up to the original text. Read below to find out the major differences between the book and the series.
Those who read the Daisy Jones & The Six novel, based loosely on the dynamic of real, legendary rock band Fleetwood Mac, when it first hit shelves in 2019 knew that, if the text ever got turned into a show or movie, they would have a lot to live up to.
Flash forward to March 2023, and that exact phenomenon has happened: Reese Witherspoon's production company, Hello Sunshine, turned this documentary-style novel into a TV show, and fans. are. loving it.
Now that all 10 episodes of Daisy (Riley Keough) and Billy's (Sam Claflin) rise and fall are out for the world to see, fans are noticing a lot of the big differences between the book and the series - because, let's face it, this always happens with adaptations.
Read below to see the five major differences between the book and the series.
Spoilers ahead, obviously.
There are only five band members instead of six
Perhaps the most obvious difference, and the one that was on everyone's mind from the beginning, is - why are there only five members instead of six in the band?
In the book, there are six members - Eddie's brother Pete makes up the sixth person. In the series, however, the writers took Pete out completely, and essentially gave the TV character of Eddie a combination of the qualities that the two brothers possessed in the book.
"Am I the only one that feels it's weird they completely took Pete out of the Daisy Jones and the Six show? like i get it might be symbolic because Camila is like the last member but pete was so wholesome in the book???" said one fan on Twitter.
Turns out, though, the writers had good reason for this.
Co-creator of the show Scott Neustatder said that the decision to remove Pete was, ultimately, for the benefit of the other cast members.
"The Pete character serves a function in the novel, but he doesn't have much to say, he's not the most dramatic. We knew if we were going to cast Pete, the actor might want more to do," he told TIME Magazine.
"It felt like eliminating Pete enabled us to do more with the characters that we had in the ensemble, which was already a pretty big group of people."
Daisy's song, Tiny Love
In the series, they pen Daisy's song Stumbled on Sublime instead of Tiny Love. This is the song that gets stolen by her ex-beau Wyatt Stone. Although this isn't a huge difference (the sentiment of the song getting stolen still remains), it definitely caught the attention of the die-hard DJATS fans.
Simone's... everything
Nabiyah Be, who plays the character of Simone in the show, is a powerhouse of talent - and luckily, she got way more screen time than Taylor Jenkins Reid originally had in mind for her character.
In the book, Simone acts more as Daisy's guiding light every once in a while, saving her from Greece (Italy, in the book) and guiding her back to the band. In the show, however, we see Simone struggle with sexual harassment, the struggles of finding success in her music, as well as her plight to try to be in an openly gay relationship as a singer in the '70s. Ultimately, Simone has a happy ending, and we gotta say, we were pretty happy for her.
The Billy-Daisy-Camila love triangle
In the book, Billy and Daisy share a very swift and barely-there kiss before Billy shuts the whole thing down, leading Daisy promptly to write the song Regret Me - whereas, in the series, they share a brief, but extremely passionate kiss while recording More Fun To Miss, which is essentially Billy's diss track about Daisy.
In actuality, everything about the heated Daisy-Billy-Camila love triangle is far more exaggerated and manipulated on screen than in the book. For example, in the series, Camila spots them holding each other passionately in episode 9 - and then, in episode 10, Billy and Daisy have a heated make out session backstage, before Billy realizes he messed up, and runs back to a very mad Camila. None of that happens in the book.
"If you're waiting around, hoping that something's going to crack, I just…I have to tell you that it's not gonna be me. And I can't let it be Billy. Which means it's gonna be you," Camila tells Daisy in the book.
As we know from watching the series, however, Camila is no saint of her own - her and Eddie hook up, and Camila later acknowledges it was a mistake, which of course leaves him feeling, once again, second to Billy. This also doesn't occur in the novel.
Daisy's marriage to Nicky
When Daisy takes her reprieve after recording Aurora, she retreats to Greece and meets Nicky, a royal student from Ireland who sweeps her off her feet, and swiftly marries her. In the book, however, Daisy travels to Thailand, and meets a man named Niccolo Argento, and travels back to his native country of Italy with him.
Another HUGE difference between the book and series that left fans feeling like the wind had been knocked out of them (this writer is speaking for themselves, here) was Daisy's near-overdose in the hotel bathroom at the end of episode 8. When Daisy begins using too much, she nearly overdoses at a hotel where Nicky essentially leaves her high and dry, suffering on the bathroom floor. Billy comes in to help, and ultimately saves her with the help of Rod. None of that happens in the book - although, we must say, it was quite the dramatic addition.
Karen and Graham's relationship
Yes, in the book, Karen and Graham do have a secret relationship for a long time, but it doesn't pan out exactly the same as it does in the book.
In the book, Karen and Graham end up together because Karen asks why he's never taken a shot at asking her out. Then, the two hook up, and most of the rest is history - that is, until they break up at the end.
In the series, however, their love is a little more complicated. After Graham kisses Karen at a party, which she laughs off and politely turns him down, he decides to move on. He finds a Barry Manilow-loving girl - and Karen becomes exceedingly jealous. There's an extremely awkward scene with the three of them at the beach, where she third-wheels - and, in a fit of passion and jealously, kisses Graham fervently as soon as they get home. And THEN the rest is history!
Even after all of these differences, fans are still wondering if there will be a season 2 - but we'll just have to wait and see.
Madeline Merinuk is woman&home's US lifestyle news writer. She covers celebrity, entertainment, fashion, and beauty news but is also obsessed with internet trends - you can find her reciting trending TikTok sounds out loud at any given time.
After winning multiple student journalism awards for her investigative work, she graduated from Hofstra University in 2021 with a B.A. in Journalism. After graduating, she worked at today.com, the digital site for the Today Show, where she wrote pop culture news and interviewed big-name personalities like Emily Ratajkowski, Haley Lu Richardson, Emma Corrin, and more.
Her personal interests, in no particular order, are: cheese, Joni Mitchell, reading, hot yoga, traveling, having multiple chapsticks in every handbag at all times, and dancing to ABBA songs as if she were in the Mamma Mia movies.