Brad Pitt's new genderless skincare line Le Domaine sure looks good but it'll cost you
Dubbed Le Domaine, actor Brad Pitt's new genderless skincare line is all about 'science-meets-nature'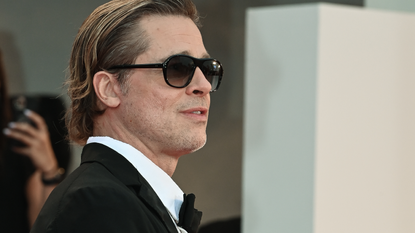 (Image credit: Mondadori Portfolio / Contributor)
Iconic actor Brad Pitt has officially entered the skincare industry.
In a new interview with British Vogue (opens in new tab), the 58-year-old celebrity who recently made headlines for revealing he has a 'sh*t list' of actors he refuses to work with again, announced the debut of his new skincare collection, called Le Domaine (opens in new tab).
Produced alongside the Perrin family, organic wine growers, the collection is for all genders and seeks to slow the process of skin aging through three main products: a serum, a cream, and an emulsion.
Each product uses grape-based antioxidants from French winery Chateau Miraval, which Brad actually bought a stake in with ex-wife Angelina Jolie back in 2008.
"I know there are new products nearly every day that people are trying to launch, but if I hadn't seen a real difference visually in my skin, we wouldn't have bothered," Brad said to the magazine. "I get sent stuff all the time and… ugh. It's just all the same for me. But this last year we have been testing Le Domaine and I was really surprised by the results and, that, for me, made it worth going forward."
Funnily enough, Brad also revealed that his ex Gwyneth Paltrow, whom he admires especially in connection to her lifestyle company Goop, might have inadvertently helped him kick off this new business.
Before describing his "simple" skincare routine, Brad acknowledged that Gwyneth "was probably the first one who got me to even wash my face twice a day."
"I got a morning wash, I do my serum, I do my day cream, and I'm done. I'm out the door," said Brad in a video accompanying his British Vogue interview. "Then at night, I do my wash, I am committed to the wash, I do my serum, and I do the night cream. Done."
"I grew up with a country mentality, kind of you know, Dial Soap once a day and then move on," he also said. "And I think that we're learning that if we love ourselves, if we treat ourselves a little better, then there are long lasting benefits to that. So just age healthy, age in a healthy manner."
---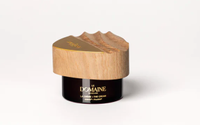 (opens in new tab)
The Cream, $320 (opens in new tab) (£240) | Le Domaine (opens in new tab)
Formulated with moisturizing and soothing grape water, nourishing organic olive oil and shea butter, as well as ayurvedic plant extract to combat the appearance of tiredness and deliver guaranteed comfort.
Although Brad made it a point to address the universality of his new products, critics are commenting on the line's price tag, which ranges from $80 to $385.
Folks took to social media to criticize the star. "Judging by recent product launches, 'genderless' seems to mean 'over ten times the price of similar products,'" wrote one Twitter user.
Carly Breit, an editor at PEOPLE, wrote on the platform, "brad pitt's skincare line serum is THREE HUNDRED AND EIGHTY DOLLARS FOR ONE OUNCE. be serious bradley."
Alas, celebrities are, indeed, not just like us so we're not too surprised to hear about the cost of Brad's latest endeavor.
Anna Rahmanan is a New York-based writer and editor who covers culture, entertainment, food, fashion and travel news. Anna's words have appeared on Time Out New York, the Huffington Post, Fortune, Forbes, Us Weekly, Bon Appetit and Brooklyn Magazine, among other outlets.