Brad Pitt breaks the internet by wearing a fuzzy bucket hat but we're actually into it
While in New York filming his latest movie, Brad Pitt caught everyone's attention with a pretty unique fashion choice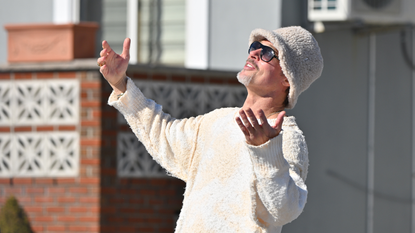 (Image credit: James Devaney / Contributor)
Nobody needs a reason to stare at Brad Pitt, but the actor's most recent fashion choice has certainly drawn even more attention than usual his way.
While in New York filming his latest movie, Brad, whose new genderless skincare line Le Domaine sure looks good but it'll cost you, was seen wearing what we can only define as a hilarious outfit anchored by a fuzzy bucket hat that we're actually very into.
The 59-year-old actor paired the headwear with a tie-dye cream-and-tan sweater that was heavily distressed, a pair of two-tone fleece pants that we've honestly never seen before, white sneakers and a pair of sunglasses. The ensemble was so at odds with the more polished looks we're used to seeing from the star that it clearly confused fans - but Brad gets points for creativity!
---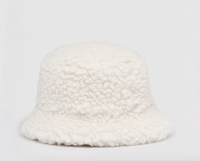 (opens in new tab)
Wool and cashmere bucket hat ($1,320 (opens in new tab)) | Prada
Inspired by streetwear looks, this bucket hat made with a blend of wool and cashmere also features the brand's iconic triangle logo.
The Oscar-winning actor was in town to film Wolves, an upcoming thriller that Brad stars in and co-produces with George Clooney. Set to drop on Apple TV+ in the near future, the project focuses on two professional fixers that are hired for the same job.
This isn't the first time that Brad's fashion choices have made headlines throughout his decades-long career. In fact, who can forget the time just last summer when he wore a knee-length brown skirt with a matching jacket while attending the screening for his movie Bullet Train in Germany?
Brad, who is clearly not scared of backlash considering he's shared his 'sh*t list' of actors he won't work with in the past, opened up about his bold look while chatting with Variety (opens in new tab) a few months ago. "We're all going to die, so let's mess it up," he said to the outlet.
Years before, Brad actually predicted that skirts would soon become a staple in men's closets all around the world. "Men will be wearing skirts by next summer," the actor said to British Vogue (opens in new tab) in 2004, on the heels of the release of his movie Troy. "That's my prediction and proclamation. The film answers to both genders. We were going for realism and Greeks wore skirts all the time then."
Although his projection turned out not to be exactly accurate, it's clear that folks do tend to follow Brad's advice when it comes to style: a version of the bucket hat he wore in New York this week, one by Hunter, seems to be sold out everywhere.
The good news is that a bunch of other brands - including Loro Piana (opens in new tab), Prada (opens in new tab) and the more affordable Alo Yoga (opens in new tab) - all still have similar options available for purchase online.
Anna Rahmanan is a New York-based writer and editor who covers culture, entertainment, food, fashion and travel news. Anna's words have appeared on Time Out New York, the Huffington Post, Fortune, Forbes, Us Weekly, Bon Appetit and Brooklyn Magazine, among other outlets.