Bear Grylls recalls the bizarre moment he got Prince George to eat a live ant—'his eyes lit up, what a little hero'
Prince George's grandmother Carole Middleton, introduced him to adventurer Bear Grylls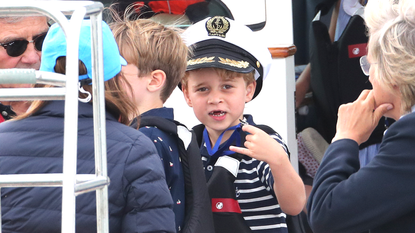 (Image credit: Chris Jackson / Staff)
Future monarch Prince George met British adventurer Bear Grylls back in 2019 and ate a live ant while in the company of his fellow Brit.
Bear recounted the episode in a new interview with Good Morning Britain.
George's grandmother, Carole Middleton, introduced him to Bear.
---
While on Good Morning Britain, Man vs Wild star Bear recounted the time he met the now 8-year-old Prince George at the King's Cup regatta on the Isle of Wight in August of 2019.
According to the adventurer, the Prince's grandmother, Carole Middleton, who was hosting the event, urged him to introduce himself to the Prince—a big fan.
While they were talking, a "stream of ants went across [the Prince's] feet," recalled Bear. "Him and me looked at them, he looked at me with those amazed wide eyes, and I said, 'Come on, we've got to eat one.' And he said, 'Oh, really?' and we ate."
Although Bear made it clear that he wasn't necessarily trying to convince the Prince to actually eat the insect, he did express his delightful excitement at the display of bravery by the little one.
---
Bear went on, jokingly, "It was a privilege to give the future king his first ant. His eyes lit up, as they do with anyone when they're out in the wild and they face a few fears and overcome them, so good for him. What a little hero."
But that wasn't the only memorable episode during the event for Bear, who actually won the regatta race that year.
Reportedly, while giving an acceptance speech, the adventurer and TV personality took the chance to express his excitement about the experience he shared with the little royal. "Prince George, you [ate] your first ant [...] today," he said. "That is a great moment. Well done, you."
Once again, Prince George fills our hearts with wonder and cuteness. You go, George.
Anna Rahmanan is a New York-based writer and editor who covers culture, entertainment, food, fashion and travel news. Anna's words have appeared on Time Out New York, the Huffington Post, Fortune, Forbes, Us Weekly, Bon Appetit and Brooklyn Magazine, among other outlets.