The Queen could be forced to remove Meghan Markle's royal title, claims expert
Meghan Markle's Duchess title could be revoked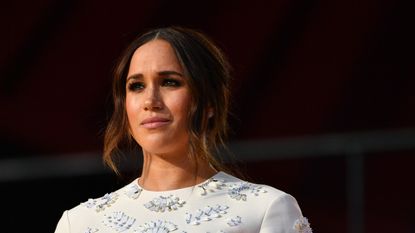 (Image credit: NDZ/Star Max/GC Images/Getty Images)
The Queen could be forced to remove Meghan Markle's royal Duchess title.
Meghan Markle introduced herself as the Duchess of Sussex when calling US senators.
Royal commentator Daniela Elser notes that the Queen could therefore be forced to remove this title.
---
Another day, another Meghan Markle-related piece of royal news. Following accusations of her trying to use her British royal title to influence American politics by calling US senators to discuss the potential implementation of paid family leave, Meghan could be facing the wrath of the Queen.
According to royal commentator Daniela Elser, the Duchess "has been phoning Washington insiders to lobby them [...] putting the Queen in a serious bind." The news follows reports regarding a letter sent that Meghan sent to House Speaker Nancy Pelosi about the same subject just a few weeks ago.
Writing for news.com.au, Daniela explains that "from a purely constitutional standpoint, members of the royal family are required to remain the political equivalent of Switzerland." That is—completely neutral. "Members of the royal family, by convention, don't vote and don't mess around on the edges of the politics of the day," says the expert.
As a result of what the commentator claims to be Meghan's clear political ambitions and her use of her title as way of introduction, as opposed to her presenting herself as an independent US citizen, the Queen might be "forced to act in regards to [Meghan and Harry's] Sussex titles."
To officially remove the couple's titles, Parliament would have to get involved—a highly unlikely event. Daniela supposes, though, that the 95-year-old monarch might opt instead to "ask them to no longer use their Sussex appellations, which is exactly what she did last year in regards to their stylings as His/Her Royal Highness."
This actually isn't the first time that the Duchess has been reprimanded for her mingling in American politics. This past October, less than a month before the US Presidential election, Meghan and Harry reportedly video-called California Governor Gavin Newsom.
The duo also spent time in New York this past September, meeting the state's Governor, the US Ambassador to the United Nations and the Deputy of the United Nations.
Whether this latest development is the straw that breaks the camel's back is yet to be seen, but it seems like American politicians should gear up to spend some time chatting with the Duchess in the near future.
Anna Rahmanan is a New York-based writer and editor who covers culture, entertainment, food, fashion and travel news. Anna's words have appeared on Time Out New York, the Huffington Post, Fortune, Forbes, Us Weekly, Bon Appetit and Brooklyn Magazine, among other outlets.