Avon launches menopausal skincare range - including a rescue mist to relieve hot flushes
We love the sound of this!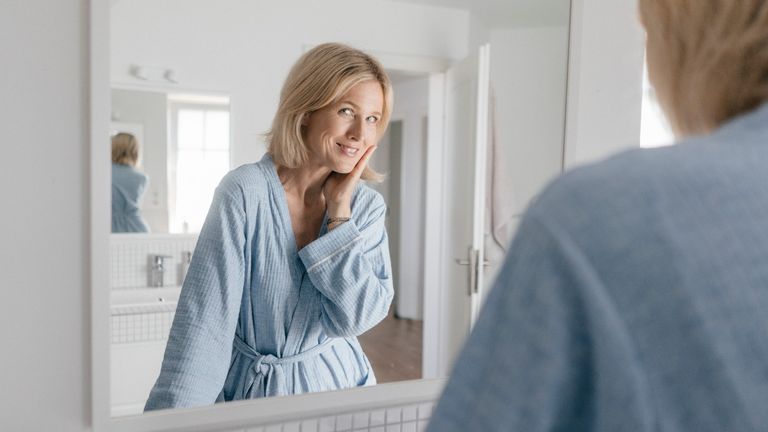 (Image credit: Getty)
Avon is launching a menopausal skincare range next year - which will include an ice-cooling rescue mist that helps to relieve hot flushes.
The skincare range, named Adapt, is designed specifically to support women through the hormonal effects of perimenopause and menopause.
The collection, which also includes a rescue serum and night cream, with key ingredients such as turmeric and cucumber to help relieve menopausal symptoms, starts at just £7. 
Common symptoms of menopause include hot flushes, night sweats and anxieties - which result in changes to the skin. The three products in Avon's new range, which are available to buy on January 1st,  include plant extracts that support the skin's natural ability to deal with these stressors. 
The plant extracts are known as adaptogens, because of their unique ability to 'adapt' their function to the specific needs of the skin - and to help bring balance to it.
The key ingredient for its hydra rescue mist is a native South Asian plant called Tillicora - which helps to alleviate hot flushes, while the rescue serum uses the antioxidant ingredient Turmeric. The ingrident eases dry skin caused by the reduction in oestrogen during perimenopause and menopause.
The brands Adapt Dream Cream is also packed with ingredients that are said to help you sleep better - one of the side effects of menopause. 
Dr Sarah Jarvis, a UK GP says: "Much more needs to be done to explain the stages of menopause and eliminate that element of shock. I see it all the time in my surgery – women think menopause is something that happens in their 50s, whereas most often they start to experience symptoms far earlier with the little-communicated phase, perimenopause."
She goes on to say how it can affect our appearance and wellbeing: "The hormonal shifts can have a major impact on mood and how we feel about ourselves. They can disrupt sleep and concentration and affect your weight, skin, hair and energy levels. 
"This can be confusing and worrying for women and their loved ones. Knowing what's happening is the first step in managing those symptoms and navigating this natural process with lessened impact."