When to get critical illness insurance
Understanding critical illness insurance—a guide to how you might cope financially if you had a serious illness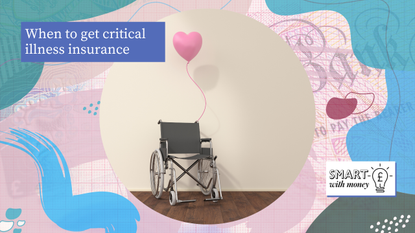 (Image credit: Getty)
Thinking about how you or your family would cope if you had a serious illness or life-changing injury isn't something many of us like to spend time doing.
But without savings or a generous workplace package to fall back on, help can be limited, with statutory sick pay less than £100 a week. And when it comes to having a financial buffer, one in four UK households has less than £1,800 in savings, according to consumer research site NimbleFins (opens in new tab), which is less than one month's average salary.
If you're considering critical illness cover, then here is what you need to know about how the insurance policy works, the costs and what it involves.
What is Critical Illness insurance?
It's an insurance policy that provides financial support in the form of a tax-free lump sum if you're diagnosed with a critical illness or injury, and the money can be used for anything you choose, from paying off your mortgage and bills to covering the cost of care, or even adapting your home if necessary.
You can take out a policy from the age of 18 until around 70 (although premiums are much cheaper the younger you start) and payments are ongoing for a fixed term, unless you make a claim, in which case the policy ends.
There's no "one size fits all" so you need to decide on the level of cover you want, along with the policy term. You may want this to tie in with financial commitments, for example to run until the kids have left home, finished university or you've paid off the mortgage.
What does critical illness insurance cover?
Smart With Money
Smart With Money is our dedicated money channel created to give you expert, easily digestible information to help you make the most out of your money.
When it comes to the specific medical conditions that are covered, these vary between providers.
"Critical illness policies typically cover 50 plus conditions including heart attacks, cancer and strokes, in some capacity," says Ben Burgess, senior adviser at life insurance broker LifeSearch (opens in new tab). "But where they differ is in the total conditions covered and the definition of what constitutes a claim, which is why some policies are more expensive than others."
According to the Government-backed MoneyHelper (opens in new tab)financial website, other conditions covered can include multiple sclerosis, Parkinson's and Alzheimer's disease, and organ transplants.
"Most policies also provide cover if your child were to suffer a serious illness," says Louise Colley, head of retail protection at Zurich UK (opens in new tab). "While your employer would probably be sympathetic, there could come a time when you'd have to accept unpaid time off, or even stop work completely until your child gets better." This can be an optional benefit, so it's worth checking.
While it makes sense to cover the main breadwinner in the family, you can get joint cover, although the policy only pays out once. If as a couple you both want to be covered independently, you need to buy two separate plans.
How much does a critical illness policy cost?
As with any insurance, premiums are calculated to take into account the "risk" factor, so prices are based on your age, health (and whether you're a smoker), along with your job, and the level of cover you want.
"The cost of critical illness cover usually starts from around £5 a month, but that doesn't get you a whole lot," says Burgess.
You can buy cover on its own, from insurers including Aviva (opens in new tab), although in most cases, it's bought as an "add on" to life insurance.
According to life insurance broker LifeSearch, taking £100,000 of cover over a 25-year term, for someone in good health would cost between:
£23 - £45 a month in your 30s
£48 - £78 in your 40s
£106 - £172 in your 50s
How much critical illness insurance cover do I need?
"This will depend on things like your savings, outgoings and how much you have to pay on your mortgage," says Colley.
"A crude rule of thumb might be three times your annual income, which ought to provide time for recovery and necessary adjustments, but the best bet would be to speak to a financial adviser."
When doing the sums, balancing affordability with the level of cover you want to insure for is key. "It's better to have lower cover, where you know you can sustain the premium, rather than find you have to cancel it," Colley adds.
You can also opt for cover to increase with inflation, which will be reflected in your payments, or go down as your mortgage and other financial commitments decrease, for example when your kids leave home.
What are the exclusions for critical illness policies?
Insurers set their own conditions, which is why it's super important to read these policies carefully. If you have a terminal illness and are expected to live less than a year, then you would usually be excluded from critical illness cover. Policies also won't pay out if you die, as this is what life insurance is for.
If you want to protect against the possibility of getting a serious illness or injury, as well as dying, you can buy combined policies with both life insurance and critical illness cover.
Before you buy, always declare any pre-existing medical conditions, otherwise you run the risk of a claim being turned down.
Getting advice for critical illness insurance
You can buy policies from insurers directly, through price comparison sites such as GoCompare (opens in new tab), Moneysupermarket (opens in new tab) or specialist brokers like Lifesearch (opens in new tab).
Because of the detail of these policies, it may be worth seeking specialist financial advice and you can find local qualified advisers through Unbiased (opens in new tab) or Vouchedfor (opens in new tab).
Sue Hayward is a personal finance and consumer journalist, broadcaster and author who regularly chats on TV and radio on ways to get more power for your pound. Sue's written for a wide range of publications including the Guardian, i Paper, Good Housekeeping, Lovemoney, and My Weekly as well as two books including 'How to Get The Best Deal'.
Cats, cheese and travel are Sue's passions away from her desk, though as you might imagine she always looks for ways to see the sights for less!