Your 2022 money horoscope revealed—what to expect from your finances and career this year
Discover your money horoscope for 2022 from two astrologers who reveal their career and finance predictions for your zodiac sign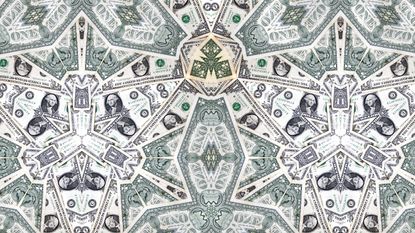 (Image credit: Getty Images)
woman&home newsletter
Sign up to our free daily email for the latest royal and entertainment news, interesting opinion, expert advice on styling and beauty trends, and no-nonsense guides to the health and wellness questions you want answered.
Thank you for signing up to . You will receive a verification email shortly.
There was a problem. Please refresh the page and try again.
Introducing your money horoscope and career predictions 2022. Will you be making a big move in the next year, or can you expect some kind of financial windfall for the rest of the year? Our two astrologers share their predictions for every star sign below...
Astrologers Sally Morgan and Penny Thornton have looked to the stars to share their predictions and forecasts for each astrological sign's financial outlook for the year.
While your 2022 horoscope will give you an overview of what to expect in general, and your love horoscope covers details in your personal life, your money horoscope takes a deep dive into what you might expect from your career and finances.
So, once you've caught up on your weekly horoscope, take a look at your 2022 money horoscope as predicted by our expert astrologers...
Your 2022 money horoscope by astrological sign
Scroll down to find the predictions for your sign, or use the menu on the left hand side to jump down directly to your sign's readings.
Aries
For Aries, your money horoscope suggests that 2022 will be the year that your hard work and investments (both in yourself and in key financial areas of your life like your business) pay off.
Astrologer Penny Thornton explains, "All the work you've put in over the past six years is about to pay off. The lunar eclipses of the year (May 16 and November 8) have a bearing on your financial future. An inheritance, settlement, or job upgrade for some, and a big spend for others."
Sally Morgan agrees that a new job or a promotion is on the horizon—bringing financial gains with it, "A message in March brings news you've been hoping for. In September, travel is likely and you could visit an exotic location—perhaps for work, as you're about to take up a new job or business opportunity. The thrill of a conquest is your greatest source of happiness. This year could see the opportunity to get the finances arranged to set up a new business. Messages of support will come from many areas as you turn your dreams into reality."
Taurus
In 2022, the money horoscope for Taurus promises plenty of change, with new opportunities in your work. The biggest money months for Taurus are set to come at the very beginning and close to the end of the year.
Penny Thornton said, "Saturn continues to make its mark on your career, which means some of you will take on a job with greater responsibility and pay, while others will struggle to find work or receive the recognition they require. This year could prove to be a make or break time for money and work."
But Sally Morgan predicts that the end of the year will also see big business too, "It's a year of change, but the largest will occur towards winter. A creative opportunity in November will lead to a business development course. You're invited to step into a role of authority, and a successful venture will place your life in the public arena."

She continues, "You'll be able to invest in a new car or something special for the grandchildren when some inheritance is due in October, which will also alleviate any money worries."
Gemini
2022 is a big year for Geminis to action creative ideas for making money, and if you are dedicated, things will quickly fall into place.
Penny Thornton explains that while you should make bold moves, you should also be sure not to be over-zealous when moving your money about. She predicts, "Offers and opportunities may appear out of the blue, but you'll find effort and determination get results. This is a good year to buy a property, but not to invest in schemes that may well fail to deliver."
Sally says, "A business idea will be hugely successful in the fall when a long-term project comes to fruition. You'll find you're a fast learner when a new, creative project takes off and becomes extremely successful launching you into the spotlight. The end of the year will involve a lot of travel around this country."
Cancer
For Cancers in 2022, your money horoscope suggests that while financial relations may be strained, luck is on your side money-wise—though you may have to shout about it!
Penny explained, "Jupiter's entry into the area of career and life goals (May 10) opens the way to success and recognition. You may be lucky and people will realize what a star you are, but a bit of self-promotion won't go amiss. Saturn continues to hamper financial relations—lenders and partners are not in a generous mood—but you can make money."
However, it's vital to look after yourself to maintain your success. Sally Morgan explained, "During May, you may face changes as your workload increases. Your ability to work hard and burn the candle at both ends may leave you feeling exhausted during the busier times of the year."

She continues, "Your boss notices your attention to detail and your empathic way of working. You will be looking at a promotion or a step up the ladder in November."
Leo
It'll be an unpredictable year for Leo's work and money-wise, but that doesn't mean it won't be fruitful.
Sally predicts that 2022 will bring new career moves, "A promotion or new business venture sees you reaching for the stars, as growth and personal happiness are highlighted. You'll feel you're finally where you want to be. As one door closes, the windows open, allowing you to chase your dreams. You'll be asked to assume a leadership position and with your warm generosity and sense of authority, this responsible position is easy for you."
But be wary, she also says, "In December an unhappy employee may try and rock the boat, but this will be easily resolved."
Penny Thornton says, "Uranus continues to make the going unpredictable and this could mean you'll be doing more than one job or retraining in order to find one. 2022 favors enterprise and you could go into business with a partner or team up with a colleague. Lenders should be generous, and buying and selling is a good option."
Virgo
For Virgos, 2022 is all about self-promotion—but it'll be vital not to burn yourself out in the process.
For your money horoscope, Penny predicts an exciting year for Virgos if they can utilize their connections, "You have to remind people how talented you are. Network like crazy. Use your contacts. Some Virgos will work abroad or with international firms; others may find themselves teaching or mentoring. Money comes in during the second half of 2022, either through work, a settlement, a property sale, or a legacy," she said.
Sally concurs but explains that it's important to make sure it all works for you too. "You may be feeling very eager to please at the start of the year and will even take on things that you don't really enjoy, as you're not afraid of hard work. But life is too short—think things through carefully, choose wisely and cherish every second you have. You're investing in your future and trusting your instincts as the sun enters Aquarius, but remember to use your intuition when you start a new job or business. You're more than capable of taking on difficult work, as you can easily keep control of its complexities. In November there are business trips to foreign destinations, along with a party to celebrate your success."
Libra
Money horoscope predictions for Libra in 2022 look good, especially if you are keen to strike out on your own. However, there are a few reasons to be financially cautious...
Penny predicts your finances look very promising, but that for some Libras it could be in a very different way to being self-employed. "Partnerships prosper, and you could be headhunted by a top organization. The year's eclipses highlight the financial axis, so there is an element of fate to the way money. Back your own talents," she said.
According to Sally, the key for many Libras will be to take breaks and keep the details of your finances private, "Balance your work and free time over the summer, taking into account your personal and professional obligations, as you may end up feeling exhausted with little time left for rest. The full moon moves into Aries in October, when somebody you've taken into your confidence may turn out to be untrustworthy, so keep your financial situation to yourself."
Scorpio
For Scorpios in 2022, it's a time of big change—but that needn't be negative! There are huge opportunities for making money, especially in the latter part of the year.
Penny says it could be a great time to learn new skills and that bigger investments could be stalled. "2022 is a year of transition. You may need to change your career or gain new skills to progress in your field, and if you are in your mid-40s, it's time to follow your passion. The second half of the year is better for money and work, but there could be delays with property sales and purchases."
And according to Sally, "The best places to visit in March for you will be near water as this will bring a new person into your life, which will lead to study and an exciting opportunity." She also says, "Although money is not a priority for your intellectual and analytical sides there are things that you want to do and places you would like to visit, and money is a necessity if you're to follow your dreams."
Sagittarius
Success is coming your way this year financially and career-wise, with hobbies having the potential to provide lucrative returns in 2022.
Sally says that hard work will pay off ten-fold, "A fiery new hobby will become extremely important to you this year and will bring unique ideas to the forefront of your mind. Take center stage and luck could lead you on to a successful career. As you feel so passionate about this hobby, the joy you feel will rub off on others, and your reputation will soar. Hard work pays off, and you're able to save for a rainy day and a future house move or car."
She continues, "This is a fantastic year to invest in property, you may be renovating or investing in a property to rent out, either will show a great return. You always manage to take on more than the other signs and find it quite easy to juggle all of your projects as long as they are mentally stimulating. Heading to the airport for a winter break means you'll end your year on a high."
But, Penny Thornton cautioned against being too flippant with money, too. "You may start a family business, receive family money and backing or you could work from home. It is also a good year to invest in property and your own talents. But it's not a good year to throw money around."
Aquarius
Aquarians—a key theme of your money horoscope for 2022 is to expect the unexpected.
Penny Thornton explains, "You may have to rethink your long-term prospects. Jupiter's passage through the money zone should help finances, but with the eclipses of the year on your life-direction axis, completely random developments affect your course."
While Sally Morgan says that big things with big companies could be on the horizon. "New beginnings and personal growth on the creative front might see you headhunted by a large company. You're enjoying your workload and branching out into new areas including working with children and young adults. You will continue to develop your knowledge in these areas through study and placements, and a contract signed in September, with Mercury in Libra, will bring all of the pieces together landing you the perfect job."
Capricorn
Things will really begin to take off fiscally from the middle of the year for Capricorns, and it could be a good time to invest if you make sensible decisions.
Penny explains, "It may take until mid-June before your efforts to find work or improve finances start to pay off. Likewise, a new home or using your home for investment purposes is more likely from June. It may also be time to rethink your career and retrain."
However, Sally warned that you shouldn't let your career and finances take over too much—and that you ought to be cautious in the early part of the year at work. "Avoid overworking, as your success could become overwhelming. Signing a legal document in September will expand a business or property. Focus on finances and practical matters in August, as checking your bank statement might shock you over the amount of spending on small items. You show great capability when your work is of the worthwhile type, benefiting others, like charity work or teaching. This year you are building on your achievements" she said.
Pisces
Pisces can look forward to a creative and enriching 2022 career-wise, which could reap solid rewards.
Sally predicts, "There is the chance to study and invest an inheritance into something that you're really interested in, which could lead to a career change. You're feeling guarded where investments are concerned, and rightly so, as you feel more secure when the money is easily accessible for an unexpected expense. A contract signed in November will bring more financial security your way."
Penny also advised trying something new when it comes to your career, such as a new qualification or organization, "Journeys in miles and experience take you far. You may join an overseas organization, learn a new language or acquire qualifications, and turning your hobby into your job is recommended. Some Pisceans will find great success and recognition, and all should see financial improvements. Aim high. You have nothing to lose."
Amy Hunt is an experienced digital journalist specialising in homes, interiors and hobbies. She began her career working as the features assistant at woman&home magazine, before moving over to the digital side of the brand where she eventually became the Lifestyle Editor up until January 2022. Amy won the Digital Journalist of the Year award at the AOP Awards in 2019 for her work on womanandhome.com.