It's All About Audrey Hepburn This Summer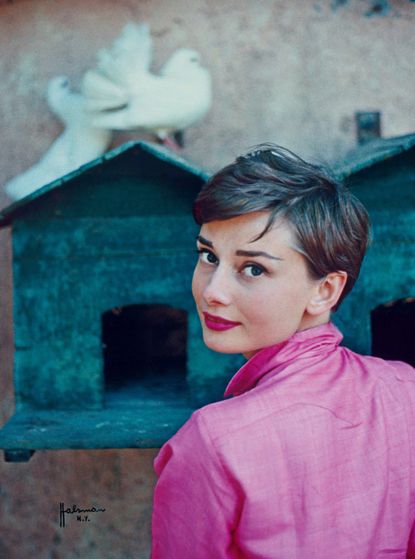 (Image credit: Philippe Halsman)
We bring you a sneak preview of Audrey Hepburn at the National Portrait Gallery and reveal how you can win a VIP experience...
Audrey Hepburn by Philippe Halsman
Audrey Hepburn fever is sweeping the nation this summer, as 2015 marks the 65th anniversary of Hepburn's debut appearance in London's West End as dancer and chorus girl in Petite Sauce Tartare. And London is the place to be once again. The National Portrait Gallery is showcasing an exhibition all about Audrey, while The Royal Opera House is also hosting the world premiere of Breakfast at Tiffany's Live.
First up, the National Portait Gallery (opens in new tab). An exquisite exhibition of never-before-seen images will be revealed from 2nd July until 18 October.
With over sixty exclusive images, the exhibition will tell the captivating story of fashion icon and actress Audrey Hepburn. Offering a truly fascinating insight into her high profile life, the exhibition shows pictures of her effortless elegance from her early years as a chorus girl in London's West End through to portraits of her as an established actress and model.
The collection includes classic and rarely seen prints from leading twentieth-century photographers such as Richard Avedon, Cecil Beaton, Terry O'Neill, Norman Parkinson and Irving Penn. Alongside these, an array of vintage magazine covers, film stills, and extraordinary archival material will complete her story.
Click through for your sneak preview of this summer's must-see exhibition plus your chance to win a VIP experience...
Costume test for Sabrina, 1953
Audrey Hepburn costume test for Paramount Pictures in 1953
Audrey Hepburn in Richmond Park by Bert Hardy, 1950
An unpublished photograph of Audrey Hepburn dog walking in Richmond Park
Audrey Hepburn by Bud Fraker, 1954
Audrey Hepburn by Bud Fraker, for 'Sabrina', Paramount Pictures, 1954
Audrey Hepburn by Leo Fuchs
Audrey Hepburn on location in Africa for The Nun's Story in 1958
Audrey Hepburn in Breakfast at Tiffany's
Audrey Hepburn as Holly Golightly in Breakfast at Tiffany's by Howell Conant, published on the cover of Jours de France, 27 January 1962
Audrey Hepburn by Cecil Beaton, 1960
Audrey Hepburn in Rome
Audrey Hepburn by Anthony Beauchamp
Audrey Hepburn by Antony Beauchamp, 1955
Breakfast at Tiffany's Live at the Royal Albert Hall
And if you really want to embrace this summer's Audrey fever, be the first to snap up tickets to the world premiere of Breakfast at Tiffany's Live at The Royal Albert Hall (opens in new tab) . The classic film will be shown in full and accompanied by Henry Mancini's Oscar-winning score performed by an on-stage orchestra and choir. Tickets are priced from £22.90 for performances on Friday 12th and Saturday 13th June. Lucy Noble, Director of Events at the Royal Albert Hall, said: 'Since 2009, we have pioneered film-and-live-orchestra events as a new way for people to enjoy classical music and their favourite movies. Audiences are bewitched and enthralled by the intensity and spectacle of these events. 'It's also a way for audiences to experience their first taste of live classical music, acting as a gateway into that rewarding and exciting world.' Woman and Home have an exclusive VIP Breakfast at Tiffany's Live prize to give away - a Champagne afternoon tea at the Royal Albert Hall and a pair of excellent arena matinee tickets, worth £175. To enter now click here.