Isabella Blow: Fashion Galore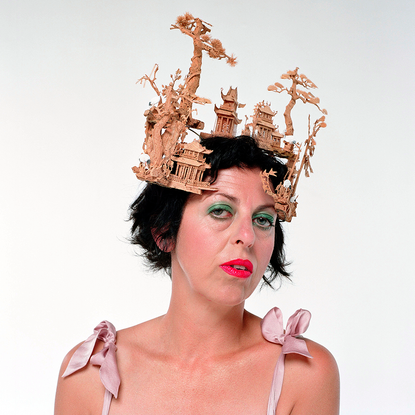 Here we showcase Isabella Blow's most iconic images...
This autumn, Isabella Blow: Fashion Galore! is coming to Somerset House. The exhibition will celebrate the extraordinary life and wardrobe of the late British patron of fashion and art, Isabella Blow.
Debuting as Anna Wintour's assistant at US Vogue, Isabella Blow then returned to London where she worked at Tatler, British Vogue and Sunday Times Style. Blow's thirty-year career saw her discover and launch the likes of Alexander McQueen, Philip Treacy, Hussein Chalayan and Julian Macdonald as well as discovering models Sophie Dahl and Stella Tennant.
Curated by Alistair O'Neil with Shonagh Marshall, the exhibition will showcase a hundred pieces, displaying thematically a life's work of one of the most important figures of late 20th Century/early 21st Century British fashion design. See a selection of highlights from the exhibition now...
Isabella Blow: Fashion Galore! runs from 20 November 2013 - 2 March 2014.Book your tickets here.
Isabella Blow, 1997(c) Mario Testino
This iconic image of the style maven was taken by Mario Testino in 1997, the year she left Tatler to become the Fashion Director of the Sunday Times Style. Now owned by Daphne Guinness, Blow's clothes are being exhibited in the hope that her legacy will inspire generations of designers to come.
Isabella Blow, 2002(c) Diego Uchitel
Taken in 2002 by Diego Uchitel, this photo is a prime example of Blow's fascination with hats, about which she famously stated: 'Fashion is a vampiric thing, it's the hoover on your brain. That's why I wear the hats, to keep everyone away from me'.
Alexander McQueen and Isabella Blow, 1996(c) David LaChapelle Studio Inc
'Burning Down the House', a portrait by David LaChapelle of the late Alexander McQueen with Blow, his muse, was originally published in the March 1997 'Swinging London' edition of Vanity Fair. Both dressed in McQueen with the castle dramatically burning in the background, the article appropriately named them 'The Provocateurs'.
Isabella Blow at the American Embassy, 1998(c) Roxanne Lowit
Blow is photographed here at the American Embassy in Paris in 1998 by Roxanne Lowit. With a silver lobster clung onto her neck, this is one of Blow's most iconic looks, a thought-provoking foreshadowing of Lady Gaga's unique and equally as provocative style.
Isabella Blow with Horns, Gloucestershire, 1996(c) Juergen Teller
Taken in a woodland scene in Gloucestershire in 1996, Juergen Teller's photo, Isabella Blow with Horns, depicts her love of the British countryside. Combining her own passions with eccentricity and individual style has become synonymous with Blow's name and work and will be prominent in the exhibition.
Isabella Blow and Philip Treacy, 2003(c) Donald McPherson
This image of Isabella Blow and designer Philip Treacy was taken by Donald McPherson in 2003 for Vanity Fair. Blow wears an Alexander McQueen Haute Couture Mother of Pearl top and trouser, accompanied by a Treacy 'Tiffany pink DuPont Lycra stretch disc with feather arrows'.