Sarah Ferguson wears a special outfit for an important cause and is praised by fans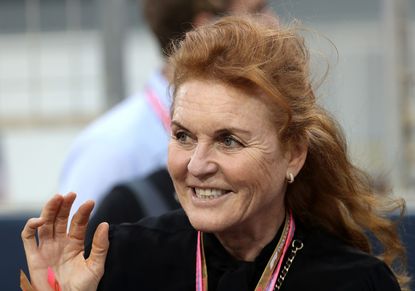 The duchess is raising awareness for a new campaign by the Children's Brain Tumour Foundation...
Sarah Ferguson, Duchess of York, posed yesterday for an Instagram photo in a charity t shirt which read 'sister'. The picture was in aid of a new campaign from the Children's Brain Tumour Foundation.
Sarah revealed to her 196k following on her Instagram page: "In honour of #NationalSiblingsDay @ChildrensBrainTumorFoundation is kicking off a special campaign to raise awareness and funds for a new program.
'The #SiblingSupportProgram will be the first and only national support program for siblings impacted by a childhood brain and spinal cord tumour diagnosis.'
MORE:Nominate an amazing woman in your life and she could win a w&h award (opens in new tab)
The Duchess shared a link to the site where the top can be purchased from. All sales proceeds from the t shirt over the next month are going to the Children's Brain Tumour Foundation's Sibling Support Program.
The sister version of the t-shirt costs £19.09. It is available to buy here (opens in new tab) and there is a brother version available too.
The Duchess' followers were impressed by her continuing support for important charities, with many taking to the comments to praise her efforts.
One said, 'Thank you for all of the charitable work that you do!', while another wrote, 'Thank you for all the hard work you do, making this a better place to be❤️'
A third fan commented, 'So proud of you.. You are making a difference in many lives..'
And a fourth said, 'An inspiration 💖'.
According to the CBTF, the campaign aims to "build an online and face-to-face program in order to gain more understanding of issues siblings face and to provide clinical and peer support for this often-neglected group."
The charity claims that while many programs support brain tumour patients, their siblings are often left without sufficient support.
If you know an amazing woman who is also doing brilliant work for charity or in her local community, enter her in our Amazing Women Awards 2019. (opens in new tab)
Sarah followed her post with an homage to her own sister across the globe, writing, "On National Siblings Day I am celebrating my sister who is so important to me and I love her more than ever, even so far away in Australia."
She also paid tribute to what she called "the other siblings in my life" sharing a candid, never before seen photo of her daughters Beatrice and Eugenie.
Words by: Kate McCusker