Everything you need to know about the woman&home Amazing Women Awards 2019 in partnership with Hotter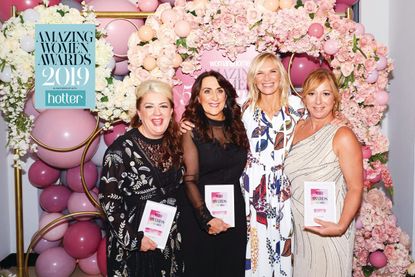 Welcome to our woman&home Amazing Women Awards 2019, in partnership with Hotter.
For the second year running we are going to be celebrating the most inspiring women in all walks of life – from high-profile celebrities to women helping others in their community with our Amazing Women Awards 2019. And this year we're partnering with Hotter Shoes.
It's time to marvel at the utterly brilliant women aged 50 and over making a difference within your midsts. The winners will be announced in October 2019 at a glamorous event in London.
The reader-nominated categories:
Please note, nominations for the reader-nominated categories are now closed. We will announce the shortlists at the end of June 2019.
From nurses and doctors to carers at home
Improving the environment we live in
Litter-pickers, beachcombers and campaigners to save the high street or the local library
Going to extra mile for charity
Women raising money, ramping up awareness for important causes
The Amazing Women Awards 2019 full category list:
Champions of the arts
Fuelling our passion for culture
Brand new directions
Brilliant entrepreneurs leading the way
Smashing the glass ceiling
Role model at the top of corporate environments
Celebrities doing good
Stars of stage and screen who also do great work for charity
Don't tell me I can't
Women doing amazing things and fulfilling their dreams
Social and tech geniuses
From Instagram influencers to app inventors
Changing our country
Women in high places dedicated to making our lives - and lives of children - better
About the Awards
Last year we were blown away by the winners and shortlisted nominees and we celebrated with a glittering ceremony in London's Claridge's, which we can say hand on heart was our best night out of the year – from moving speeches and rousing cheers to dancing round our handbags until the early hours.
Victoria Betts, Global Omni Channel Director at Hotter, explains how the Hotter/W&H partnership came about.
"We understand that women over 50 are just getting started with their life's adventures. It's a time when they have more connections than ever before … children, and their children's children; friends from work, hobbies and education; new careers.
"We've listened to our customers and they're busier than ever before; they don't have time to slow down, they are celebrating this latest stage of their lives – and they want to see other women doing the same.
"Which is why we've revamped our brand, we're featuring models that look just like them and we felt this fantastic award event was a perfect fit – just like our shoes!"
Kelly is the former Digital Editor of womanandhome.com. She joined the brand in 2015 and left in March 2022. With over 15 years of experience in digital and print journalism, Kelly has worked for some of the UK's most prestigious publishers, including The Guardian, Shortlist Media, Time Inc, and now Future Publishing. She specializes in women's lifestyle and has been nominated for two PPA awards throughout her career. In the past, she had provided expert advice and comment for the BBC and Channel 4 about fashion and feminism. Kelly also guest lectures at the London College of Fashion about digital fashion media.