14 fascinating facts about women at the Wimbledon Championships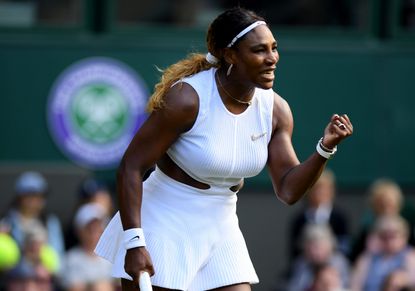 One of the most exciting fixtures in the annual sporting calendar, the Wimbledon Tennis Championships has attracted scores of visitors and players from around the world since it's inception in 1877.
Here we take a look at the important role that female tennis players have played throughout its history, revealing some amazing facts about their feats.
1. The first Wimbledon Championships (1877) only included men's singles. Ladies' singles and men's doubles events were added in 1884, with ladies' doubles and mixed doubles added to the even roster in 1913.
2. The first ever winner of a ladies' singles title was Maud Edith Eleanor Watson in 1884. She scooped the impressive accolade at the tender age of 19, just three years after she began playing competitive tennis in 1881. Maud faced her sister Lillian Watson in the final, beating her 6–8, 6–3, 6–3 to claim the title and was awarded a silver flower basket valued at 20 Guineas. Lillian walked away with a silver-backed hairbrush valued at 10 guineas.
3. Serena Williams (opens in new tab) currently holds the ladies' record for the most aces of all time, at an impressive 102.
4. To this day the winner of the ladies' singles is awarded a round platter called a salver that was made in 1864. However, they don't get to take this home – it remains at the All England Club's museum – and instead get a small replica trophy to add to their trophy cabinet.
5. The Championships stringing team string 2,000 rackets – equating to 40 miles of string – of which 40 per cent is for women.
6. Martina Navratilova currently holds the record for the most ladies' singles titles of all time, claiming victory at one of the most coveted Grand Slam tournaments 9 times.
7. Navratilova is also the oldest female winner at Wimbledon, winning the mixed doubles match in 2003 at 46 years, 261 days old.
MORE:W&H exclusively announce the shortlists for the Amazing Women Awards 2019 (opens in new tab)
8. Martina Hingis is the youngest female winner at Wimbledon, winning the ladies' doubles in 1996 at 15 years, 282 days old.
9. 2007 marked the first time female winners were awarded the same cash prize as males.
10. The most recent female British player to win a ladies' singles title was Virginia Wade in 1977.
11. Ball Girls did not appear on Centre Court until 1985. BBGs (or Ball Boys and Girls) have an average age of 15 and are drawn from schools in local London Boroughs. Nominated by their head teachers they undergo a series of tests including fitness and written tests.
12. In 2003 the tradition of players bowing or curtseying in front of The Royal Box came to an end. However, an exception is still made if Her Majesty Queen Elizabeth II (opens in new tab) or the Prince of Wales (opens in new tab) is present.
13. The loudest known grunt during Wimbledon reached around 105 decibels and came from Maria Sharapova in 2009.
14. The record for the fastest women's serve is held by Venus Williams, who sent a tennis ball soaring across the court at around 205 kph (127 mph).
Miriam worked for woman&home for over five years and previously worked on the women's lifestyle magazines Woman and Woman's Own.