The best Moroccan-chic buys for your summer dining plans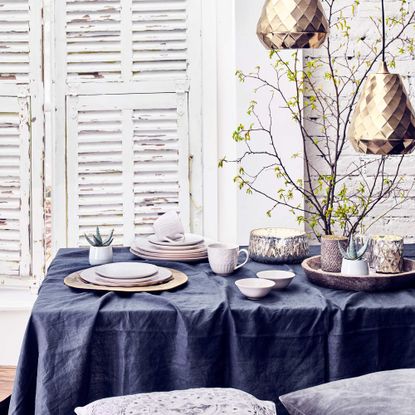 Promotional Feature
The long evenings have finally arrived, and it's time to start making summer dinner plans. Whether you're hosting a seasonal soirée, or simply throwing open the windows to dine in your kitchen's coveted sun spot, Sainsbury's (opens in new tab) gorgeous new Moroccan Luxe collection will ensure that your table looks fabulous.
Using a tonal palette of soft grey and ivory, this collection features patterned ceramics and tableware with opulent gold and silver embellishments. Combine brass accents, textured glassware and riad-style accessories on your tabletop for a multi-metallic effect that'll make the most of the late evening sunlight. As dusk draws in, light one of the candles exclusively designed for this range, and you'll achieve an ambience befitting of a balmy, and exotic Moroccan night. Green cacti, succulents and long-stemmed foliage will add organic interest, and a stylish finish.
Create a plush seating area for your guests to relax in pre-dinner, using a mix of sumptuous velvet and intricately patterned cushions, all inspired by traditional Moroccan textiles and designs. Lay out toasted flatbreads, zesty North African dips and other delicious treats on patterned serving platters, fix your signature summer cocktail, relax and enjoy the setting.
Created by Sainsbury's in-house design team, the sophisticated Moroccan Luxe collection will be a guaranteed showstopper. Here are our three top picks to give your dinner party a little bit of souk chic...
Serve a tasty dip and veggies on this fabulous Moroccan-inspired Print Crudité, £10. Intricately patterned in a soft grey, it's a contemporary take on this classic trend.
Co-ordinating your tableware really gives your dinner party a professional finish, and pieces such as this Pasta Bowl, £4 are pretty enough to hold all your delicious dishes.
Layering gorgeous textiles like this Tassel Cushion, £12 around your lounge will provide a luxe relaxation area for you and your guests.