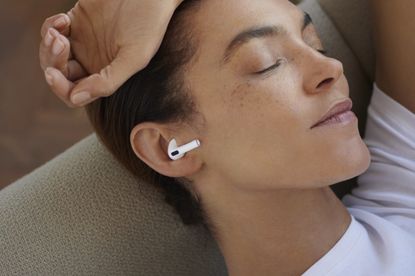 (Image credit: John Lewis)
Choosing the best Mother's Day gift can be a daunting task. It's hard to find that balance of a thoughtful but not overly sentimental present; something original, but functional.
While beautiful flowers and delectable chocolates have their place, Apple 3rd generation Airpods (opens in new tab) are the ultimate gift if you want to spoil the most important woman in your life.
Since the original Airpods were released in 2016, Apple's wireless earbuds have sat firmly at the top of the best-sellers list and it's for a reason.
With their ergonomic design and rich audio and sound clarity, part of the appeal is that you hardly feel like you're even wearing them.
So whether your mother likes to listen to music when she's running, drifts off to podcasts in the evening, or relies on her phone to keep up with loved ones, the headphones are a subtle but hugely powerful daily companion.
The 3rd generation Airpods are water-resistant with inbuilt technology to minimize wind noise, so they're ideal for outdoor workouts or spring strolls during the cooler months. They're also sweat-resistant making them a solid gym bag staple.
Of course, the trusted Apple brand, iconic white design is a big draw, but there's definitely substance behind the style.
We delve into why earbuds are a perfect fit for both the tech-savvy mums and traditionalists.
Why Apple Airpods 3rd Generation are the perfect Mother's Day gift
There's no denying that Airpods are a premium product, but they're also built to last so are a timeless gift choice.
It's easy to see why they are so popular: they're lightweight, offer sublime sound quality, and are easily paired with other Apple products and Bluetooth devices.
These qualities are elevated further with the 3rd generation model, which boast a new contoured design, improved battery life and 'spatial' audio.
Here's why they would make the perfect Mother's Day present.
Stunning sound quality
The 3rd generation Airpods feature immersive spatial audio with dynamic head tracking, creating a three-dimensional listening experience for music, TV shows and films. The intuitive design means that the wearer will be surrounded by sound from every direction.
This technology means your mum can fully immerse herself in podcasts, music, audiobooks or even films or TV shows if she's on the go.
Adaptive EQ automatically tunes the music to the shape of the wearer's ear too, meaning audio frequencies are adjusted in real-time, delivering rich sound quality, no matter how much they move.
For a present with an extra bit of extra wow-factor, make your mum a customized Spotify or YouTube playlist, packed with heartfelt songs or complex musical arrangements. Who said mixtapes were dead?
Long battery life, perfect for traveling
If your mum is an intrepid traveler or prone to long phone conversations, the latest Airpods also boast a battery life of up to six hours of listening with one charge.
The earbuds can last for 30 hours with the included MagSafe and wireless charging case, making for easy charging on the go.
Perfect for long haul journeys, or for those gripping audiobooks that you can't hit pause on.
Sweat and water resistant
The Airpods 3rd generation are sweat and water-resistant: good news for those who use music to elevate their gym workouts.
If your mum is more of a steady stroller rather than a gym bunny, the earbuds can withstand the rain on those drizzly spring walks.
The earbuds are also built to minimize wind noises, meaning the blustery UK weather won't dampen any phone conversations.
Crystal clear audio
Many families live far apart from one another, relying on their phones or video-calling programs to keep in touch.
In the absence of seeing loved ones, it's important to see and hear them with the best clarity possible, which is why the sound quality offered by the Airpods is all the more appealing. The buds are covered in a special acoustic mesh and inset microphone, minimizing all background sounds and ensuring audio is top-notch.
Where can I buy Apple Airpods 3rd generation and how much are they?
The latest Airpods are available to buy on the John Lewis website (opens in new tab), priced at £169 / $223.50
This price includes free standard delivery and a two-year guarantee.
If you'd prefer to spread out the payments, interest-free credit is available on Airpods—check out the John Lewis website for more details.
What guarantees come with Apple products?
All Apple Airpods purchased on the John Lewis website (opens in new tab) come with a two-year guarantee, which you can claim if your product develops any faults.
In order to claim, you'll need to have your model number and date of purchase, so ensure you keep a hold of your receipt, as this will act as your guarantee.
At the checkout, you can also add on two years of accidental damage cover for an additional £20 / $26.40
Some exclusions do apply - check out the John Lewis T&Cs (opens in new tab) for more information.
In addition, every set of Airpods comes with one year of hardware repair coverage through Apple, meaning you can take your product to the Apple Store if it develops any issues. If you want Apple Care, this needs to be purchased separately. Find out more on the Apple website (opens in new tab).
Anna is an editor and journalist, specializing in SEO and digital content production. First carving her career in communications and advertising agencies in Berlin and Barcelona, Anna's former life saw her work for film studios and inside a fashion house, before she moved to Metro.co.uk (opens in new tab) where her career highlights include heading up the SEO desk during the Covid-19 pandemic. Anna's published work ranges from culture and films to human interest features and live news coverage.

In her spare time, she enjoys watching movies, discovering the next big thing in music, traveling, online shopping, and poring over poetry and magazines. When she's not consuming those things, she's probably writing about them.

Originally from Glasgow, Anna has lived in Berlin, Barcelona, and London, not to mention stints in Guernsey and Athens. When she's not struggling to navigate a new language, she's always chasing the next hot trend and perfect black dress (you can never have too many).