Bridgerton's Nicola Coughlan hits back at body shamers
Nicola Coughlan has shut down rude body shamers on social media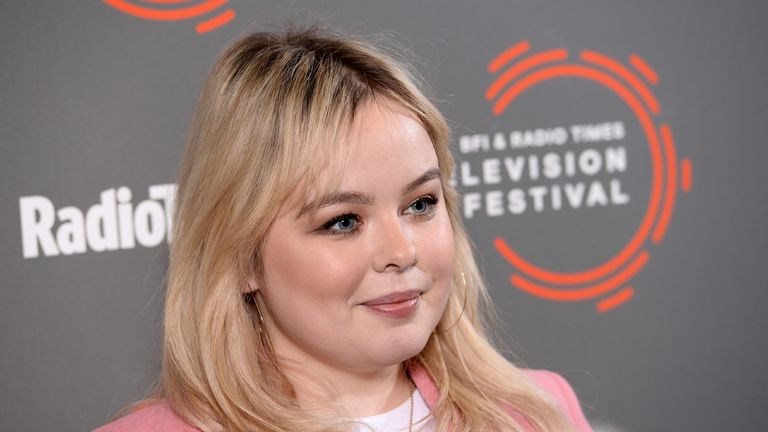 (Image credit: Jeff Spicer / Getty Images)
Bridgerton star Nicola Coughlan swiftly shut down a rude commenter who labeled the actress as "fat" and criticized her choice to wear a cardigan.
Nicola Coughlan stunned in a beautiful yellow tulle gown to celebrate the 2021 Golden Globe awards. The star paired her yellow Molly Goddard gown with bright pink eye makeup, a black cardigan from ply knits, and diamond jewelry from De Beers.
The star undoubtedly looked gorgeous, so fans naturally went wild for this look. However, some commenters were unkind about the actress's appearance and took this fashion statement as an opportunity to comment with their disapproval about her weight and styling.
Read more from woman&home:
• Best pillow for a comfortable, pain-free night's sleep
• Best scented candles for a warm and cozy home this winter
• Best kindles for digital book lovers - we help you decide which one to buy
One particularly unkind comment stated, "The fat girl from Bridgerton is wearing a black cardigan at the Golden Globes, bc no matter how hot and stylish you are, if you're a fat girl there will always be a black cardigan you think about wearing, then decide against, but ultimately wear bc you feel like you have to."
Nicola replied to the comment succinctly and said, "I thought the cardigan looked ace, Molly Goddard used them on her runway with the dresses that's where the idea came from, also I have a name."
Fans loved this response from Nicola and congratulated the star for standing up for herself. One fan wrote, "Nicola has amazing style. She isn't scared of showing her body. I think this was choice rather than a cover-up." Another said, "I think you look absolutely amazing and rocked that outfit. And thank you for standing up to somebody who hasn't the intelligence or ability to say anything better."
In response to the negative comments, Nicola Coughlan later posted an article that she wrote about this very issue in 2018. In the article titled, " Critics, judge me for my work in Derry Girls and on the stage, not on my body," Nicola spoke in-depth about how she wished she would be judged on her acting merit and not by her weight. Nicola recalled a specific time that she had been referred to as an "overweight little girl" and how frustrating it was to have an entire performance reduced to her dress size.
Nicola then concluded the online conversation by asking critics and interviewers to stop asking questions about her body. She said, "So yeah, it's 2021 it would be nice if we didn't have to keep having this conversation."
She then added a touch of light humor to her message in the hope that it would hit home, "It would really love to never be asked about it in an interview again, also I have so many other things I love to talk about, I'm Irish, so I can talk till the cows come home."
Also can we please stop asking women about their weight in interviews, especially when it completely irrelevant.I'm seeing a lot of interviews from 10 years ago where people go "Oh weren't the questions so inappropriate!" unfortunately it's still happeningMarch 1, 2021
See more