Will One Of These Self-Help Books Become Your Bible?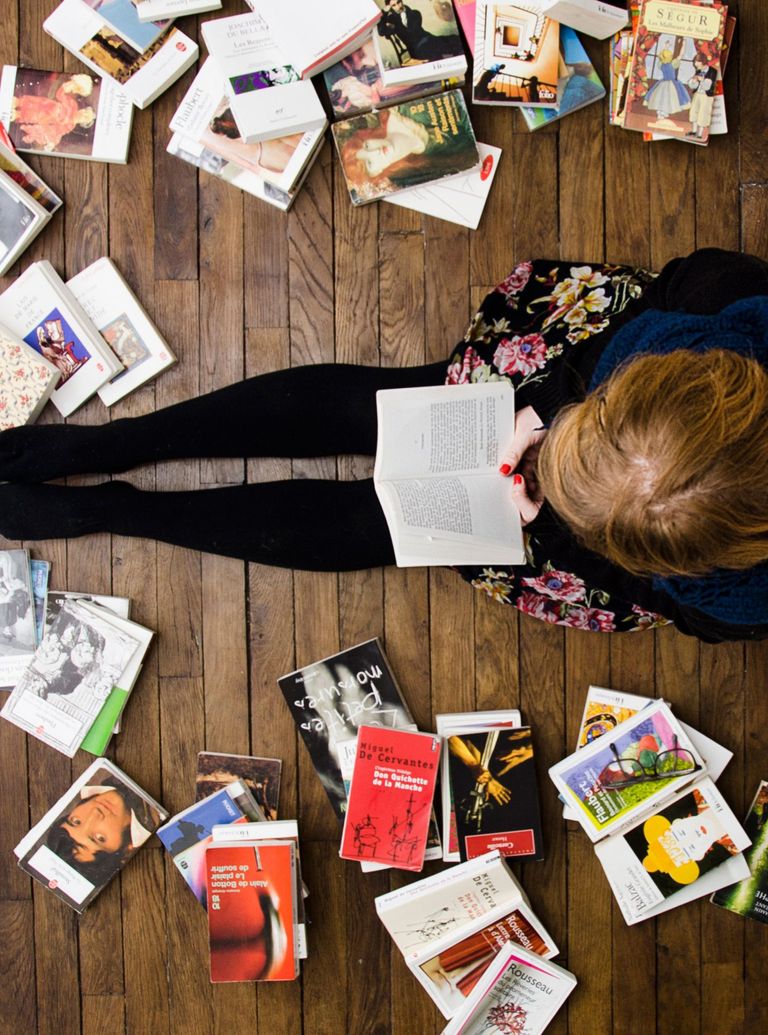 No longer taboo or seen as a life crutch, self-help books can be the key to unlocking confidence, creativity and happiness. Check out our pick of the best...
We all know the magical power of a good book. Whether it's a frightful thriller that leaves us too scared to turn off the light or a heartbreaking drama that moves us to tears, some books stay with us long after we've finished them. So, perhaps it's no surprise that the key to unlocking a better life lies within the pages of a good book.
Self-help books were once considered a taboo or life crutch, but now more people then ever are learning how to achieve their goals with a little self-help. Whatever it is that you feel could be better in your life, there's a self-help book that can help.
From how to get a promotion and breaking bad habits to learning how to be happier and letting go of anxiety, let our roundup of the best self-help books inspire you to achieve your goals.
Because, let's face it – it doesn't matter how content you are in your life, most of us have something that we wish we could change. For some of us, we wish we could make a small change in our life (like having more time in the day) and for others, goals are larger and can even feel unobtainable (like how to feel calmer or be more confident). There's no reason to expect that you can achieve positive change in your life on your own. Instead, improve your chances of success by arming yourself with the self-help books that have been proven to work.
Filled with the latest research and compelling first-person accounts, these gripping reads can help you achieve your goals and be a better version of yourself.
Ready for the new you? Keep reading to discover the best self-help books to help you live the life you want...
The Moth: This Is A True Story edited by Catherine Burns
If you want to: Make a change 'You wake up one morning, get dressed, put on your shoes , and you head out into the world. And you assume you're going to come back at night , go to sleep, and get up and do it again. 'I woke up one morning and I wasn't wearing any of my own clothes. I had two chest tubes, a hose going up my nose to drain my stomach, a catheter, and a morphine drip... At the end of my bed I could see the surgeon who had stayed up all night saving my life, and he was holding my foot. He had given me a 2 percent chance of living. Next to him were two homicide detectives...' So begins the story Ed Gavagan told The Moth, a live storytelling event that takes place in cities across the US. Its name pays homage to the days before TV when storytellers would hold court on the porch, surrounded by moths. The idea is that anyone with a true, first-hand story can apply to take part. If their story wows the Moth directors, they'll help the author tell it better on stage. The Moth (£8.99; Profile Books) brings together 50 of the most extraordinary stories ever pitched. Although not marketed as a self-help book, these stories will make you challenge your status quo. From the doctor called upon one Saturday morning to save Mother Teresa's life to the astronaut who fixed The Hubble telescope 350 miles above Earth and the everyday guy who successfully performed CPR in a lift. Not forgetting the first woman to win the World Series Poker championship and the music teacher who took on militants to defend her art. These are the extraordinary stories of everyday people who overcame adversity - or their own fears - to do something amazing. Could they inspire you to do the same? Buy The Moth
The Chimp Paradox by Dr Steve Peters
If you want to: Harness confidence, success and happiness Do your emotions often cloud your judgement and become destructive? Consultant psychiatrist Dr Steve Peters explains that this is The Chimp in all of us; an emotional machine separate to our 'human' side which can be very constructive or sabotage our happiness and success. Peters' revolutionary book, The Chimp Paradox explains how these emotional thoughts can be our best friend or our worst enemy and through his model dubbed 'Chimp Management' we can understand ourselves and harness the power and strength of these emotions to improve our lives - and take the sting out of them when they're unproductive. The CBT-based system (cognitive behavioural therapy) provides us with the skills to beat anxiety, boost confidence and 'choose' our emotions. As a senior lecturer at Sheffield University and with more than 20 years experience in clinical psychiatry, Peters has a huge following. He has been the resident psychiatrist with the British Cycling team since 2001 and hugely successful athletes from cyclists Sir Chris Hoy and Sir Bradley Wiggins to Victoria Pendleton all attribute their career success to using Peters' Mind Management System. Meanwhile, DJs Chris Evans and Richard Bacon both swear by the philosophy. So whether it's low self-esteem, unhappiness, overeating, anger issues or decision making you want to conquer, this could be the mantra for you. Life-changing stuff. Buy The Chimp Paradox
The Myths Of Happiness by Sonja Lyubomirsky
If you want to: Be happier Did you know homeowners are less happy than renters, spending more time on housework and less interacting with friends? Or that two thirds of the benefits of a raise in income are erased after just one year? So often, the things that are supposed to make us happy don't, so in a bid to discover true contentment Sonja Lyubomirksy tackles the myths of happiness head on. A must-read for anyone who feels like the grass is greener. Buy The Myths Of Happiness
Smarter The New Science Of Building Brain Power by Dan Hurley
If you want to: Be smarter Can fish oil really boost your brain power? And how long do we have to play on Nintendo's Dr. Kawashima brain training to earn another IQ point? US journalist Dan Hurley investigates these and many other brain-boosting claims in his latest account of the mind. Hurley takes on 7 different programmes to test whether his fluid intelligence - that's the underlying ability to learn new things - actually does increase. Compelling reading. Buy Smarter: The New Science Of Building Brain Power
The Power Of Habit by Charles Duhigg
If you want to: Break a bad habit Good intentions only take us so far when it comes to breaking bad habits. Whether you've resolved to eat more healthily or commit to a new fitness regime, it's not long before the carbicidal cravings prove too strong. It's at this point that Charles Duhigg steps in. Rather than providing guidelines for how to overcome our bad habits, Duhigg investigates how these habits are provides suggestions for how we can reprogramme our minds. Looking at the environmental cues that encourage our worst tendencies, Duhigg gives a compelling insight in to the world of subconscious behaviour. This is no homespun remedy, Duhigg's observations have real, scientific gravitas. Buy The Power Of Habit
Don't Sweat The Small Stuff by Richard Carlson
If you want to: Relax Ever been so busy you felt like your head might explode? Judging by the best-selling run of Richard Carlson's Don't Sweat The Small Stuff, you're definitely not alone. Drawing on the early themes of mindfulness, Carlson encourages us all to take a step back and learn to see life as a series of small moments. By breaking down the bigger picture, and learning to tackle things head on and focusing on the present, Carlson's method for everyday relief has been proven to take the sting out of stressful situations. Buy Don't Sweat The Small Stuff
Empathy by Roman Krznaric
If you want to: Nurture better friendships They say there are no selfless good deeds in life, and it seems Roman Krznaric would agree. In his best-selling self help manual, Roman promotes that idea that empathy is at the heart of being human, and so by helping others we can help ourselves feel better too. Through encounters with actors, activists, groundbreaking designers, undercover journalists, nurses, bankers and neuroscientists, Krznaric establishes a new breed of adventurer - the person who can use their empathetic skills to connect with others in extraordinary ways. Buy Empathy
The Key To Calm by Linda Blair
If you want to: Be calm Written with Blair's characteristic wit and humour, The Key To Calm establishes a simple five step plan for dealing with every kind of stress that life can throw at you - from bad sleep to juggling work, parenthood and friends. Packed with practical tips, this book doesn't demand mulling over. You can get started with the changes it suggests immediately. Buy The Key To Calm
Men Are From Mars, Women Are From Venus by John Gray
If you want to: Rekindle the passion You can't beat the classics, and John Gray's Men Are From Mars, Women Are From Venus is the pivotal relationship rescue read. Whether you're fed up of the incessant squabbling with your current partner, or just keen to find Mr. Right, this is the book to turn to. It all boils down to one simple fact: accept your differences and learn to compromise. Buy Men Are From Mars, Women Are From Venus
My Age Of Anxiety by Scott Stossel
If you want to: Understand anxiety Until thirty years ago, anxiety wasn't recognised as a diagnosis, and now it's the most common and often the most misunderstood mental illness. Drawing from his own experiences of anxiety, Stossel reels back through the history of anxiety diagnosis, finding out what great intellectuals such as Charles Darwin and Sigmund Freud thought about the condition. His evaluation concludes with the latest research-based remedies. A deep read but definitely worth taking the time and effort over. Buy My Age Of Anxiety
How To Talk To Anyone by Leil Lowndes
If you want: To be confident What's the secret to success? Is it luck, connections or intelligence? Neither, says Leil Lowndes, a communications expert who specialises in subconscious interactions. According to Leil, confident communication is central to success. Packed with 92 detailed tips for mastering small talk, creating a good impression and turning social situations into professional opportunities, Leil's book is the modern day answer to Dale Carnegie's 1936 'How To Win Friends And Influence People'. Buy How To Talk To Anyone
Lean In: Women, Work And The Will To Lead by Sheryl Sandberg
If you want: A promotion Facebook COO, Sheryl Sandberg's motivational handbook caused controversy by blaming women for their lack of power in the boardroom. While not the most feminist-friendly prose, it does provide some sound advice for moving one step closer to a corner office in the current climate. Buy Lean In: Women, Work And The Will To Lead