This Black Friday robot vacuum deal has saved me three hours and 5,876 arguments a week – and I haven't even had it for that long!
A Black Friday robot vacuum deal means you can put your feet up and let someone else do all the hard work for once.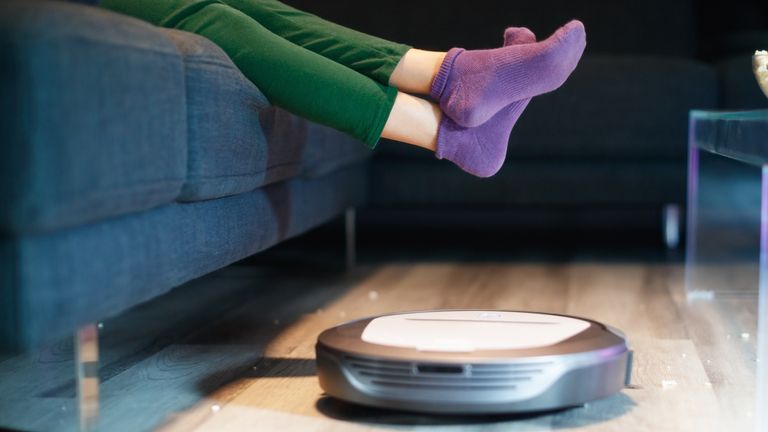 (Image credit: Getty Images / diego_cervo)
Looking for a Black Friday robot vacuum deal? Then you're making the right decision. Trust me, I've had mine for a couple of months now and it's been the best investment I've made in a while. Sadly, I didn't get mine when it was on offer, which is one of the reasons why I think this limited price drop is one of the best Black Friday deals to be had. And that's because my robot vacuum cleaner has not only saved me hours each week, but it's also helped to save my relationship! 
I really thought that when I started working from home more that I'd have far more time to clean the house. I reckoned the time I was saving commuting would easily mean I could clean during the week and then have my weekends off to relax. But how wrong was I? Turns out, working from home meant I was making double the mess I used to when in the office, so it was even more work to try to get things in order at the weekend. And, when more than one person in the household is also working from home, it can lead to tempers flaring. 
To make matters a little worse, I have a long-haired cat. She's great, but if it's not her fur on the floor, then it's random "bits" of greenery that's she inadvertently brought in from the garden. It can feel like you're losing an uphill battle. So when a friend suggested I invested in a robot vacuum I was more than keen!
Not only does owning an iRobot® Roomba® s9 mean I don't have to get the chunky vacuum cleaner from out of the cupboard under the stairs every day, but as it's really quiet, it zips around the house unnoticed. What's more, as it can link up to your smartphone via WiFi, it means I'm not the only person in charge of the cleaning any more. Win, win.
See the full deal below. You just need to make sure you type in the promo code iRobot20 at the checkout. But, hurry, it only lasts until Monday or when stock runs out...
Best Black Friday robot vacuum deals – other great picks
Not sure the iRobot® Roomba® s9 is right for you? Everyone has different needs and budgets, so here's a round-up of the other best deals we've found...
Which one will you pick? 
Here's to a spotless house in 2021...
Faye M Smith is an award-winning journalist with over 15 years experience in the magazine industry. Her continued work in the area of natural health won her the coveted title of theHealth Food Manufacturers' Association (HFMA) Journalist of the Year Award 2021. 
Currently Acting Health Editor across several brands including woman&home, Woman and Woman's Own, Faye specialises in writing about mental health, the menopause, and sex and relationships. In fact, having previously been the go-to sex columnist for Now magazine, there isn't much she won't discuss when it comes to women's health. This makes her the best person to review must-buy sex toys, describe how to have a mind-blowing orgasm or explain how to navigate sex in the shower without it ending in a medical emergency. 
While not anti-gym, Faye's fitness routine is more focussed on finding inner balance rather than burning excess calories. An advocate of mindfulness, she loves power breathing, yoga and plenty of walking in nearby woodlands rather than a sweaty HIIT class. Follow her @fayetuned