Why a sustainable sex life will leave you feeling good in more ways than one
Sustainable sex is the next eco trend to jump on—here's how to make your bedroom habits greener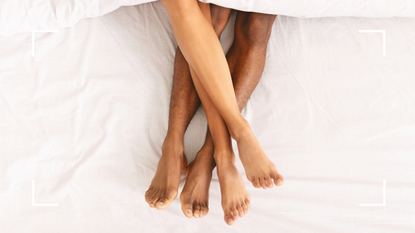 (Image credit: Getty Images)
The phrase 'sustainable sex' may be familiar to some but, for the vast majority of us, it's likely to draw a blank, confused look. Rather than relating—as you might think—to keeping the spark alive in your relationship, sustainable sex is the latest trend that's set to hit your eco radar. As living in an environmentally friendly way is now as popular as it is important, it's likely you're already munching on planet-friendly meals (hello Veganuary) and sampling eco-conscious travel (even if that staycation was the only option...), but why, being natural and all, is what goes on between the sheets an area for concern? Well, it turns out that sex is an area that's green for improvement.
Indeed, from condoms and lube to sex toys and frisky shower habits, our desire to have an orgasm is making an unattractive mark on waste levels and energy use. "We are all becoming more and more aware of our impact on the environment, and sex is definitely making its way into the discussion," says Evie Plumb, sex educator, digital and creative strategist for sexual wellness brand Here We Flo, and founder of podcast Cliterally The Best. "During the pandemic, many of us started to talk more openly about pleasure and, within this, the environmental footprint of our sex lives has become a consideration."
Intrigued? Here's how your bedroom habits could be having an impact on the planet, as well as some suggestions on how to have fun in the bedroom a little more consciously.
What makes our current sex lives bad for the planet?
Sure, you may be generating heat that's not coming out of the mains for once, but the impact of getting intimate is pretty considerable. A report found that, in the UK alone, 222.9 million tons of waste from sex toys, condoms and sexual wellness products end up in landfills each year.
For all their perks, condoms are unfortunately one of the more unsustainable items. "It is estimated that each year, on average, people buy five billion condoms, which turns into 22 million pounds of waste," notes Evie. "Most condoms—which can't be recycled—are not made with natural latex, but with a synthetic latex that is not biodegradable. On top of this, non-latex condoms require petroleum to manufacture, which is a major contributor to global heating greenhouse gases."
Then there are sex toys, which also usually can't be recycled. "Sales have increased as the stigma surrounding female pleasure is slowly fading—but this means that the waste levels in this area are increasing," explains Evie. "Many toys are made from non-recyclable materials, or rely on people to dispose of them in a special way in order for them to be recycled." As the latter might not always be the most convenient, you can see where that begins to become an issue.
Another harmful item is lube. "Synthetic lubricants can contain petroleum, which is a harmful fossil fuel," adds Evie, acknowledging that this information can all seem like a bit of a turn-off. It's not all bad news though: "There are little changes you can make in your sex habits that can really reduce your impact on the planet." Also, one thing's for sure, some hands-only female masturbation will use up some energy of the good kind.
How to make sure you have sex the greener way
Condoms
Now, we're not saying you shouldn't practice safe sex—using protection where necessary is, of course, super important—but there are definitely greener options out there.
"Try to buy condoms from a sustainable brand," suggests Evie. "Look for ones that biodegrade in under a year—once used, of course—as opposed to the hundreds of years it can take for regular condoms. They are just as safe as standard condoms and are made from sustainably-sourced natural latex from a rubber tree."
Ruby Payne, resident sex expert and sex toy adviser for UberKinky, notes that you should also look out for options that are polyurethane-free and non-spermicidally lubricated, since it's the "lubricants and spermicides that take such a long time to break down".
Whatever you do, warns Ruby, don't recycle them—as in, don't try re-using condoms. "And, the golden rule is to never flush condoms down the toilet," she adds, explaining that they could harm sewage systems and marine life. "Not only may they clog up your pipes and end up in the freshwater supply, but latex and water make for a non-biodegradable recipe for disaster. Wrap them up in tissue and dispose of them in the normal household bin."
Lube
When thinking about the best lube to buy for the environment, you need to pay attention to the ingredients. "The water-based ones are best—especially those that are vegan, since they include only natural ingredients that are totally safe to use and haven't harmed any animals in the process [of being produced]," says Tom Thurlow, founder of sex toy brand Ricky, who notes that it often feels better, too. "They are non-tacky and non-sticky as well, reducing friction and enhancing the sensation during sexual play."
Additionally, don't just think about the lube itself, but also how it's presented. "Scrap silly and unnecessary plastic or over-the-top packaging and go for simple tubs, bottles and containers that can be recycled," adds Ruby. A small change that might make you feel as pleased with yourself as you do after checking out some of the best porn for women!
Sex toys
As you'd expect, brands are beginning to meet greener needs with planet-friendly sex toys. To celebrate Earth Day, Womanizer recently launched its biodegradable Premium Eco vibrator. Meanwhile, Gaia's Eco Biodegradable Vibrator is made from starch-based bioplastic. Sexier than it sounds, we're sure.
It's best to think carefully before investing in the best sex toys or best vibrator for you, says Tom. "Choose ones that are made from sustainable materials, such as body-safe silicone, and avoid inexpensive toys that use toxic materials, such as cheap rubbers and plastics," he recommends. "Also opt for rechargeable devices, rather than ones that require disposable batteries—which often means more powerful results and longer performer motors too." Above all, Ruby adds, "Take your time and invest in high-quality ones that will last."
Once you've decided to move on from a particular toy, however, make sure you dispose of it in the correct way. "Biodegradable sex toys are still quite rare," explains Ruby. "Steel and glass materials—which many dildos are made from—as well as silicone material can be recycled. But many sex toys also incorporate electric wires, motors, and components that make it a lot trickier to recycle." Thankfully some brands, like Lovehoney, will take care of them for you for free.
Other things to consider on sustainable sex
It's also worth thinking sustainably about other items you might use in the bedroom, particularly if you're thinking about how to reignite intimacy to treat your seasonal affective disorder. "Burn vegetable candles or beeswax lights instead of scented paraffin candles," suggests Barbara Santini, psychologist, and sex and relationship adviser (dimepiecela.com). "Also, try to use natural vegan essential oils, massage oils, gels, and lotions."
Evie also has some suggestions: "Another easy way to reduce single-use waste is when it comes to 'clean-up'—rather than reaching for the loo roll, invest in a face towel that you can wash." And, while it might be fun to have sex in the shower, it's best to be sparing. "Running lots of water is never great for the environment or your water bill—but the odd shower encounter shouldn't do too much harm," she adds. After another way to spice things up with your partner? These best app-controlled vibrators are great for a good time. Just make sure you pick sustainably.
---
w&h thanks Evie Plumb (sex educator, digital and creative strategist for sexual wellness platform Here We Flo, and founder of podcast Cliterally The Best), Ruby Payne (resident sex expert and sex toy adviser for UberKinky), Tom Thurlow (founder of sex toy brand Ricky) and Barbara Santini (psychologist and sex and relationship adviser dimepiecela.com) for their time and expertise.
Sign up to our free daily email for the latest royal and entertainment news, interesting opinion, expert advice on styling and beauty trends, and no-nonsense guides to the health and wellness questions you want answered.
Lauren is a freelance writer and editor with more than six years of digital and magazine experience. In addition to Womanandhome.com she has penned news and features for titles including Women's Health, The Telegraph, Stylist, Dazed, Grazia, The Sun's Fabulous, Yahoo Style UK and Get The Gloss.
While Lauren specializes in covering wellness topics—ranging from nutrition and fitness, to health conditions and mental wellbeing—she has written across a diverse range of lifestyle topics, including beauty and travel. Career highlights so far include: luxury spa-hopping in Spain, interviewing Heidi Klum and joining an £18k-a-year London gym.