The benefits of yoga for children
The list is endless when it comes to the health benefits of yoga for children!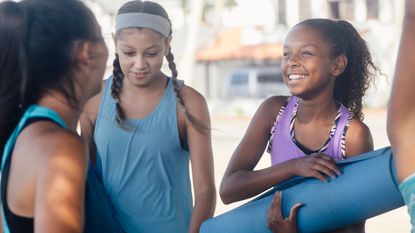 (Image credit: Getty Images / Ashley Corbin-Teich)
Ever wondered about the benefits of yoga for children? After all, they're super flexible and bendy naturally, right? However, if the little ones in your life are running around with too much energy, then yoga could be ideal. And the best bit? You don't need much to get them started, either – just one of the best yoga mats (opens in new tab) (or choose one of the best yoga mats for kids (opens in new tab)) and access to YouTube, where you can find some great tutorials and classes.
Just like its calming effect on adults, yoga can be great for youngsters. In fact, the benefits of yoga for children are endless.
"The idea of children doing yoga may seem strange to some people," says Pauline Gibbons from Tring Yoga Studio (opens in new tab), who regularly teaches all age groups. "However, scientific research has shown that yoga, meditation and mindfulness (opens in new tab) can really help youngsters to perform better academically. It can also improve social behaviour and increase their ability to deal with emotional issues."
Here are the other benefit of yoga for children:
Yoga can raise feelings of self worth in children
Has your child experienced bullying? Or perhaps feelings of low confidence (opens in new tab), especially since Covid-19? "Depression among young people, as well as huge problems around body image and social standing, is rife at the moment," says Pauline.
"Yoga and meditation address these issues. They promote self-awareness and teach children how to process and manage their emotions."
Yoga can help improve strength
While weights can be damaging to growing bodies, yoga is an ideal way to for children to gain strength. And you don't have to be super sporty to join in, either.
"As an exercise, yoga improves strength, endurance, balance and even aerobic capacity," says Pauline. "Unlike most sports, it's non-competitive. It emphasises what a child can do, rather than what they can't. It doesn't focus on the child's shape or size."
Children will have a better attention span
It can be hard for many children to stay calm and focus, especially when it comes to school work.
"Studies also suggest that yoga can help children who suffer from Attention Deficit Hyperactivity Disorder (ADHD) by calming them, helping them to focus and improve memory function," says Pauline.
Yoga can help control stress levels
With a recent NHS report finding that more than a quarter of young people have had sleeping problems in 2020, it's no wonder there is huge concern for mental health in young people at the moment. But yoga can definitely help.
"Becoming aware of how the breath affects the body and mind can also be hugely beneficial to a child's mental health and wellbeing," says Pauline. "Once they learn how to control their breath, it can help them regulate unwanted negative emotions and increase their ability to self-manage during stressful situations."
Yoga can help a child's behaviour – for the better
"In recent years, some schools in America have replaced detention for unruly kids with yoga and meditation," says Pauline. "The number of children being suspended has dropped, and behaviour and concentration in class have improved, as have exam results."
What age should children start yoga?
Think yoga could work well for your family? The great news when it comes to yoga is that there is no minimum age (opens in new tab) for children who want to start.
"Children can start at any age by joining classes specially designed for adults and their baby. Then they can move on to parent and toddler classes," says Pauline. "A lot of studios offer classes for different age groups, including yoga for teens."
Don't have a yoga studio near you? That doesn't matter. "It can also be beneficial for parents to practise yoga at home with their child, as everyone will benefit from the fun and interactive time spent together," says Pauline. There are plenty of YouTube videos to follow.
Go on, give it a try!
Faye M Smith is an award-winning journalist with over 15 years experience in the magazine industry. Her continued work in the area of natural health won her the coveted title of the Health Food Manufacturers' Association (HFMA) Journalist of the Year Award 2021. Currently Health Editor across several brands including woman&home, Woman and Woman's Own, Faye specialises in writing about mental health, the menopause, and sex and relationships.