Cyber Monday fire pits: This fire pit deal is all you need if you're heading into Tier 3 - and it expires soon!
A Cyber Monday fire pits deal will mean you stay both snug and smug this winter, especially if your garden is your sanctuary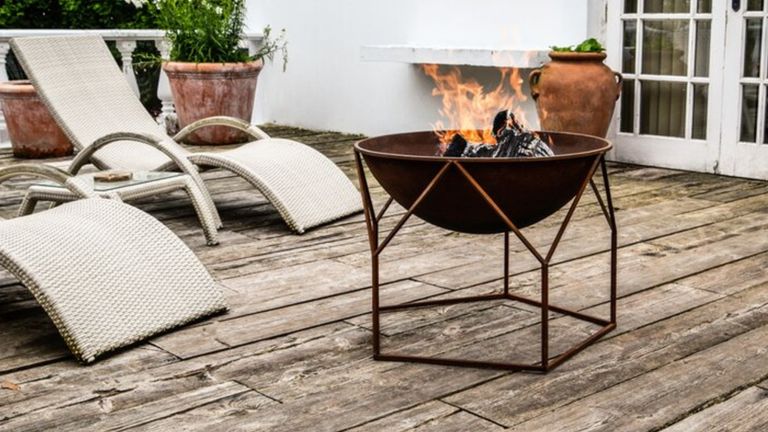 (Image credit: Wayfair)
Spotting a Cyber Monday fire pits deal is definitely something I think is worth shouting about. That's because, with a new round of lockdown and Tiers on the horizon, the places to go for some much-needed entertainment this winter is going to be limited. 
And, if you're heading into Tier 3 (or even Tier 2), you're probably feeling quite depressed about the whole situation. That's why this is one of the most in-demand of the best Black Friday deals and Cyber Monday deals around at the moment. Because when your neighbours are wrapped up in scarves and gloves or shivering while having a drink in the garden, you'll be all toasty, thanks to your new fire pit.
Finding an offer on Cyber Monday fire pits is definitely hard, especially at this time of year when they sell out so fast. Which is why I was so happy to see this one from Amazon. A fire pit is such a coveted item to have in any garden. In fact, I know someone who bought a house based on the fact that the owners were going to leave theirs! 
But this one isn't just about looks. It can really help you stay snug and cosy so you can enjoy your outside space all year round. This is especially the case right now, when you may only be able to see your nearest and dearest outside. Plus, the kids will love the novelty factor of toasting marshmallows.
What's great, too, is the geometric design on this steel fire pit is really on-trend, so will look super stylish wherever you decide to put it.
Be quick, these are selling out fast (everyone probably has the same idea!). See the full deal below...
And, it's not just me who thinks this fire pit is a great investment. The fire pit has tonnes of five-star reviews on the Amazon website, with one adding that it 'looks very classy' and is 'well worth the money'.
Try to get one before they all sell out!
Best Cyber Monday fire pits deals to shop today
Sold out Cyber Monday fire pits deals: These could come back in stock soon