Can't sleep? Netflix's Headspace shares 3 vital tips for a good night's rest
It's time to catch some zzz's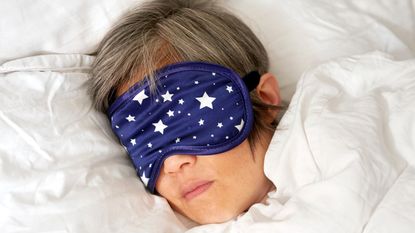 (Image credit: Peter Dazeley/Getty Images)
To say this past year has been stressful would be putting it very lightly. It makes sense if you've been struggling to fall asleep at night, but without a proper night's rest, it can be hard to function the next day. Netflix has the solution, though, with a new series that aims to help you sleep better.
The new Netflix series Headspace wants you to sleep properly at night and has pinpointed some factors contributing to your insomnia.
More from woman&home:
• The best air purifiers for your home
• The best yoga mats for all types of workouts
• The best leggings for lounging and exercising
Everyone falls asleep differently, and Headspace acknowledges this by providing audiences with various techniques to get you in the right "mindset" for sleep, including sleep casts, sleep music, and animation. To help us understand the benefits of each technique, director of content William Fowler broke down each technique for us.
What are sleep casts?
Have you ever tried listening to music to help you fall asleep but still found yourself wide awake? For some, music is too stimulating for your mind and can end up causing you to stay wide awake. If silence also makes it impossible for you to sleep, then a sleep cast might be what you need.
"These are guided audio experiences, designed to transport you to relaxing, dreamy environments," William explained. "We've structured our Sleepcasts so that they begin with what we call a "wind-down" to help people relax and decompress from the day. After that, a narrator carefully describes relaxing landscapes to help people visualize a comfortable, safe place. Running through the whole experience is a light ambient noise to help drown out background sound and immerse people into each environment."
How does sleep music work?
Unfortunately, sleep music does not include your Kelly Clarkson or Cher playlist. Instead, William says their's "was designed to help our members unwind and create healthy conditions to help you get a restful night of sleep."
He warns that by stimulating your mind late at night by scrolling on social media, responding to emails, or answering text messages, then you're not generating an effective sleeping environment.
"By having some sort of wind-down routine, specifically sleep music, then we can help our mind ease into a more restful state," he said.
What are animations?
Think of it as a new form of meditation. In Headspace, "Animation plays a pivotal role in how Headspace has redefined techniques of guided meditation, sleep storytelling, and daily meditation," William explained.
The more you use the app, the more you unlock as your progress goes up.
"New techniques and animations are unlocked as you progress through the app. The idea is that experiencing the use of the app should be like that of learning to meditate from a teacher. It understands as you progress and as your practice becomes more developed, you are ready to take on more advanced ideas, so the animations change with you," he said.
Studies also show that these techniques have had a positive impact on people's sleep, with Headspace reduces stress in up to 10 days.
So, if you're ready to ditch insomnia and get the full rest you deserve, then try one of these techniques and look out for Headspace's series headed to Netflix.
Rylee is a U.S. news writer who previously worked for woman&home and My Imperfect Life covering lifestyle, celebrity, and fashion news. Before joining woman&home and My Imperfect Life, Rylee studied journalism at Hofstra University where she explored her interests in world politics and magazine writing. From there, she dabbled in freelance writing covering fashion and beauty e-commerce for outlets such as the TODAY show, American Spa Magazine, First for Women, and Woman's World.