A free vacation to the happiest country in the world? Where do we sign up?!
Finland was just named the happiest country in the world for the sixth year in a row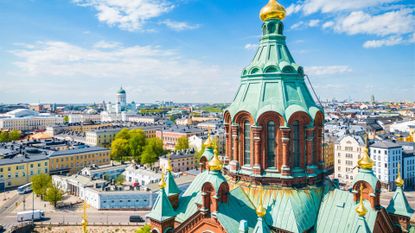 (Image credit: Getty Images)
Ever wondered why Finland constantly gets rated as the country with the happiest population in the world? Now, you could find out for yourself - for free!
Finland, one of the easiest countries to work abroad in has officially been named the happiest country in the world for the sixth year running by the World Happiness Report. Finland first earned this recognition in 2018, and has held the title steadily ever since, with countries like Sweden, Denmark, and Iceland, consistently ranking close behind. Maybe that cozy living Hygge stuff works after all.
The hidden European gem, knows people in other countries want to be that happy, too - so they're offering a free trip to 10 people who want to experience all that the country has to offer for themselves. These fortunate people who will vacation in Finland for free will take a 4-day masterclass on "how to be happy," as provided on the trip.
This trip will give people a chance to find their "inner Finn," according to Visit Finland. To apply, click on the Visit Finland website, where you will first have to fill out a form with some personal information. Then, you must complete their designated "social media challenge" on either your TikTok or your Instagram. After that, they will select 10 lucky people to embark on the happiness journey.
During the happiness retreat, guests will be staying in their own private villas at one of the world's most beautiful hotels: Kuru Resort, free of charge.
So what makes Finns so happy? According to the Visit Finland site, they say it's a behavior that has to be learned and taught.
"The Finnish state of mind is not a closely guarded secret or a mystical ability Finns are born with," the site reads. "On the contrary, it can be shared: Finnish happiness is a skill. A skill that can be taught. Now we want to share our secrets to leading a balanced life on the quirky side."
In fact, Finns are known for being a bit quirky. "Joking with someone (or even at someone's cost!) is the Finnish way of saying 'I like you'," the Visit Finland site reads. Ultimately, though, Finns are said to be as happy as they are because of the time they spend enjoying the benefits of nature in the summer months - and during the other, much colder half of the year, they simulate those happy summer activities to keep spirits high. Finland also has low amounts of crime, and a general amount of life satisfaction overall amongst the population.
According to a short Vice documentary about happiness levels in Finland, Finns will go to extremes such as plunging into pools in freezing temperatures - and even just simply forcing themselves to believe that, despite the cold and darkness, they're content with life.
So, if you're interested in experiencing this lifestyle for a few days, apply on their site.
PS - Finland, if you see this, can we get an invite?
Madeline Merinuk is woman&home's US lifestyle news writer. She covers celebrity, entertainment, fashion, and beauty news but is also obsessed with internet trends - you can find her reciting trending TikTok sounds out loud at any given time.
After winning multiple student journalism awards for her investigative work, she graduated from Hofstra University in 2021 with a B.A. in Journalism. After graduating, she worked at today.com, the digital site for the Today Show, where she wrote pop culture news and interviewed big-name personalities like Emily Ratajkowski, Haley Lu Richardson, Emma Corrin, and more.
Her personal interests, in no particular order, are: cheese, Joni Mitchell, reading, hot yoga, traveling, having multiple chapsticks in every handbag at all times, and dancing to ABBA songs as if she were in the Mamma Mia movies.