Your Guide To Eating Out On A Diet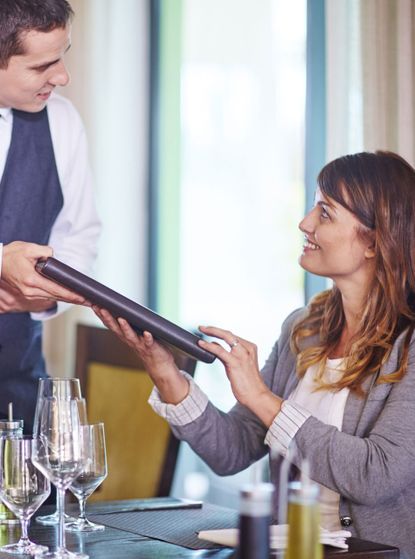 woman&home newsletter
Sign up to our free daily email for the latest royal and entertainment news, interesting opinion, expert advice on styling and beauty trends, and no-nonsense guides to the health and wellness questions you want answered.
Thank you for signing up to . You will receive a verification email shortly.
There was a problem. Please refresh the page and try again.
Heart UK recently revealed that a three-course meal out at one of our favourite chain restaurants could contain up to four times our recommended daily allowance of saturated fat. Government guidelines recommend that women consume no more than 20g saturated fat per day, but a single meal out could pack up to 80g. In fact, a single pizza or dessert often contains almost two days' worth, with Pizza Express' American Hottest Romana 65 pizza packing 36g saturated fat and 1,261 calories and Ask Italian's Chocolate Etna dessert containing 32g saturated fat and 767 calories. Starters aren't off the hook, either. Zizzi's Fonduta Formaggi contains 787 calories and almost a full day's allowance of saturated fat (15g).
Yep, those festive get-togethers could seriously derail your diet and your health... But don't despair. Make the right choices and you can take the guilt out of eating out (without forgoing dessert).
ZIZZI
Starter:
Mixed Olives (pitted green and purple olives in a garlic, red pepper and herb oil) - 144 calories, 2g saturated fat
Main Course:
Skinny Pizza King Prawn Diavola (butterfly king prawns, Fior di Latte mozzarella, crushed chillies and fresh oregano) - 488 calories, 6.3g saturated fat
Green Goddess Salad With Broccoli (tenderstem broccoli on cannellini beans, courgette ribbons and mixed leaves tossed in super green pesto with balsamic tomatoes, radish, baby watercress and toasted omega seeds) - 256 calories, 1.9g saturated fat
Risotto Funghi (mushrooms, rosemary, sage and riserva cheese) - 439 calories, 9.3g saturated fat
Dessert:
Honey, Sea Salt & Mascarpone Gelato - 54 calories, 1.4g saturated fat (per scoop)
ASK ITALIAN
Starter:
Italian Olives (large green nocellara olives from Sicily) - 204 calories, 2.5g saturated fat
Main Course:
Chef's Salad (smoked prosciutto, buffalo mozzarella, avocado and artichoke with tomatoes, cucumber, olives, peppers, red onion, mixed leaves and basil. Finished with grated Grana Padano cheese, croutons and extra virgin olive oil) - 527 calories, 17g saturated fat
Sea Bass Al Forno (sea bass fillet baked in a white wine sauce with new potatoes, tomatoes, mushrooms and spinach) - 560 calories, 13g saturated fat
Spaghetti al Pomodoro (santos tomatoes, garlic and fresh basil in a rich tomato sauce topped with buffalo mozzarella) - 338 calories, 3.9g saturated fat (for a half portion with side salad, no dressing)
Dessert:
Coffee and a little slice of cake (any regular hot drink with a thin slice of Pistachio and Olive Oil cake) - 200 calories, 4.5g saturated fat (cake only!)
Ice cream profiteroles (filled with Italian-style soft ice cream and topped with a rich hot chocolate sauce) - 302 calories, 11g saturated fat
Limone sorbetti (2 scoops) - 144 calories, 0.3g saturated fat
Ask Italian Nutritional Information
Starter:
Spicy Mixed Olives (with mushrooms, garlic and red pepper) - 138 calories, 1.4g saturated fat
Main Course:
Grilled Chicken Breast In Pitta - 375 calories, 0.7g saturated fat
3 PERi-Orange Wings - 361 calories, 4g saturated fat
Sides:
Corn On The Cob (regular) - 144 calories, 0.5g saturated fat
Fino Coleslaw - 72 calories, 0.3g saturated fat
Dessert:
Mango Frozen Yogurt - 71 calories, 0.1g saturated fat
Nando's Menu and Nutritional Information
WAGAMAMA
Starter:
Lollipop Prawn Kushiyaki (skewers of grilled prawns marinated in lemongrass, lime and chilli) - 142 calories, 0.4g saturated fat
Main Course:
Sirloin and Shiitake Salad (35 day aged sirloin steak with grilled shiitake mushrooms, carrots, mangetout, red onions, baby plum tomatoes and mixed leaves in a pea and herb dressing) - 381 calories, 1.7g saturated fat
Dessert:
Raspberry Mochi Ice Cream (little balls of ice cream wrapped in a layer of sticky rice, served with sauce) - 193 calories, 2.4g saturated fat
Wagamama Menu and Nutritional Information
PREZZO
Starter:
Marinated Olives (green and black olives, garlic and peppers, marinated in olive oil and herbs) - 145 calories
Main Course:
Light Tropicana Pizza (pineapple, prosciutto, mushrooms, mozzarella, tomato) - 472 calories
Pollo Al Funghi (penne pasta with mushrooms and spinach in a marsala wine sauce) - 421 calories
Light Penne Arrabbiata (with crushed chillies, parsley and garlic in a pomodoro sauce) - 383 calories
Dessert:
Nutella Hazelnut Spread and Banana Mini Calzone - 317 calories
BELLA ITALIA
Bella Italia marks starters and desserts under 300 calories and mains under 600 calories on its menu.
Starter:
Insalata Rosso (tomato chunks, black olives and onion drizzled with olive oil and lemon dressing)
Main Course:
Tagliatelle Pomodoro (fresh egg tagliatelle with pomodoro sauce, fresh basil and basil oil)
Olive Pizza (from the Pizza Vita range - buffalo mozzarella bocconcini, fresh basil and baby plum tomatoes)
Dessert:
Choose a "shot dessert", each served in a shot glass and clocking in at under 300 calories:
Choose from Amaretto Chocolate Pot, Banoffee Pie, Mini Pannacotta, Tiramisu Mousse and Strawberry Cheesecake
PIZZA EXPRESS
Starter:
Olives Marinate - 122 calories, 1.4g saturated fat
Main Course:
American Hot Leggera (pepperoni, light mozzarella and tomato, with your choice of hot green, Roquito or jalapeno peppers) - 440 calories, 6.9g saturated fat
Leggera Superfood Salad (black rice, edamame beans, red quinoa, mung beans, chickpeas, cranberries, pumpkin seeds and kale in a flavoursome vinaigrette on a bed of seasonal mixed leaves, rocket, cucumber, roasted red and yellow peppers, red onion and fresh parsley with light house dressing) - 461 calories, 3.4g saturated fat
Dessert:
Leggera Tartufo Limoncello (creamy Sicilian lemon and Fior di Latte gelato with a liquid centre of limoncello) - 202 calories, 4.2g saturated fat
Lemon Posset Crunch (a creamy lemon posset on a ginger biscuit base) - 194 calories, 8.4g saturated fat
Dolcetti Chocolate Brownie (made using gluten-free flour, topped with fresh strawberry and icing sugar) - 235 calories, 6.2g saturated fat