Listening to THIS sound for just one minute can help to reduce feelings of stress and anxiety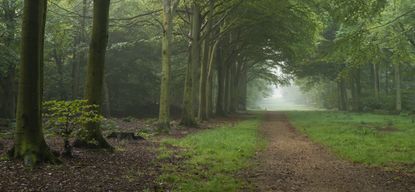 In a fast-paced world we're all searching for a fast-track way to help induce relaxation and achieve inner calm.
And while many turn to practices such as yoga (opens in new tab) and meditation (opens in new tab), a new study has offered up a surprise alternative, and it takes just 60 seconds to take effect.
A new mental chronometry study commissioned by the National Trust (opens in new tab) revealed that woodland sounds such as a trickling stream, birdsong, or crunching leaves helped to increase feelings of relaxation by 30 per cent.
In comparison listening to a voiced meditation app for just one minute saw no change in relaxation levels.
Woodland sounds also helped to decrease feelings of stress by 24 per cent, and anxiety by 19 per cent. However, for the same two measures a voiced meditation app saw increased falls of 39 per cent and 47 per cent respectively.
Interestingly the study also revealed that a resting state – where there was no sound – also saw a downturn in anxiety of 23 per cent. This finding that could potentially indicate the benefits of taking even the smallest amount of time to pause and reflect.
MORE:This relaxation-inducing Holland & Barrett launch is set to make your autumn – and it's under £10! (opens in new tab)
Commenting, Dr Eleanor Ratcliffe, Lecturer in Environmental Psychology, University of Surrey, said, "There is a large body of scientific evidence demonstrating that experience of nature can benefit health and wellbeing, including recovery from everyday psychological stress.
"Much of this research has focused on visual experiences, but more recent work has shown that the sounds of the outdoors, such as birdsong, wind, and water, can also improve mood and reduce stress. These sounds offer a way to connect with nature no matter where you are."
Before adding, "No matter whether the connection is with an outdoor or urban place, our research shows the intrinsic link between connections to place and the triggering of positive emotional experiences.
"For those who have a connection to woodlands, this sense of wellbeing is further heightened through nature sounds, so we want to make sure we're conserving our woodlands, so the public can make the most of the benefits they have to offer both now, and in the future."
An additional survey of 2,000 British adults on behalf of the National Trust also revealed that birdsong is the favourite sound of woodlands, with almost 40 per cent of those questioned stating hearing their favourite woodland sound induced feeling of happiness.
Miriam worked for woman&home for over five years and previously worked on the women's lifestyle magazines Woman and Woman's Own.