Losing weight could slash breast cancer risk by up to 26% in women over 50, study suggests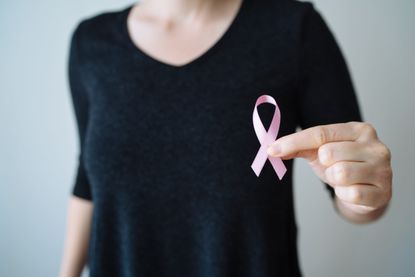 (Image credit: Getty)
In the UK around 55,000 women are diagnosed with breast cancer every year.
Now new research has suggested that losing weight could play a key role in slashing the risk of the disease in women over 50.
Published in the Journal of the National Cancer Institute the Harvard research featured more than 180,000 participants aged 50 or over, pooling together data from ten previous studies from across the globe.
Participants had a Body Mass Index (BMI) (opens in new tab) in the range of 22.7 and 28.3, with an average of 25, at the study start. A BMI of between 25 and 29.9 puts people in the overweight range.
Weight was assessed again after five years, and then roughly four years following that.
During this period 6,930 of the 180,885 participants developed breast cancer (opens in new tab).
The analysis revealed that breast cancer risk fell by 26 per cent for those that lost 20lbs or more, 16 per cent for those who lost between 10 and 20 lbs and by 13 per cent for those who lost between 4.4 and 10 lbs.
Study lead author Dr Lauren Teras, an epidemiologist at the American Cancer Society, said, "Our results suggest even a modest amount of sustained weight loss is associated with lower breast cancer risk for women over 50."
MORE:The online calculator; that could work out women's risk of breast cancer (opens in new tab)
Further insights from the study showed that among the group that lost the most weight reductions in risk were still witnessed, even if they later regained some of it.
Continuing Dr Lauren added, "Perhaps equally as important, these results suggest that gaining weight, and then losing it, confers the same breast cancer risk as keeping a stable body weight.
"In other words, it is not too late to lower your risk of breast cancer if you have gained weight after age 50."
Baroness Delyth Morgan, chief executive at Breast Cancer Now, told The Telegraph, "It's really promising that this major study suggests that even moderate weight loss, as long as it is sustained, can help women over 50 who are overweight to reduce their risk of breast cancer in the long-term.
"With more people now being diagnosed with breast cancer than ever before, it's clear that we need to find ways to support more women to make healthy and lasting lifestyle changes to help lower their risk."
Miriam worked for woman&home for over five years and previously worked on the women's lifestyle magazines Woman and Woman's Own.