How to be optimistic when your brain is wired for pessimism, according to a psychologist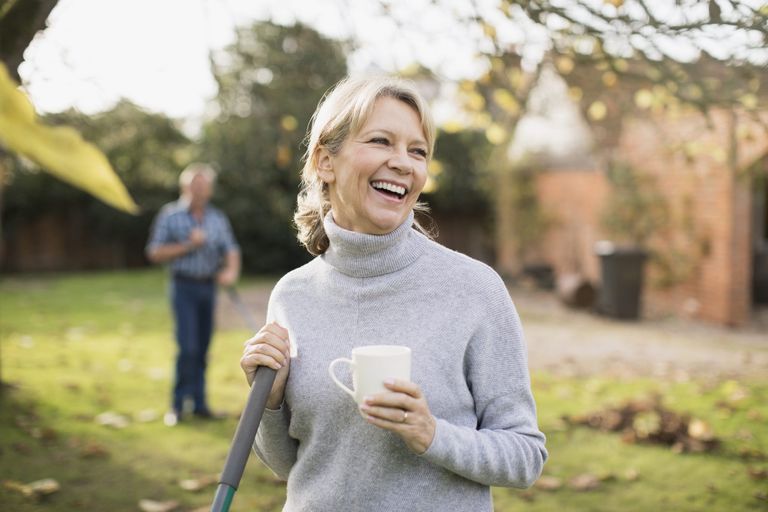 (Image credit: Getty)
The benefits of being an optimist have been well documented; longer lives, stronger relationships and better overall health are just a few of the reasons positivity gets such a good rep.
But it doesn't come naturally for us all. So, we sought the expert advice of psychologist Dr Meg Arroll to see if pessimists can re-train their brains to see the glass half-full with the power of positive thinking.
The study carried out by scientists at Boston University found optimistic people were more likely to live to the age of 85 or more. On average, the most optimistic men and women had an 11-15% longer lifespan compared to pessimistic people.
MORE:Reframing the way you think about life could help you live to 85 and beyond, scientists reveal
This is not the first time an optimistic outlook on life has been linked to health and wellbeing benefits.
A large study conducted by the Harvard School of Public Health over eight years found that the most optimistic women were 30 per cent less likely to die from serious illnesses, including cancer, heart disease and stroke compared to those who saw the glass half-empty.
According to the Zutphen Elderly studyoptimism lowers the risk of cardiovascular death and premature death in elderly men. Other studiesfound high scores of pessimism predicted premature death in patients with breast cancer, while optimistic patients with neck and head cancer had greater survival.
Does whether your optimistic or pessimistic depend on anything?
Studies have shown that being optimistic or pessimistic is about 25 per cent inheritable. Dr Meg says, "apart from the genetic component, people can become more pessimistic due to a number of factors. These include social, environmental and interpersonal factors."
Whether you're an optimist or pessimist has a lot to do with your upbringing and past experiences. Dr Meg explains, "growing up in households characterised by criticism can also lead to pessimistic outlook and set patterns of negative thinking, which then often result in a 'glass half empty' perspective."
There are other external factors affecting our positivity that are often out of our control. "For instance, it can be very tough to foster optimism if you're stuck in a poverty trap – social mobility is slowing so it's perhaps unsurprising that anxiety is increasing in people", Dr Meg says.
But if you're an individual who tends to see the negative in any given situation, or if you think you're a natural-born pessimist, there is hope for you to change.
"Whilst it is undoubtedly challenging to change our personal circumstances, it is possible to change our outlook on life," Dr Meg says.
Can I teach myself to be optimistic?
So, we know the benefits of optimismbut how exactly can we hardwire our brains to always see the world sunny side up.
According to Dr Meg, "There is likely to be a genetic component to our thinking styles including optimism but the wonderful thing about the human brain is its neuroplasticity.
"Our brains constantly make new connections and we can actively strengthen those neural networks by looking for the positives in life."
In other words, it turns out even the most pessimistic has the capacity to become more optimistic pretty easily.
How can I train my brain to be more optimistic?
Glass half-empty, or glass half-full? It's your choice according to Dr Meg. Here are her top tips towards positive thinking:
Before your mind races into your daily to-do list each morning, think of three things that you are grateful for. These don't need to be massive, life changing events – your child's smile, the sound of raindrop on the windowpane; anything that you feel enhances your life experience. It might take a little practice to stop your mind veering off into all the tasks you need to do that day, but with time you'll reset your brain to automatically think of positive thoughts every morning.
Show kindness and positivity towards others
Demonstrating a small act of kindness every day. One of the best ways to nurture an optimist view is to focus on the needs of others, rather than ourselves. Again, this doesn't need to be a heroic act, simply holding a door open for someone, asking a colleague how they are and truly listening, or giving someone who looks a little low a warm smile.
Journaling is also a good way to enhance a positive attitude. But you don't have to write down purely positive thoughts, as expressing more difficult feelings through the written word can help process them. The key here is to reflect on challenging situations and see what you can take from them.
Concentrate on your physical needs and wellbeing
Pay attention to your physical needs too. It's hard for even the most upbeat person to maintain optimism if they're tired, hungry or in pain. Sleep can be disrupted by negative ruminative thoughts so when you do shift to a more optimistic outlook, it may well be easier to get a decent amount of good quality sleep.
More: How to get a good night's sleep even if you're a night owl
Surround yourself in nature
Spending time in nature can also ground us, helping us feel part of our environment and within a much larger picture. This perspective is important as it can be all too easy to get overwhelmed by the minutia of daily life. Aim for a daily walk – even 10 minutes is enough to boost mood, protect emotional health and aid positive thoughts.
If I surround myself with an optimistic people will I pick up their behaviour?
Studies have found that positive thinking, happiness and optimism may be a collective phenomenon. Dr Meg says, "If you're surrounded with negativity, for instance if there is a culture at work which suffocates creativity and progression, it can be difficult to remain positive."
She continued, "We all know how good it feels to be surrounded by positive people and it can have a real and profound impact not only on our thinking styles, but also our health behaviours.
"Positive social support is one of the most consistent predictors of health behaviour change, so absolutely surround yourself by people that buoy you up, rather than pull you down."
Always look for the silver lining and think positive thoughts…