Nicola Sturgeon just gave her first TED talk – and it's all about wellbeing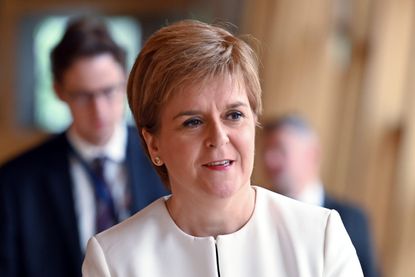 Scotland's First Minister Nicola Sturgeon is famously outspoken about the issues closest to her heart.
But while many are aware of her views on Brexit and Scottish Independence, they may be a little less clued up on her perspective on a whole host of other subjects.
Now the 49-year-old has shed a light on just this, after giving her first TED talk.
The leader of the Scottish National Party was recently invited to speak at Ted Global, held at the Edinburgh International Convention Centre, and her Ted Talk is now available on the TED website.
In it, she outlines that government's can no longer rely on Gross Domestic Product (GDP) as a sole measure of whether a national is successful or not, and that wellbeing (opens in new tab) markers needed to added to create a more complete picture of how a country is faring.
She said, "When we focus on wellbeing, we start a conversation that provokes profound and fundamental questions – what really matters to us in our lives.
"What do we value in the communities that we live in, what kind of country, what kind of society do we really want to be – and when we engage people in those questions and finding the answers to those questions, then I believe that we have a much better chance of addressing the alienation and disaffection from politics that is so prevalent in so many countries across the developed world today."
She also went on to cite the work of the Scottish economist Adam Smith, who wrote in The Theory of Moral Sentiments that the value of any government is "judged in proportion to the extent that it makes its people happy".
MORE:How adaptogen herbs could transform your wellbeing - and why the Duchess of Sussex relies on this blend in particular (opens in new tab)
She added: I think that is a good founding principle for any group of countries focused on promoting well-being. None of us have all of the answers, not even Scotland, the birthplace of Adam Smith.
"But in the world we live in today, with growing divides and inequalities, with disaffection and alienation, it is more important than ever that we ask and find the answers to those questions and promote a vision of society that has well-being, not just wealth, at its very heart."
The video of her Ted Talk – entitled Why government's should prioritise wellbeing (opens in new tab) – has already clocked up more than 600,00 views.
Will you be taking time to watch it?
Miriam worked for woman&home for over five years and previously worked on the women's lifestyle magazines Woman and Woman's Own.