My wellness week: Eat Burn Sleep Founder, Yalda Alaoui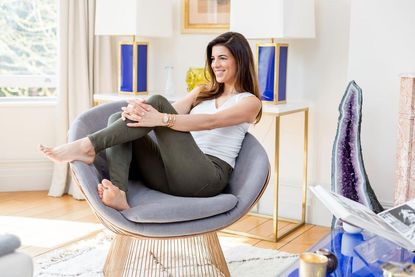 (Image credit: Yalda Alaoui)
Eat, Burn, Sleep Founder, Yalda Alaoui, knows that good health starts on the inside...
Yalda Alaoui, 41, is mother of two boys aged 9 and 11 and currently lives in Kensington. A wellness entrepreneur – as well as running her own investment company – she set up Eat Burn Sleep in 2018 – an educational platform which offers solutions to lower inflammation, improve gut health and consequently achieve durable weight-loss.
She has also recently completed her first year of biomedicine at the College of Naturopathic Medicine in London and is continuing her education in order to become a Doctor in Naturopathy as well as a Naturopathic Nutritionist.
My wellness journey so far …
I have always been interested in health. However, my wellness journey began when I was diagnosed with an auto-immune disease in 2007 Ulcerative Colitis and Auto-Immune Haemolytic Anaemia.
Over nearly a decade I saw numerous specialists for my two autoimmune conditions, as well as nutritionists, naturopaths and holistic doctors in the US, Europe and Asia. I spent a lot of time, money and energy searching for a solution to feel healthy again.
Doctors couldn't fix my issues and my health and quality of life were deteriorating fast. I began doing my own research and discovered that the key factor in many non-communicable diseases is inflammation and, as a consequence, also gut health. This motivated me to develop a diet and lifestyle to combat this.
After many years of trial and error, I have finally managed to keep myself in remission and live a normal life again. Not only that, I am healthier than ever. Many medical professionals now consider me to be an authority in this area and often contact me to help solve new and increasing numbers of medical issues arising which are challenging the medical establishment. As a result of this success and my passion for health, I decided to leave the finance world and share my knowledge and help more people. In 2018 Eat Burn Sleep was born.
"My wellness week is a monthly instalment of wellness advice from real women, weaving the best of health and wellbeing into their busy daily lives and sharing their insights with you."
Each morning I...
I start my day around 6am. I stay in bed for 5 minutes with my eyes closed and do my Eat Burn Sleep morning meditation. When I was ilI, I found a tremendous amount of comfort in meditating and I strongly believe it helped aid my recovery. It is a magic routine I have come up with which helps rewire bad habits and program the subconscious to achieve the goals I have set for myself. I have been using this meditation technique for years and I have included it in my recently launched six-week plan.
Once out of bed, I make some Tin Kuan Yin, my favourite oolong tea and prepare breakfast for my children. I then make myself a cup of Moroccan Spiced coffee and generally have breakfast at 8am, after I do the school run.
Every evening I....
I end each day with an Epsom salt or magnesium salts baths and moisturise my body with natural products like Argan oil from my country of origin, Morocco. Evening time is beauty time for me, so I often do a face mask, double cleanse my skin and give my face a nice lymphatic drainage massage.
I am a firm believer that you never bring your phone into your bedroom at night and like to fall asleep with a hardback book in hand. I also do my evening meditation routine, after switching the lights off.
Once a week I try to...
Switch off from my phone. I spend a lot of time on screens and social media, sharing health tips and recipes on the Eat Burn Sleep platforms. Screens can become quite stressful. I find that leaving my phone behind and going for a hike in nature really helps me relax. It also supports my creativity greatly. I always come up with new ideas when I take breaks from electronic devices.
MORE:My wellness week: International facialist-acupuncturist, Ada Ooi
If I'm on the run I eat/drink...
I always find anti-inflammatory/gut health friendly options wherever I go! Eating healthy isn't complicated and it is about damage limitation rather than perfection. For example, I was on the road recently and stopped at a petrol station as I was hungry and didn't have time to sit down for a meal. I bought some carrot sticks, cold chicken, an apple and a cup of tea. It was perfect to make me feel full, give me energy yet keep me on track with my anti-inflammatory lifestyle!
When I have time to cook, I eat/drink...
Simple, homemade delicious recipes like the ones I share on eatburnsleep.com. At the moment, my favourites are my paleo vegan bars (so addictive!) and my shakshuka (both recipes are on my YouTube channel Eat Burn Sleep).
On the weekends...
I tend to spend my Saturdays going to my son's matches and Sundays are about food and having a nice home cooked meal – normally a Moroccan tagine with a Persian rice which the boys love.
Every Sunday, we make gluten-free banana pancakes as a family.
One thing I would really recommend is...
Walk, walk, walk as much as you can. Walking is the most underrated form of exercise, yet it is the one the humankind has always practiced! Walking is anti-inflammatory, it is meditative, it is a powerful fat burning tool, yet it allows to preserve muscle mass (contrary to jogging). I walk as much as I can on a daily basis. Although I own a car, where possible I will always walk to meetings and use public transport as even taking the tube can make you accumulate more daily steps than you'd think!
The one thing I do to achieve a better work-life balance is...
Spend more time meeting my friends for a meal, a coffee or a drink. I find being sociable (in moderation) helps reduce my stress levels. There's nothing like having a good laugh, listening to music and forgetting about the seriousness of life!
In the future I hope to…
Pass on the knowledge I have accumulated over the past 12 years when it comes to gut heath, inflammation and healthy weight-loss to as many people as possible. Helping people is a great source of satisfaction for me. It makes me feel that my years of hardship in and out of hospitals battling with ulcerative colitis and auto-immune haemolytic anaemia weren't in vain.
My pearl of wellness wisdom…
Being healthy is not about perfection but about damage limitation.
Miriam worked for woman&home for over five years and previously worked on the women's lifestyle magazines Woman and Woman's Own.