Elegant coffee table books that offer both style and substance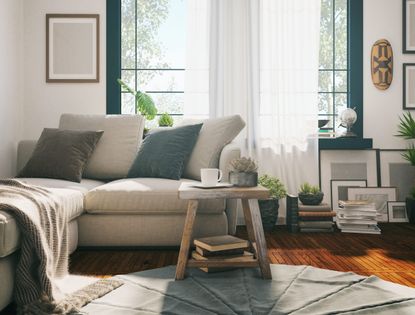 (Image credit: Getty)
woman&home newsletter
Sign up to our free daily email for the latest royal and entertainment news, interesting opinion, expert advice on styling and beauty trends, and no-nonsense guides to the health and wellness questions you want answered.
Thank you for signing up to . You will receive a verification email shortly.
There was a problem. Please refresh the page and try again.
As well as being a stunning addition to any space in your home, these beautiful books are also thought provoking, inspiring and great conversationstarters.
Coffee table books deserve a place in your home. What better way to add a touch of sophistication to your living room?
There's something quite exciting about placing your new book on a usually uninspiring tabletop. And, as you sit sipping a cup of something comforting and slowly flicking your way through the beautiful printed pages, it's impossible not to feel inspired.
MORE:Woman&Home's edit of the best books to read this year (opens in new tab)
There's endless choice when it comes to coffee table books, so we have whittled down and hunted out the best elegant coffee table books to read in 2019.
From the obvious classics, to mouth-watering recipe books, as well as ones that will feed your wanderlust, we've assembled a well-rounded list of coffee table books that will offer both style and substance to your living room.
Elegant coffee table books to add to your living room
Love Colour: Choosing colours to live with by Anna Starmer
Choosing colours for your home decor can become seem confusingprocess. Colour expert Anna Starmer'sLove Colourhelps you to bring yourfavourite colours to life by successfully making all thosechallengingdecisions for you. Anna will teach you everything you need to know about hues, tones, accents and foundation colours. It's awe-inspiring and you'll be reaching for a paintbrush once you've finished browsing.
BUY IT NOW, £25, AMAZON (opens in new tab)
The Book of Tapas bySimone and Inés Ortega
This will soon become your Spanish cooking bible and the vibrant full-page photographs of the 250 delicious recipes will leave your mouth watering. You'll be introduced to traditional tapas culture and the Spanish way of feasting. Fromgambas al ajillo(garlic prawns) totortilla española(Spanish omelette), you will be in awe at the magnificent classic bite-size tapas dishes.
BUY IT NOW, £27.95, AMAZON (opens in new tab)
Buckingham Palace - The interiors by Ashley Hicks
This is the perfect coffee table book for Royal fans. This luxury book documents the lavish State Rooms of Buckingham Palace, home to the British Royal Family since1837. Hicks' gorgeous photography capturesthe formal spaces, and the magnificent rooms furnished with treasures from the Royal Collection.Starting at the Grand Staircase, Hicks takes us on a tour through the palace, leading us through the opulently decorated State Rooms, the spectacular Ballroom, and the Throne Room, used by Queen Victoria for costume balls.
BUY IT NOW, £26, AMAZON (opens in new tab)
Chanel: Collections and Creations
The story of Chanel is truly magical and this book explores six central themes of the luxury fashion house – the suit, the camellia, jewellery, fragrances, make-up, and of course the little black dress. This sophisticated journal includespreviously unpublished photographs and original drawings by Karl Lagerfeld.
BUY IT NOW, £18.53, AMAZON (opens in new tab)
Iris Apfel: Accidental Icon by Iris Apfel
The most witty coffee table book you will ever come across - and we promise you won't want to put it down. If you're a lover offashion, textiles, and interior design this dynamic coffee table book is one for you.It's a unique and lavishly illustrated collection of musings and anecdotes on all matters of life and style. Iris's infectious energy is a must to your living room.
BUY IT NOW, £17.50, AMAZON (opens in new tab)
Blooms: Contemporary Floral Design byPhaidon Editors
This stunning coffee table bookcelebrates the explosive impact that floral designers from the last decade have had on a previously under-appreciated art.Bloomsshowcases the work of more than 70 designers across the globe who have pushed the boundaries of modern floral design. You'll be searching for your nearest flower arranging classes to pick up this newart form.
BUY IT NOW, £22.75, AMAZON (opens in new tab)
La Grotta: Ice Creams and Sorbets by Kitty Travers
We should't eat ice-cream every day, but it's okay to stare in wonderment at it and not pile on the pounds. La Grotta Icesis the collection of Kitty's obsessive exploration into 75 ice cream, sorbet and granita recipes. The gorgeous coffee table book shows off playful pastel-coloured ice-cream, juice-drenched granitas and tongue-tickling sorbets.
BUY IT NOW, £13, AMAZON (opens in new tab)
As It Was: Frank Habicht's SixtiesbyHeather CremonesiandValerie Mendes
Want to relivethe uninhibited spirit of the 1960s? Add thisiconic black-and-white coffee table book to your wish list. Every page of photographer Frank Habicht's iconic work will leave you lusting after the Swinging Sixties. It's aneye-opening work of art reflecting thesocial and political transformation on the streets of Britain in the decade.
BUY IT NOW, £45, AMAZON (opens in new tab)
Scrawl: An A to Z of Famous Doodles byCaren Strauss-Schulson
This book holds sketches, drawings, and scribbles from within the private letters and notebooks of figures in art and literature, fashion and film. This unique coffee table book is filled with doodles fromCharlie Chaplin, Clara Barton, Mark Twain, Andy Warhol, Marc Chagall and many more. Even the most influential minds in history have doodled their time away...
BUY IT NOW, £20, AMAZON (opens in new tab)
Humans of New YorkbyBrandon Stanton
Featuring more than 400 photographs taken across New York,photographer Brandon Stanton takes us through a visually stimulating depiction of the city capturing ordinary New Yorkers in their daily lives. It displays a breathtaking scope of humanity and delves into extraordinary moments of the inhabitants.
BUY IT NOW, £13.97, AMAZON (opens in new tab)
National Geographic: The Photographs byLeah Bendavid-Val
This bold coffee table book offers a sharp-eyed view of the world. The book showcases the skill and imagination notable Geographic photographers such as David Doubilet, William Albert Allard, andSam Abell.As well as photography this book is complete with personal and colourful anecdotes about individual images and the photographers adventures in the field.
BUY IT NOW, £9.80, AMAZON (opens in new tab)
Living in MoroccobyBarbara Stoeltie
If you're searching for a enticing and inspiring coffee table book that will induce severe wanderlust Living in Morocco is for you. Mesmerising photographs ofmountainous and desert landscapes, labyrinthine souks, delectable cuisine, exquisite rugs and textiles, open your eyes to the vibrant and exotic destination.
BUY IT NOW, £10.50, AMAZON (opens in new tab)
The White Company, For the Love of White: The White & Neutral Home by Chrissie Rucker & The White Company
The White Company is the ultimate home decor destination. This book offers a gorgeousguide to creating a home with white and neutral tones. This stunning book explores 12 inspirational homes providing you the best decor styles for any home interior.
BUY IT NOW, £20.18, AMAZON (opens in new tab)
Natural Wonders of the World byChris Packham
This book explores the planet's most amazing natural wonders and landscapes continent by continent. FromSouth America's Amazon River to Asia's Himalayas, Iceland's Northern Lights and Australia's Ninety Mile Beach , this captivating coffee table book will help you add a few destinations to your bucket list.
BUY IT NOW, £20.94, AMAZON (opens in new tab)
The Japanese Garden by Sophie Walker
Sophie exploresart of the Japanese garden and it's significance in more than eight centuries of the history. This exquisite coffee table book features100 gardens, from ancient Shinto shrines to imperial gardens and contemporary Zen designs.
BUY IT NOW, £32, AMAZON (opens in new tab)
Food in Vogue by Vogue Editors
This collection the most elegant, mouthwatering food will leave your palette tingling. Includingportraits of world-renowned chefs, and food editorialsphotographed by Irving Penn this outstanding book documentsVogue's changing relationship with food.
BUY IT NOW, £35, AMAZON (opens in new tab)
Which one will take pride of place in your living room?
Sibelle Mehmet started as a junior digital writer at GoodtoKnow and Woman and Home in April 2019.
Prior to landing her first job as a digital writer, Sibelle completed an MA in Magazine Journalism at City, University of London and is also a graduate of the University of Edinburgh with an MA in English Literature and History.
As well as writing extensively about the latest celebrity, showbiz and royal news, Sibelle also covered a wide range of topics from trending beauty products to have on your radar, to the latest fashion styles compounded on the catwalk.