How long does COVID-19 really last on different surfaces and other questions you might want answered
Worried about takeaway packaging or whether it's safe to open your post? Our experts have all the answers...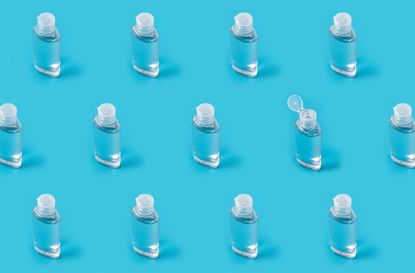 woman&home newsletter
Sign up to our free daily email for the latest royal and entertainment news, interesting opinion, expert advice on styling and beauty trends, and no-nonsense guides to the health and wellness questions you want answered.
Thank you for signing up to . You will receive a verification email shortly.
There was a problem. Please refresh the page and try again.
Most of us know that washing our hands can help protect against COVID-19 from spreading. But it can be trickier with other household items and surfaces we come into contact with regularly.
"As COVID-19 is a new virus we don't know exactly how long it lasts on different surfaces," says Dr Najia Shaikh MBBS MRCGP, an NHS GP and founder of One Skin Clinic (opens in new tab) on Harley Street, London. "However, there have been various studies done to determine the length."
How long can coronavirus live on different surfaces?
Hands: Up to 24 hours, depending on how efficiently and how often you wash your hands with soap and water or use hand sanitiser.
Cardboard: Up to 24 hours
Plastic: Up to 72 hours (includes credit cards and bank notes)
Metal: Up to 72 hours
Fabric / clothes: From several hours up to 24 hours.
Money: Up to 4 hours on copper coins
Staying safe from COVID-19 at the supermarket checkout
Heading out to do some shopping? "Card machines and self-checkouts are constantly being touched by people multiple times an hour," says Dr Shaikh. "They can therefore host the virus on them for hours, alongside bank notes, credit cards and coins." Wear gloves, don't touch your face and wash your hands afterwards. It's also now been advised by the World Health Organisation (WHO) that masks are worn in all public spaces to protect yourself and those around you.
As the crisis has developed, more has been done by supermarkets to ensure the safety of their staff and customers. Along with limited numbers of people allowed in the supermarket at one time to ensure social distancing, plastic screens have been put up between the check out staff and the customers. Shoppers are advised to stand at least 2 meters away from each other when they are queuing as well, and many supermarkets now operate in a one-way system. Self-checkouts are often wiped down before and after each customer use by an attendant.
Elderly and vulnerable people have also been given support during this time (opens in new tab) with designated shopping hours, to reduce the potential for contact with other people.
How can you stay safe after your shopping once home?
"On returning from the supermarket, fresh fruit and vegetables should be washed thoroughly under running water," says Dr Shaikh. "Any food packaging, such as cans, should be cleaned with disinfectant wipes or spray before storing. Any unnecessary packaging should be removed and disposed of into a bin. And while handling these items it's best to wear gloves and make sure to wash your hands (opens in new tab) thoroughly afterwards for at least 20 seconds with soap and hot water."
Are takeaways safe from COVID-19?
"The risk of catching coronavirus from food is very low. It's the packaging and delivery method that poses the greatest risk," says Dr Shaikh. "Make sure to order your food using a 'contact free' delivery method where possible, so that you can avoid direct contact with the delivery driver. Wear gloves when handling the packaging. Do not eat out of the containers provided – serve the food on a plate and discard all packaging in the bin immediately afterwards. Wash your hands again with soap and hot water for at least 20 seconds."
The same goes for if you order food and drink online (opens in new tab). You should use a 'contact-free' delivery method and dispose of all packaging as soon as you've unpacked.
Watch out if you wear glasses, especially if you're over 40
Think wearing spectacles can offer protection from COVID-19 (opens in new tab)? Sadly, it could put you at higher risk. "There is no scientific evidence that spectacles can offer protection against COVID-19 or other viral transmissions," says Dr Clare O'Donnell, head of research from Optegra (opens in new tab).
"In line with College of Optometrist advice, it is important to disinfect spectacles as some viruses such as COVID-19 can remain on hard surfaces for hours to days, which can be transferred to spectacles wearers' fingers and faces. This especially holds true for presbyopes (people generally over the age of 40). Most presbyopes require reading glasses and they may be putting them on and off their face multiple times a day."
Should you wash your clothes more regularly?
"Most people leave clothes until a pile has built up before washing. There's also a tendency for people to wash at 40 degrees on a quick wash cycle, which we don't recommend," says Susan Fermor, spokesperson for laundry company Dr Beckmann (opens in new tab). "Under current circumstances, we would recommend that you do 60-degree washes, more regularly, as soon as clothes have been worn."
Is it still safe to open and send post?
Have a birthday coming up? If you're sending post it's advised that instead of licking the envelope, you use a wet sponge, warns Dr Shaikh.
"If you're receiving envelopes or cardboard box deliveries, it's best to leave them for at least 24 hours before opening. Wear gloves while handling and wash your hands thoroughly afterwards."
Can I still spend cash in the shops?
In the first few days of lockdown, according to a report published by the Guardian, the cash being spent was exactly halved. This was predominately due to the shift towards online shopping, however the reduced cash intake has continued to dwindle as many people are concerned that the surfaces of money could harbour the virus. This is especially a concern for those looking to spend their old £20 notes (opens in new tab), as they started to go out of circulation in February.
While big-name brands like Tesco have confirmed they have no plans to scrap cash payments in store, they have said, "We're asking customers to use card payments where possible as an extra precaution to reduce the risk of infection for both customers and colleagues." However, according to research conducted by Amaiz for Money Mail, 50 per cent of smaller businesses have gone cashless or are intending to do so.
Faye M Smith is an award-winning journalist with over 15 years experience in the magazine industry. Her continued work in the area of natural health won her the coveted title of the Health Food Manufacturers' Association (HFMA) Journalist of the Year Award 2021. Currently Health Editor across several brands including woman&home, Woman and Woman's Own, Faye specialises in writing about mental health, the menopause, and sex and relationships.