'It's a really serious problem' Experts warn our diets have been getting increasingly worse since the 90s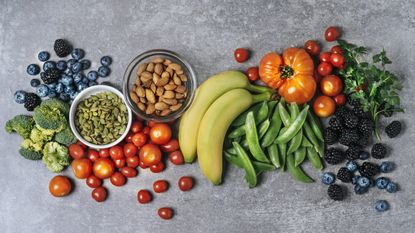 We all know that our diet should include plenty of vitamins and minerals to keep us healthy, but are you getting enough of the good stuff?
Probably not, according to research published in the Journal of Vitamins and Minerals. The UK's eating habits have deteriorated and our intake of essential vitamins and minerals have declined over the last 20 years, the shocking data reveals - and this has led to concerns from experts about the health and wellness of the nation.
Faddy diets, irregular eating patterns and confusion over information are believed to be behind this dietary downturn, says a further report by the Health & Food Supplements Information Service (HSIS).
So what are we lacking? It was found that ten micronutrients have seen a major decline in the last two decades, with these vitamins and minerals being essential to fuel our bodies and ensure good health.
Vitamin D is responsible for healthy bones, teeth, muscle and immune function, and intakes have dropped by a whopping 22%, despite the Public Health England advice that all adults top up with a supplement between the months of October and March.
READ MORE: Considering a plant-based diet? This free app helps you crave less meat (opens in new tab)
There's also been a 21% downturn in Vitamin A over the last 20 years. Found in cheese eggs, cheese, oily fish, milk and yoghurt, and green leafy vegetables, this is crucial for good eyesight, healthy skin and a strong immune system.
The data revealed that ten times more older women are not meeting the minimum dietary target for iron, which is a vital mineral for cognitive function and fighting fatigue. Other micronutrients that have seen a decline include riboflavin, folate, calcium and potassium and intakes of magnesium, iodine and selenium have also fallen.
READ MORE: Considering a plant-based diet? This free app helps you crave less meat (opens in new tab)
How much oily fish we eat is something of a concern and has not improved in the last 20 years, remaining consistently below optimal levels. Also, below recommended levels are intakes of fibre (roughage), with nutritionists saying is a reflection of poor fruit and vegetable intakes and low levels of wholegrain foods.
This worrying decline and shortfall in nutrients has seen doctors and nutritionists calling for an overall of our eating habits before it causes serious health problems.
GP Dr Gill Jenkins says: 'It's a really serious problem – we face so many diet related health challenges, including obesity, heart disease and type 2 diabetes and prevalence of these look to be increasing dramatically.'
So how can we turn around the nutrients shortfall? Making a conscious effort to eat a healthy and balanced diet and exercising more is the expert advice, as well as being careful not to restrict entire food groups in fad diets. We should also consider taking a daily supplement.
Dr Jenkins adds: 'Efforts must continue to be made to improve the British diet, but in the meantime, adults and children should bridge dietary gaps by topping up with a daily multivitamin and multimineral as well as an omega-3 supplement, appropriate to their age group.'
Senior Health Writer Ali Horsfall has almost 15 years experience as a journalist and has written for national print titles and women's lifestyle brands including woman&home, Woman, Woman's Own, BBC magazines, Mothercare, Grazia and The Independent. She currently specialises in health and fitness content and loves sharing the best expert advice on staying well.