Considering a plant-based diet? This free app helps you crave less meat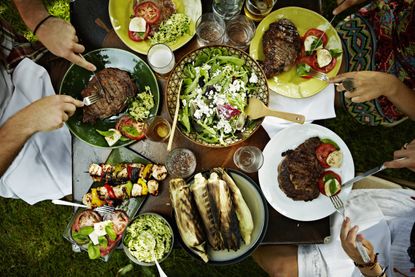 With more and more people becoming aware of both the health and environmental benefits of reducing their intake of meat, it's unsurprising that the number of vegans in Great Britain has quadrupled between 2014 and 2018*, and many of us want to know how to eat less meat.
In addition to this figure many Brits are also contemplating the benefits of making their diet more plant-based — upping the number of meals based around vegetables, pulses etc while still indulging in the odd steak dinner — with around a third of those in the UK admitting that they are trying to eat less meat.
But making the transition from full-time to part-time meat eater is easier said than done; especially for those who base most of their menu around a key piece of meat protein such as chicken.
And this is where a new, free app, steps in. Developed by psychologists at the University of Exeter the online game and phone App helps users cut their intake of meat by an average of 22 per cent in just four days.
The University of Exeter research suggests that 'brain training' techniques that are usually applied to helping people reduce their intake of unhealthy snacks to support weight loss, can also be applied to resisting meat.
A team of researchers, led by Dr. Natalia Lawrence, developed the simple online computer game to train people to resist meat.
The game requires those playing it to repeatedly avoid pressing on pictures of certain images (e.g. beefburgers), whilst responding to other images (e.g. fruit), as a result making a link in their minds between meat and 'stopping'.
In a new study, published in the journal Appetite, 43 adults who completed four 10-minute sessions of the training online showed a more dramatic reduction in their meat intake compared to 32 adults who completed a non-meat version of the training.
MORE:Vegan Pies with chickpeas and beetroot
Commenting, Natalia Lawrence, a neuroscientist and Associate Professor at the University of Exeter, says, "The findings are the first to suggest that a short, simple digital tool can change people's meat intake. The results build on previous work showing similar effects on unhealthy snack intake and suggest that this approach can help people stick to diets that are both healthier and more sustainable."
Before adding, "There are other strategies that would help people to eat less meat, such as increasing the availability of non-meat alternatives and reducing portion sizes of meat products but these changes are less within individuals' control.
"It is still early days in the research and at this stage the effects are modest so larger, registered trials with longer-term measures now need to be conducted. However, our findings suggest that this cognitive training approach is worth pursuing. It is free, easy to do and 79% of our participants said they would or might recommend it to a friend."
The smartphone app version of the food 'stop' training called Food T, is available for free on Google and Apple stores. App users can choose which foods they want to train themselves to resist, e.g. meat, fast food or cakes.
Since being featured on Channel 4's How to lose weight well and BBC One's The Truth About Obesity the App has had over 85,000 downloads.
*According to The Vegan Society
Sign up to our free daily email for the latest royal and entertainment news, interesting opinion, expert advice on styling and beauty trends, and no-nonsense guides to the health and wellness questions you want answered.
Miriam worked for woman&home for over five years and previously worked on the women's lifestyle magazines Woman and Woman's Own.