Fitbits vs Apple Watches: what are the differences between the two?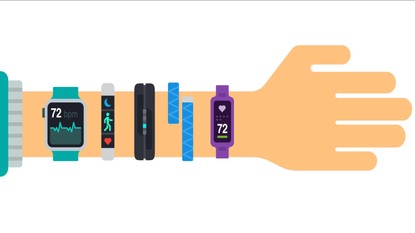 (Image credit: Getty Images / mountainbrothers)
Fitbit and Apple are two of the leading brands in smartwatches – but how do they actually differ and is one better than the other?
If you're looking to pick up one of the best fitness trackers, two brands you will undoubtedly have come across in your search are Fitbit and Apple. In fact, the two brands are giants in the world offitness watches. Fitbit have led the market since its inception in 2007, while Apple have impressed consumers since bringing out their first watch in 2014. But which should you pick? Fitbits vs Apple Watches?
Keen to purchase a new fitness watch to help you with your lifestyle and exercise goals? You'd be forgiven for being confused about which brand is best for you and your needs.
To help you decide whether you want to go for one for the best Fitbits or the latest Apple Watch on the market, we've rounded up the features of each and how they perform. Then we've compared them in order to assess which one might suit your lifestyle and exercise goals.
Here's everything you need to know...
Fitbits vs Apple Watches: how they rate
Firstly, it's important to state that there are a range of different Fitbit devices, all varying in functionality (and price). But for the sake of comparison, we will compare one of their most modern watches, the Versa 2, with an Apple Watch.
Key features:
Heart rate tracking
Automatic activity detection
Female health tracking
Sleep tracking (and a sleep score)
Calories burned
Reminders to move
20+ automatic exercise modes
Water-resistant to 50m
Heart rate zones and active zone minutes
Smartwatch syncing (and Fitbit Pay)
Compatible with Android, iOS and Windows devices
Battery life: 6+ days
Design:The Fitbit Versa 2 undoubtedly looks very slick, with a simplicity that is very handy for a fitness watch. The display is very high res and makes moving through the device simple. It's comfortable to wear and stylish for those who want their watch to work with their outfit.
User experience:The Versa 2, just like all Fitbits, is very, very easy to set up (you'll need to download the Fitbit app on to your phone) and to use. As such, it's a great option for people who have never used a wearable device before, as well as those who are pros at fitness watches. In terms of how the functions perform, a Fitbit is very much a fitness watch, performing very well in all of the health and exercise features, which are plentiful and simple to navigate.
For the sake of comparison, we will compare the Fitbit Versa 2 with the Apple Watch Series 5.
Key features:
Only works with iPhone. Apple Watch is not compatible with Android devices
Apple Pay
Siri
Heart rate monitor (and an alert if your heart rate drops too high or too low)
ECG tracker
Reminders to move (three movement rings to close every day)
A wealth of built-in workouts
Fall detection
In-built GPS
Water-resistant up to 50m
Compass
Battery life: up to 18 hours
Female health tracking
Design:The look of the Apple Watch is as slick as you'd expect from the brand and the on-screen graphics are fantastic – colourful and bright. The Apple Watch comes in a range of finishes. The GPS and Cellular option is available in aluminium, stainless steel, titanium and ceramic, for example. There are a whole host of interchangeable straps, too. Apple has even created a sportier Nike watch, as well as a more stylish watch option with fashion brand Hermès, which looks more like an everyday watch, with a chic leather strap.
User experience:Just like the Fitbit, the Apple Watch is incredibly easy to set up and start to use. However, you definitely need to set aside some time to work out how best to make it useful to you and your goals and purposes. The features are extensive, so it's worth taking that time to really customise it.
Fitbits vs Apple Watches: design and use
In terms of design and display, we reckon the newer Fitbit models (like the Versa, and the Ionic) match up very well to the pricier Apple Watch. The screens are both easy to follow and great to look at, and the watches and straps themselves are comfortable and light to wear. Plus, both can be customised, which is a great bonus.
When it comes to features and function, both are fantastic. The different elements of each watch are wide-ranging and both have all the essentials you need from a fitness watch. The Apple Watch, however, does come with some added extras (built-in GPS, ECG, fall detection) that notch it up a level in terms of capability. And, if these features are important to you, then the Apple Watch is probably the right choice for you.
Which will make you fitter?
The Fitbit still well and truly holds its own on the fitness side of things – after all, the Fitbit was originally made as an activity tracker. Meanwhile, the Apple Watch was created as a smartwatch first and foremost. Fitbits support a variety of workouts and dive deep into health stats. As such, fitness is the real essence of the Fitbit, meaning we reckon it's the best option for people who are really most interested in using a smartwatch for that purpose.
Saying that, the Apple Watch Series 5 proves to be a great activity motivator, with its three movement rings that it encourages you to close every day. Its fitness tracking may be simpler, but it also works very well. What's more, both Fitbit and Apple have reminders to move throughout the day, which is a great way to motivate us all to be a bit more active.
How the specifications compare
An Apple Watch is a great overall smartwatch for those interested in tech that can enhance different areas of their lives. The Apple device has so many apps available to use (over 10,000) that it's a brilliant choice for those looking to use a wearable device as, almost, a second phone. There's a reason the Apple Watch is pricier – it does offer more features as a smartwatch than the Fitbit.
Battery life is also an important consideration. Because the Apple Watch runs so many features, many reviewers have stated that the battery life can be a little disappointing – it promises just 18 hours, whereas the Fitbit suggests that it will work for up to six days before it needs recharging. So, if it's vital to you that you don't need to charge your fitness watch often, the Fitbit could be a better choice.
Are they compatible with your devices?
And, of course, one of the main things to bear in mind when deciding between an Apple Watch and a Fitbit is that the Apple Watch is not compatible with Android or Windows phones. Yet the Fitbit works with most up-to-date devices, including Android, Windows and iPhones. Essentially, the Apple Watch will not be very useful to you if you don't have an iPhone.
The verdict
When it comes to Fitbits vs Apple Watches, price will always be a factor. Fitbits are definitely cheaper, although you can get some good bargains when it comes to older or refurbished Apple Watches, such as the Apple Watch Series 3. Some believe that you are paying for the clout of the Apple brand with their fitness watch, which may be true, but if you enjoy Apple products, chances are you'll love their watch. With so many features on the Apple Watch, it's also key to bear in mind that you are paying for a lot of functions. So, if you reckon you'll only use your fitness watch at a more basic level, it may not be worth the extra cash.
Overall, it's fair to say that there is no definitive answer on which device is better. As with most things, it's entirely dependent on what you want out of your fitness watch, your budget and how you plan to use the device. Both Fitbit and Apple Watch provide a fantastic user experience, so you won't be disappointed whichever you choose.
Amy Hunt is an experienced digital journalist specialising in homes, interiors and hobbies. She began her career working as the features assistant at woman&home magazine, before moving over to the digital side of the brand where she eventually became the Lifestyle Editor up until January 2022. Amy won the Digital Journalist of the Year award at the AOP Awards in 2019 for her work on womanandhome.com.