How to find a therapist that's right for you and a guide to the different types of talking therapies
It's an important decision - here are some things it can help to think about...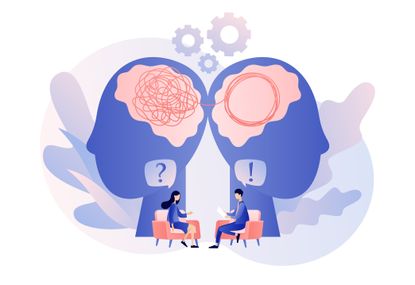 (Image credit: Getty Images)
Looking after your mental health should always be a top priority - no matter how busy life gets.
Taking care of number one has become far less of a taboo in recent years. And that's just the way it should be, we say.
We're facing more mental health issues today than ever before - according to Mind, the mental health charity (opens in new tab), 1 in 4 people will experience struggles with their mental wellbeing in their lifetime. And that's before we even consider the stresses the recent pandemic (opens in new tab) has brought on.
With more and more recognisable faces opening up about mental struggles (opens in new tab), and companies doing more to accomodate their employees wellbeing, we're starting to see a real shift in the UK from prioritising anyone and everything else over our own mental health, to doing just the opposite. And it's vitally important. After all, as the saying goes - you cannot pour from an empty cup.
In order to be happy, content and comfortable, and build things like happy relationships, and a positive and fulfilling career, you need to ensure that your own head is well taken care of.
For some, this means ensuring you take time out from life to do the things you love (opens in new tab). For others, it may mean a regular exercise (opens in new tab) routine and a proper sleep schedule (opens in new tab). But for many, it means seeing a therapist in order to talk through the bigger issues.
If you are dealing with mental health problems - such as anxiety (opens in new tab) or depression (opens in new tab) - seeing a therapist can really help to tackle your issues. Simply voicing your feelings to a neutral party can take a load off, and therapists and counsellors have expert knowledge to help you develop strategies for tackling and coping with your mental health. And there should be no shame or stigma attached to doing so. Seeking a professional opinion and advice on your mental wellbeing is just as important as seeing a doctor is for physical problems.
More of us than ever are doing it, too. According to the NHS, 1.4 million people in the UK have been referred to mental health services, compared to just one in five people in 2010.
So how can it help you?
What is psychotherapy?
If you've been considering reaching out for help, you may be wondering - what is psychotherapy?
According to the UK Council for Psychotherapy (opens in new tab), psychotherapy spans a range of practices and techniques called talking therapies, which counsellors and therapists use to help treat a range of mental and emotional problems.
Different approaches to psychotherapy
Psychotherapy sessions can take different forms. You might prefer to take part one-on-one, with just you and a therapist - or, group sessions might be better for you instead. Sometimes, they can even include family members, a partner, or other loved ones. There are all sorts of different forms of therapies you can do, depending on what you feel might be right for you.
According to the British Association for Counselling and Psychotherapy (opens in new tab) (BACP), these include:
psychodynamic (psychoanalytic) psychotherapy
cognitive behavioural therapy (CBT)
cognitive analytical therapy (CAT)
interpersonal psychotherapy (IPT)
humanistic therapies
family and couple therapy
Psychodynamic psychotherapy helps patients to better understand their inner thoughts, and their influence over relationships both past and present.
CBT aims to help you change the way you think and how you react to things, while CAT similarly, requires you to look at your past experiences to help you understand why you think, feel and act the way you do. IPT is a method of treating depression, and is a structured type of therapy that focuses on your personal relationships and how they might affect how you feel. For this reason, IPT is normally very focused, and concentrates only on a few personal issues.
MORE:Why are we feeling angry during lockdown? Experts explain how to manage feelings of irritability for better mental health (opens in new tab)
Humanistic therapies covers a range of different options, all of which aim to help with your self-development and growth. And family and couple therapy does what it says on the tin - therapy alongside your loved ones to try and sort through any personal or relationship issues you may have.
It's also important to consider that different therapists work on different time scales. Counselling Directory member and counsellor Pam Custers (opens in new tab), explained to w&h, "If you're looking for short term therapy there's some therapists who work in a short-term solution-focused way.
"Or if you are looking for longer term therapy there's some therapists who focus on long term therapy too. So it's really important to read a little bit about what each therapist has to offer."
How to find a therapist that's right for you
Finding the right therapist is key to getting the most of your sessions. It's important to realise that you won't gel with all therapists, or all the different types of psychotherapy they may offer.
So how can you choose the right one?
Consider what you want out of therapy
Like any important decision you make in life, it's vital to put a bit of thought into the process of choosing a therapist. Firstly, it can help to consider exactly what you want out of therapy, and which types of approaches you think you're likely to respond to.
Do you want to change the way you approach worrying times in your life? Do you want to be equipped with better coping strategies during stressful moments?
Are you concerned that family relationships, or past trauma, may be impacting your everyday life?
Or, you may simply want to work on your self-development.
Working out what is you actually want from therapy can really help, so you can ensure that your goals are aligned with your therapist's.
Try and find a therapist with whom you have a connection
They may seem to tick all your boxes, but ensuring that you gel with them personally is one of the main things when it comes to finding a therapist.
Pam Custers explains that taking some time to talk to potential therapists is really important - don't just rush into sessions with the first person you come across. "A good therapist will spend some time on the phone with you, before you start therapy, to have a chat about what you're dealing with and what you want to achieve and whether they are able to provide that for you. It's advisable to have a couple of those conversations."
She continued, "Having a conversation with a therapist on the phone before you make any decision to work with them can also help you see if there's a connection.After the phone conversation, ask yourself, do they answer your questions well? Do they give you the time to explore what you're looking for? What can they offer you?"
But it's worth noting that this won't come instantly - it might only be after a few sessions that you decide the chemistry is, or isn't, right.
MORE:This is what hypnotherapy could do for your anxiety levels (opens in new tab)
"In my experience, it often takes two or three sessions to really start to connect with your therapist because they're getting to know you and you're getting to know them," Pam said. "It's good to give it some time and understand that you will get that therapeutic relationship going. If after the second or third session it isn't working, then maybe you need to ask yourself whether this is the right counsellor for you."
If you know what approach you want, it's then time to take a look at the approach available therapists take - often, they have profiles online you can read to get a sense of who they are and what they're about.
Of course, you need to be sure that you can access a therapist's sessions easily too - so how can you find a therapist?
How do I find a therapist near me?
Once you've nailed down what you want from your therapist, it's time to find one who actually works near your home, so that you can access their support easily.
Find a therapist near me
One option is to make use of online therapists. Mindbox (opens in new tab), the UK's first online therapy service, is home to a range of therapists who are available via phone, webcam, or web chat if you prefer. You can find therapist profiles on their website detailing their level of education, how long they have been conducting therapy, and what type of therapy they specialise in - as well as the languages they speak. Their mission is to "provide the best therapy, in the right place, when you need it the most".
MORE: woman&home has partnered with Mindbox to bring you an exclusive discount on online counselling packages. (opens in new tab)
If you suffer from anxiety, stress, depression or other mental health issues, Mindbox has techniques available via video, audio and journal sessions, that can help you to deal with them.
Search the British Association of Counselling or Psychotherapy register (opens in new tab) to find a therapist in your area, simply by inputting your postcode. The profiles explain what kind of therapy the counsellors offer, and how much their sessions cost.
The Counselling Directory (opens in new tab) offers a register of therapists near you - enter your location, select whether you want therapy in person or online, and reams of counsellors nearby you will appear - with profiles to match.
You might also be referred to a therapist via the NHS, after visiting a doctor or mental health professional. If so, there is a chance you won't get to choose, as easily, who your therapist will be. But it's worth knowing that if you are assigned a therapist with whom you don't form a solid relationship, you can get in touch with your local mental health trust to ask for another therapist to help.
There are a few practical points worth noting when it comes to choosing a therapist.
Questions to ask any potential therapists
Pam advised, "In terms of private counsellors, there are other factors that need to be explored in the initial phone call - for example the costs, experience and qualifications of the therapist.
"Find out if the counsellor has time slots that would work with you, how long their sessions are and how often their sessions are.
"In the initial phone call it's important to check your counsellor is insured and has a counselling supervisor, as you want to work with someone who is working ethically and within their personal abilities. I would also suggest looking for an accredited counsellor, this is someone who has been accredited by their organisation."
Amy Hunt is an experienced digital journalist specialising in homes, interiors and hobbies. She began her career working as the features assistant at woman&home magazine, before moving over to the digital side of the brand where she eventually became the Lifestyle Editor up until January 2022. Amy won the Digital Journalist of the Year award at the AOP Awards in 2019 for her work on womanandhome.com.