The sexual wellness app for women you've never heard of could be a game changer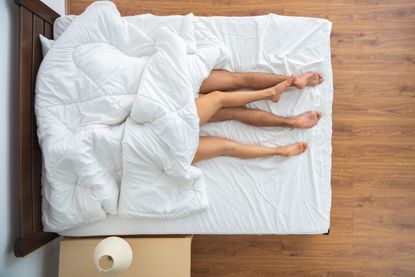 (Image credit: Getty)
Recent research has revealed that far from letting their sex lives wane over 50s are continuing to carve out some dedicated time between the sheets each week (opens in new tab).
But making the leap from an active sex life, to one that actually satisfies, can be easier said than done; and this is where a new sexual wellness app for women comes in.
Launched on the Apple Store and Google Play late last month, Emjoy (opens in new tab), founded by Andrea Oliver Garcia and Daniel Tamas in 2018, is an app offering up more than 80 audio sessions covering topics including how to boost libido, developing self-knowledge, increasing pleasure and improving sexual communication.
Experts in the fields of psychology, sex therapy, education and mindfulness (opens in new tab) also impart their wisdom on all aspects of sex.
Revealing the inspiration behind the app, Andrea said, "I have always considered myself a feminist and as I grew up, I realised that many girlfriends of mine lived their sexuality with shame and knew very little about themselves – some even doubting if they had or hadn't experienced an orgasm.
"Then I came across several studies such as the pleasure gap and sexual wellbeing reports showing that cisgendered heterosexual women consistently experience less pleasure than their male counterparts. Shockingly, data from several studies show that over 40 per cent of women struggle to attain an orgasm and that 30 per cent of women worldwide experience libido issues."
Continuing she added, "As I was researching and talking to sex therapists and industry experts, I noticed the internet was crowded with inconsistent and untrustworthy information.
"That's when I decided to stop backing amazing entrepreneurs to become one myself in order to help women enhance their sexual wellbeing with Emjoy."
With an average 4-star rating on Google Play and an average 5-star rating on the Apple Store, here's what those who've already downloaded it had to say:
'Finally an app addressing this subject the proper way. Already addicted to all the great quality content (keep it up!).'
'I'm delighted there is an app that breaks all taboos about women's sexuality. It was time for something like this to exist! Thank you :)'
'Can't wait to…get home from work and continue "my journey".'
'I've used this app for a couple of months and its really made a difference! The quality of the content is great. It's made me feel much more comfortable in my relationship, communicating what I want to my partner and helping me get out of my mind.
'It's also done in such a classy/easy way - I never feel akward [sic] or embarrassed when I listen to these sessions, it's very natural and easy to relate to. Honestly, it's about time someone created this type of product!!'
Would you try it out?
Miriam worked for woman&home for over five years and previously worked on the women's lifestyle magazines Woman and Woman's Own.