4 supplements to ease anxiety and make you feel calm
Anxious feelings are rife these days but supplements can help keep you calm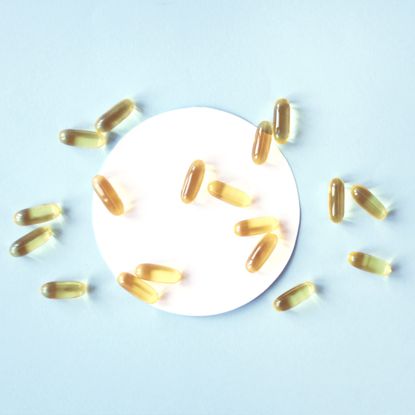 It's a funny old time right now, and you might have noticed that your anxiety levels have soared.
However, there are ways to help beat these feelings and calm an anxious mind; taking the right supplements is one such way.
Here's what the experts recommend as anxiety supplements and oils…
CBD
It's taken the health scene by storm, but CBD – a chemical compound from the cannabis sativa plant – could be the key to aiding anxiety, boosting sleep and beating stress.
Dr Balu works with Cannaray's Scientific Advisory Board. He reveals that several studies have shown how CBD is useful in dealing with not just anxiety, but also sleeplessness and pain management.
"CBD works with the many receptors in your brains to give an overall sense of calmness," he adds.
Try Cannaray CBD Oral Drops 300mg CBD, £30
B VITAMINS
Nutritionist Rob Hobson explains that B group vitamins have many functions, but when we're suffering from stress and anxiety, these vitamins are more rapidly depleted and a lack of them can lead to anxiety and irritability.
But who do we need them?
"B vitamins support the nervous system, boost mental performance and aid psychological health."
MORE:Joe Wicks' workouts for seniors - how to stay healthy and get fit from your living room
Rob adds, "B vitamins are essential for energy production in cells, including brain cells, for making the brain's communication chemicals (neurotransmitters) as well as for nerve conduction so that messages are passed on. As a result, they help to reduce tiredness and fatigue, aid memory and clarity of thought (cognition)."
Added to this, researchers have found that women with low levels of vitamin B1 (thiamin) are less likely to feel composed and confident and more likely to be depressed than those with higher levels.
Healthspan High strength vitamin B complex (£8.95 for 120 tablets, healthspan.co.uk)
MAGNESIUM
Essential for energy metabolism, reducing tiredness and fatigue, magnesium is also vital for normal functioning of the nervous system and psychological health.
Plus it's great at enhancing our sleep. Rob explains, "Magnesium is involved in the production of melatonin, which is the hormone that controls our sleep cycle. A good night's sleep goes a long way to promoting good mental health and mood during the day!"
MORE:At-home workouts for 40+ women to help you stay in shape (and keep you sane!)
Much like the b vitamins, during times of stress and anxiety, our levels of magnesium are more rapidly depleted. Plus, low levels of magnesium can exacerbate these feeling anyway.
Suffering from pre menstrual syndrome? Rob explains that magnesium levels appear to be significantly lower in women who have symptoms of PMS, however a study involving 38 women found that taking magnesium supplements every day for two months significantly helped.
Healthspan Opti-magnesium (£8.95 for 90 tablets, healthspan.co.uk)
ESSENTIAL OILS
Using your nose could be the key to calming a busy mind.
"Scent is incredibly potent as smell is the only sense which is linked directly to the part of our brain that activates our most fundamental behavioural and emotional responses," explains Dr Gill Jenkins, an adviser to Puressentiel.
She recommends lavender, as it can help people with anxiety and recent trials have demonstrated that it could be useful in challenging scenarios like before wisdom tooth extraction, before surgery and during the menopause.
Try Puressentiel Rest and Relax Air Spray, (£16.99), which contains 12 essential oils including lavender.
We hope you find some calm.
Lucy Gornall is the former Health & Fitness editor at Future and a personal trainer specializing in pre and post-natal exercise.