Easy recipes for outdoor entertaining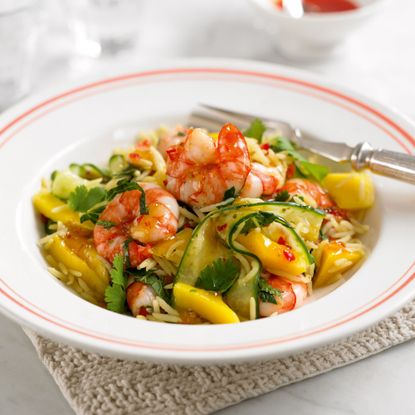 Entertaining in your garden this weekend? We have so many exciting recipes for you to try that are great enjoyed al fresco, as well as a few great cocktail recipes to refresh you and your guests!
Our easy recipes for outdoor entertaining are the perfect choice for your al fresco dining menu. If the weather permits this weekend, why not dust off the garden table and chairs and soak up some rays whilst enjoying some of our favourite dishes for outdoor eating.
Ready to be dished up in only 10 minutes, our prawn andmango rice salad recipe(pictured) is full of fresh flavours - zesty lime, mango and chilli, with the contrasting textures of the king prawns and crunchy cucumber. It?s a really delightful recipe that you can make more of if you?re expecting a big group round, alternatively, if you?re heading to a picnic you can easily bring it with you, stored in a tupperware.
For dessert, we?ve got strawberries and cream cupcakes, an iced lemon terrine and plenty more that really capture the flavours of summer. We?ve got loads of berry recipes, as they are in season during the British summer, so they are the perfect ending to a delightful meal.
Outdoor eating is very sociable, so we?ve got some great dishes that can be easily shared; tear and share breads for example that are great with some good dips and accompaniments, so you can pair them with things like houmous or even guacamole. The leek and goats? cheese loaf is a favourite as it?s full of flavour and a really great combination of creaminess, soft bread, and crusty outside. It?s an absolute delight to both make and eat.
Whether you?re looking for a healthy, delicious salad, a simple tart recipe, or something meatier, we?ve got your outdoor eating menu sorted. We?ve got everything from mains to desserts and lets not forget about the cocktails, which we love to sip in between!
Click through for some of our favourite easy recipes for outdoor entertaining?
Cucumber Salad with Feta, Black Olives and Mint
This cucumber salad with feta, black olives and mint recipe is a lovely salad to serve with barbecued meat or is just as good served on its own.
Rosewater Floating Islands with Framboise Custard and Fresh Raspberries
Light as clouds, these rosewater floating Islands with framboise custard and fresh raspberries recipes are delicate, poached meringues floating on a flavoured crème anglaise are a French classic known as 'île flottante'.
Peri Peri Chicken Breasts with Blackened Corn Salad
With its African and Portuguese origins, peri peri sauce is a popular accompaniment for chicken. Try our peri peri chicken breasts with blackened corn salad recipe as a simple at-home version.
Homemade Sausages with Spiced Mint Yoghurt
The spiced, smoky flavour of these homemade sausages with spiced mint yoghurt recipe makes them perfect for the barbecue.
Iced Lemon Terrine
There's absolutely no cooking required to create this show-stopping Iced lemon terrine recipe - but you don't have to tell anyone that!
Little Gem and Pecorino Salad with Sweet Mustard Dressing
The thick dressing on this little gem and pecorino salad with sweet mustard dressing recipe really sits on the leaves - it's also great for a dip.
Honey and Rose Baked Plums
The exotic Middle Eastern flavours of this dish make a really lovely, fragrant honey and rose baked plums recipe.
A Rather Good Herby Burger
Once you've tasted a rather good herby burger, you won't go back to shop-bought!
Mediterranean Stuffed Squid
Feel like you're on holiday by enjoying our Mediterranean stuffed squid recipe which is sure to transport you to warmer climes.
Strawberries Romanoff
We've brought back this old classic dessert recipe ? our strawberries Romanoof recipe is a delicious alternative to the traditional strawberries and cream Find more strawberry recipes
Sweet Chilli Chicken Skewers with Pickled Slaw
This lightened-up version of coleslaw goes perfectly with most grills but we love our super-simple sweet chilli chicken skewers with pickled slaw recipe. They're easily enjoyed outdoors without getting too messy!
Strawberries and Cream Cupcakes
A real treat of a dessert, these strawberries and cream cupcakes are fluffy, light and super tasty.
Spanish Tostadas
What's easier than a Spanish tostada! So simple and light, and ideal for a light lunch!
Oven Dried Cherry Tomato and Mozzarella Bruschetta
Our oven dried tomato and mozarella bruschetta takes no time at all to throw together, and is the sort of sociable food that is best served outdoors with a glass of white wine!
Saint Lucia Rum Punch
Made with apple and orange juice, this Saint Lucia rum punch is a great cocktail recipe for when you're expecting friends round.
Green Olive and Oregano Focaccia
Tear and share green olive and oregano focaccia is a real delight and can be served alongside any dips of your preference.
Leek and Goats' Cheese Picnic Loaf
This leek and goats' cheese picnic loaf is deliciously creamy as well as having a lovely crunchy crust on the outside. Ideal summer food.
Pork Skewers
We love these easy to make pork skewers; they're great made in advance and enjoyed at a picnic or thrown on the barbecue. Either way, they're best enjoyed outdoors!
Griddled Chicken Salad with Courgettes and Cannellini Beans
Griddled chicken salad with courgettes and cannellini beans is a great salad full of summery flavours.
Sign up to our free daily email for the latest royal and entertainment news, interesting opinion, expert advice on styling and beauty trends, and no-nonsense guides to the health and wellness questions you want answered.